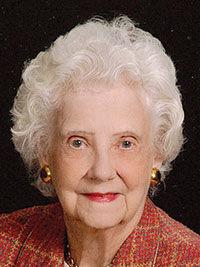 Swain, Edith Eileen, 105, of Centralia, passed away Sunday, Nov. 21, 2021. She was born on April 24, 1916, the daughter of Henry Allen and Mary (Williams) McDonal of Centralia. She married her sweetheart, Kenneth Swain, and he preceded her in death in 1998.
Survivors who will remember Eileen's gracious spirit include her grandchildren, Scot and Bonnie Vaughn, and Cherie Vaughn, all of Maryland Heights, Missouri; great-grandchildren Megan Vaughn of St. Charles, Missouri, and Morgan Vaughn of Maryland Heights; nieces and nephews, Jana and Mike Ussrey, Chico and Pam McDonal, Gary and Dorcas McDonal, and Jeff and Chris McDonal; and many more special nieces and nephews.
Along with her husband, Kenneth Swain, Eileen was preceded in death by her parents, Henry and Mary McDonal; daughter Cecile Vaughn and husband Gerald; granddaughter Shirleen Vaughn; and siblings Neal McDonal, Dexter McDonal, Kenneth McDonal, Bert McDonal, Bessie Anderson, and Cecile McDonal.
Eileen was proud of her hometown of Centralia, where she resided in the home in which she was born in until she was 98 years old. She was a faithful member of the First Baptist Church in Centralia and was the oldest living member. She was grateful to be a part of the church's Ruth Circle Sunday School Class and Keenagers Group. She was an intelligent lady of style and class, offering her assistance to many satisfied customers while working as a buyer and sales representative at the Smart Shop in Centralia, retiring after 50 dedicated years. She and her husband, Kenneth were co-owners of the McDonal Market, which they ran out of their home. 
She was blessed to know the people in her neighborhood, and she was appreciative of the wonderful friendships she and her husband made over the years. Eileen was a member of the Daughters of the American Revolution for many years and was a member of the country club in Centralia. She was a generous hostess who loved to entertain friends and family and delight them with her delicious, made from scratch pies. Eileen was a beautiful lady inside and out and her legacy of generosity, kindness, and grace will never be forgotten.
A celebration of life service will be held at noon on Friday, Nov. 26, 2021, at the Irvin Macz Funeral Home in Centralia, with Pastor Roger Randolph officiating. Interment will follow at Zion Hill Cemetery. Friends are welcome to a visitation time from 10 a.m. until the time of the service. Memorials may be made in Eileen's honor to the Centralia First Baptist Church or Zion Hill Cemetery. Online condolences and memories of Eileen may be shared with the family by visiting www.maczfuneralhomes.com or the funeral home's Facebook page.