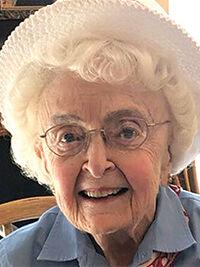 Curtis, Edith (nee Marsalek), passed away on April 16, 2023, at the age of 103. Although a lifelong and devoted St. Louis resident since her birth in 1920, she moved in the spring of 2022 to Stuart, Florida, to be closer to her family. 
Edie grew up in Webster Groves, the daughter of John and Edith Marsalek, and attended Webster Groves High School. She was not only an A student ("except in gym," she used to say), but also sang in the choir and starred in the musicals. She continued her passion for music while attending Washington University, where she acted in plays and musicals while majoring in psychology and English. 
She used her musical talent to serve her church, Webster Groves Presbyterian, where she was a member for 89 years and sang in the choir for over 80 years. She achieved a life-long dream of performing in New York when, in 1997, the church choir was invited to sing in Carnegie Hall.  She also served as a Deacon for several years. 
For over 30 years, Edie was a member of the Pitch Pipers — a local singing group that performed song and dance numbers at venues throughout the St. Louis County area. A firm believer in "the show must go on," even a car accident didn't stop her from once appearing in a performance before going to the emergency room to be checked out. (She wasn't hurt.) The Pitch Pipers became such a close-knit group that even after their performance days ended, they met for monthly luncheons year-round. 
During college, Edie was a member of Kappa Kappa Gamma Sorority and was part of the KKG alumna association throughout her life. She was a 40-year member of the Wednesday Club of St. Louis. Even after she could no longer attend the meetings and lectures in person, she tuned in over Zoom whenever she could. She never stopped wanting to learn about the world around her and amazed her younger friends with her tech skills. 
She loved nature, animals, and the environment. She was a strong supporter of the Saint Louis Zoo and loved taking her children and grandchildren to see the animals and ride the train. She and her husband George Curtis were Zoo parents for many years — Edie adopted a tiger and George a lion. They loved traveling in their Airstream, and over the 68 years of their marriage, they visited most of the National Parks at least once. 
They especially loved driving through the Colorado mountains and further west into Wyoming and Montana.
Her family and many of her friends knew her as a prolific poet. Each year, she wrote a special birthday poem for every member of her family, as well as poems for Christmas, anniversaries, and other occasions for both family and friends. When she retired from poem-writing three years ago, her family created a collection of her poems.  The result is a book of over 100 pages: "Rhymes for All Reasons; The Collected Poetry of Edith Marsalek Curtis." 
Most of all, Edie was a devoted daughter, wife, mother, grandmother, and great-grandmother. She married George in 1944 and settled down in St. Louis to raise their daughters. To Edie, motherhood was the most important job of her life. She loved caring for her children, grandchildren, and great-grandchildren, delighting in watching them learn and grow. She served as a Girl Scout leader for her children's troops for many years. She was so proud, not only of her daughters, Patricia (Pfitsch) and Martha (Warner), but also of their spouses, (Jack and Tom) and her grandchildren and their spouses: Hollis (Maggie); Woody (Maria); Jane; Susan; Patty (Francois); and Edward (Blandine).  She cherished her seven great-grandchildren — Oskar, Feliks, Camille, Luce, Sierra, Claire, and Margaux Edith. She loved their visits, particularly the trips to the zoo, and when visiting wasn't possible she would see them on Facetime. 
Memorial Service Saturday, May 13, 1:30 p.m. at Webster Groves Presbyterian Church. In lieu of flowers, the family asks that donations be made to The Saint Louis Zoo or the Webster Groves Presbyterian Church. Arrangements by Bopp Chapel.