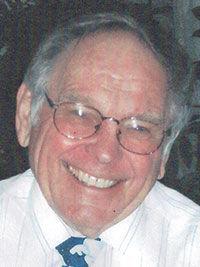 Mosby, Dr. Robert Joseph "Bob," a loving husband, father, grandfather, great-grandfather, and friend, died Tuesday, June 22 at the age of 94. A longtime resident of Kirkwood, "Dr. Bob" was a self-employed psychologist for 28 years, practicing until 2010, when he retired at the age of 83. 
Bob is survived by his wife of the last 15 years, Ruth Fischer Mosby; his children, Donna Jo Mosby-Stolz (Fred), Daniel Scott (Kathy), Thomas Dean (Karen), Robert Dickson (Julie), Robin Bess Duda (Joseph), and David Elliot (Leanne); stepchildren Deborah Smith and David Fischer; 22 grandchildren and nine great-grandchildren. He was preceded in death by his first wife of 55 years, Bessie May Myers Mosby.
Bob was born to Dorothy (Propes) and Joseph Thomas Mosby on June 7, 1927, in Granite City, Illinois. The family moved to Missouri and Bob attended Normandy High School, where he was a two-time state finalist in wrestling. After graduating in 1945, he was inducted into the U.S. Army, eventually landing in Nome, Alaska, to serve in the Signal Corps. He was discharged in 1946 and enrolled in college. Dr. Bob graduated from Washington University in St. Louis, earning a degree in elementary and secondary education. 
Bob married Bessie May Myers on June 10, 1950, and Bob began teaching school at Vought School in Ferguson. Between February 1952 and May 1962, Bob and Bess were blessed with six children.
Dr. Bob earned several education-related undergraduate and graduate degrees, including a master of science in school counseling from Purdue in Lafayette, Indiana, and a Ph.D. in educational psychology from Washington University. As a Ph.D. student at Washington University, he served as president of Phi Delta Kappa honor society. 
In his career, Dr. Bob was a significant contributor under an array of professional hats in a career spanning 65 years as a teacher and administrator, and in professional practice as a psychologist. He was a passionate preacher, an innovative special education teacher, a Missouri Special Education Teacher of the Year, president of many professional organizations, educational administrator in Kirkwood and Franklin County school districts, a private practice marriage and family psychologist, founder of the Gateway Chapter of the Association of Couples Marriage Enrichment, and board member of his Horizon Village retirement community in North Fort Myers, Florida. Bob was a proud member of the Kirkwood Rotary Club. 
In 2005, Bob met his fun-loving and supportive wife Ruth Fischer Mosby. They married on Jan. 6, 2006. In his retirement, Bob loved spending time and traveling with Ruth, working in his yards in both St. Louis and Florida, playing cards and discussing politics and current events with Ruth, his children, and his grandchildren. Bob and Ruth were blessed with a large, blended family and enjoyed many hours of family functions full of love and laughter, including most recently a celebration of Bob's 94th birthday. A devoted husband, father, and grandfather, Bob always filled any room with his charisma and joy. Bob touched many lives in his 94 trips around the sun and will be sorely missed by many.
A private memorial service was held with the large extended family.
Please send donations to honor Dr. Bob to KirkCare food pantry: kirkcare.org.