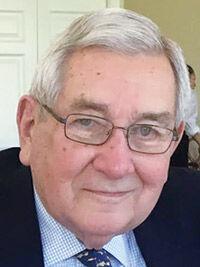 LeFevre III, Dr. Philip Joseph of Glendale, Missouri, died Feb. 8, 2021, in a tragic plane accident. His son, Philip Joseph LeFevre IV, also perished in the crash. Dr. LeFevre was born July 9, 1935, in South Bend, Indiana, to Henry LeFevre and Agnes (Steinbrunner) LeFevre. He was married 54 years to Patricia (Adams) LeFevre, who preceded him in death on Feb. 12, 2019. 
Dr. LeFevre is the father of five children and is survived by his four children and their spouses. He is the proud Pop-Pop of 17 grandchildren: Amanda and Jack (Michelle [LeFevre] and Alan Arbuckle); Elise, Joseph, Genevieve, and Cecilia (Cherie [LeFevre] and Matt Grahek); Michael Jr., Annabel, Augustine, and Gabriel (Christie [LeFevre] and Michael King); Eleanor, Catherine, Margaret, and Elizabeth (Julie [LeFevre] and Warren Nakatani); and Philip V, Patrick, and Colette (Philip IV [deceased] and Laura [Heinz] LeFevre). He is also the proud Great Pop-Pop to Adeline (Elise Grahek). 
Dr. LeFevre is survived by his siblings: Kathleen (Dan, deceased) Bohman; Cy (Helen) LeFevre; Larry (Kathy) LeFevre; and Marg (Dave) Brunswick. He is preceded in death by his parents and his brothers, Henry (Bud) and Joseph (Theresa, deceased).
In June 2020, Dr. LeFevre celebrated 50 years as a psychiatrist. He was in private practice for over 42 years and, during his last eight years in medicine, served as a professor at the St. Louis University School of Medicine, and as a practitioner with  the SLUCare Department of Neurology and Psychiatry.
A Requiem Mass was held on Feb. 15, 2021, at 11 a.m. at St. Mary's Assumption Catholic Church, 1126 Dolman Street, St. Louis, Mo. 63104.
In lieu of flowers, the family has asked that donations be made in his honor to organizations near and dear to his heart.
Donate to Our Lady of Guadalupe Monastery online at https://www.ourladyofguadalupemonastery.com
Mail donations to The Carmelite Monastery to their address: 9150 Clayton Road, St. Louis, Mo. 63124 
Donate to The Greater Missouri Alzheimer's Association online at https://www.alz.org/greatermissouri.