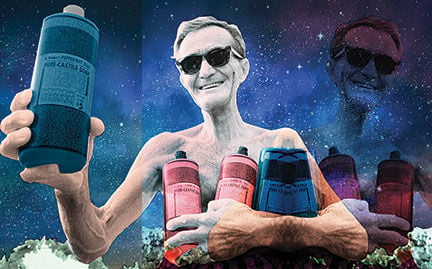 Some enterprises judge success by the bottom line but Eric Bronner knows that, when it comes to his grandfather's soap-making operation, the important profits aren't found on any ledger sheet.
"It is really different from just about any other company that's out there," said Bronner, a Webster Groves resident since 2011.
It is that difference which makes it possible for Bronner, 43, to do so much good in his community. Every year, he gives away $100,000 to charities thanks to his late grandfather's foundation. Five other Bronner grandchildren do the same in areas where they live — from Wisconsin to the West Coast.
The philanthropy all stems from colorful company patriarch Emanuel Bronner's eclectic philosophy and unique story as a countercultural icon. Emanuel was a third- generation master soapmaker from a German-Jewish soapmaking family.
His adventurous tale includes everything from Emanuel's fighting forest fires in California to his escaping an insane asylum to which he was briefly committed in the 1940s for being too outspoken about his beliefs.
The resulting soap company, Dr. Bronner's, grossed $111 million in revenue last year. The top-selling soap in the U.S. natural marketplace has garnered national media attention while promulgating an ethos of "constructive capitalism" centered on organic ingredients, progressive business practices, fair trade policies and upbeat activism on issues from hemp reform to wage equality.
Social consciousness pervades the enterprise where executive salaries are capped at a 5-to-1 ratio with the lowest-paid employees and its San Diego-area manufacturing plant is so environmentally friendly it aims to only fill one dumpster a month with waste. California has designated the seven-decade-old company a "benefit corporation" due to its public mission.
Meanwhile, the outfit's CEO, David Bronner, is pictured on the website in a tie-dyed shirt. At Dr. Bronner's, CEO stands for "Cosmic Engagement Officer."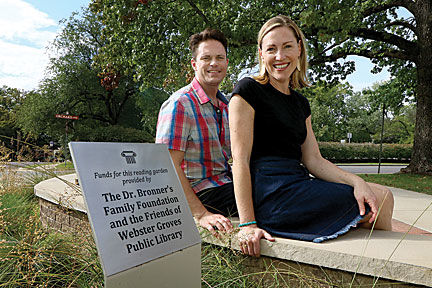 Eric Bronner, the only member of the family who lives in the St. Louis area, said it is all part of his grandfather's unifying dynamic of "All-One," the idea that everyone is harmoniously linked together.
"It is really in our DNA as a family to be as generous as we possibly can because we all believe that none of this belongs to us," he said. "Anything we've made, any profitability has come from hard work, but it has also come as a gift to our generation and it is not for us to hoard for our kids. We want to see as many people benefit as possible."
The company sponsored a trip to Germany this summer to see the original factory where the family began making soap. Emanuel Bronner left Europe before WWII but lost both parents in the Holocaust.
"Exploring our roots as a family has been a really fun and important thing to us," said his grandson.
Since the giveaways began in 2012, about 20 non-profits across the area have been touched by the Bronner's largesse from Great Rivers Greenway to Arch City Defenders. The Webster area has seen its share as well.
"Between the funding he's provided and the volunteer time he's provided, it has been a big help to what we do," said Ed Johnson, executive director of Webster-Rock Hill Ministries.
Bronner has assisted the group with tutoring and youth initiatives including a chess program that now meets on Wednesdays. Johnson believes that the program helps provide focus for children and allows them to achieve better grades.
"It gives kids another opportunity to be able to be in a safe environment and be able to learn valuable and much needed skills," he said.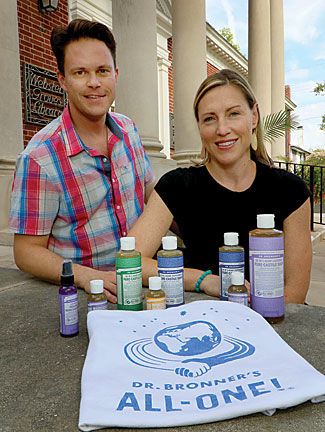 At the Webster Groves Public Library, Bronner supported landscaping work in the reading garden and the placement of a flagpole dedicated in the name of his late brother.
"It has meant a lot because it is very beautiful out there," said library director Tom Cooper. "We can now take story hours outside with the kids during the summer when the weather's nice."
He said that Bronner and his wife, Halli, have a deep commitment to the community. Eric Bronner even attended meetings with planners on the project.
"He gave money and time to see the project through," Cooper said.
Bronner said that involvement is integral to the process of giving.
"That was really important to my dad," said the father of three who works in the area as a real estate attorney and broker. "If you are going to give, giving is fantastic. Even better is having a personal relationship to the people you give to."
He recalls his father, Ralph, promoting the product in health food stores by singing folk songs. Eric spent summers with him at trade shows to sell the company's wares.
"To this day, I still travel around with soap in the back of my Ford Explorer and hand it out to people randomly," he said.
The donations aren't random however. There is a strong intentionality about them. For instance, Bronner supports the Webster Groves School District Foundation, but he also makes certain to give the same amount to help the corresponding foundation for the St. Louis Public Schools.
"We love Webster Groves and we are absolutely thrilled that we have the opportunity to live here and we also know that there are other areas very close to us where people are not as fortunate. We want to see them have the opportunity to thrive as well," he said.
The important thing is that, no matter where the money goes, the rewards always exceed the investment, a concept that runs through the DNA of the company.
"You get more than you give," he said. "Whenever you are able to give something back to people, whether it is time or energy or resources, you always end up getting more than what you give."
Bronner said that his grandfather frequently referred to the planet as "Spaceship Earth" and the soap, as profitable as it might be, has always been merely a vehicle to get his message of fellowship out to the world.
"We love the community so for me it is a win-win," he said. "That's also something that is important for our company, creating win-win situations for everyone."