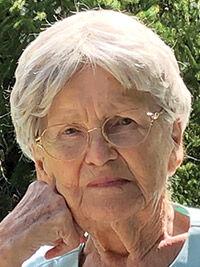 Ellason, Dorothy Wayne, passed away on Tuesday, Dec. 29, 2020, at the age of 91.
She was the dear wife of Willie Ellason (deceased); loving mother of Les Ellason (deceased) (Linda), Steven Ellason (deceased), Nancy (Dave) Mastin and Rebecca (Guy) Blase; dearest grandmother to Nedra (Ryan) Downing, Leslie Ellason, Liz (Dan) Burke, Katie (Jordan) Mugg, Jordan (Donald) Sanders, Erin, and Guy Carter Blase; great-grandmother to Truman and Annabel Downing, Malcolm, Jada, and Marshall Ellason, Norah, Emmett, Samuel, and Nicholas Burke, Esther, Miriam, and Josiah Mugg, and Blaise Sanders; dear Sister to Mildred Pittman (deceased); and dearest sister-in-law, aunt, cousin and dear friend to many.
Dorothy Wayne was born and raised in a small town in northern Louisiana, where she lived what she described as a "perfect childhood." The family lived on a farm, where they raised Catahoula cur dogs and sugar cane and grew cotton. She was adored and spoiled by all because she almost died during her birth. After completing high school, she lived in Dallas, Texas, where she laid eyes on a young man in his naval uniform and declared "That's for me."
Willie and Dorothy were married 62 years, lived in a few different cities and settled in Kirkwood, Missouri, in 1971.
Dorothy had no interest in a career other than raising her four children, keeping a happy home, and baking cakes and pies. She was a wonderful, caring and loving mother who never failed to keep us entertained with stories of her childhood. One never had to guess where you stood with Dorothy. She would tell you straight out what she was thinking and how you should behave.
Dorothy loved antiques, quilts, cut glass, peaches, vanilla ice cream, collard greens and beans and cornbread. Willie and Dorothy had many friends from Kirkwood Baptist Church and they played cards and dominoes, went on float trips, and traveled together. She liked to travel but was always very happy to return home — and she wanted to be home before dark.
Dorothy had a strong faith in Jesus as her Savior and we know she has been granted eternal life with God.
We will be forever grateful and so appreciate the wonderful care and love shown to her at Meramec Bluffs. This past year has been difficult for us not to be able to see her, but all of the caregivers, physical therapists and social service and food service personnel have filled that void tenfold. They are an amazing group of people.
Contributions may be made to the Missouri Baptist Children's Home, 11300 St. Charles Rock Road, 63044, or to Doorways, 4385 Maryland Ave., 63108. Service is private. Friends can also sign the guest book at www.boppchapel.com.