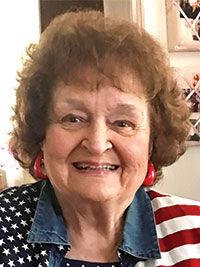 Olson, Dorothy Lou (Good), was born Aug. 10, 1933, in Decatur, Illinois.  Dorothy Olson died Nov. 3, 2022, surrounded by her loving family. 
Dorothy was born to Rachel (Smith) Good and Everett Good. Her early years were spent in Decatur.  As a child, she and her mother moved to Kirkwood, Missouri, where she spent her remaining years. 
Dorothy graduated from Kirkwood High School in 1951. Following a church mission, she attended Brigham Young University in Provo, Utah, where she met and married Lloyd Olson from Ontario, Canada. They married on Aug. 10, 1956, and relocated to Kirkwood, where they raised their four children.  
Dorothy was an active member of The Church of Jesus Christ of Latter-Day Saints. For over 30 years, she worked with various church youth and adult groups, impacting countless lives. Dorothy will be remembered for her willingness to put the needs of others before her own.  She would make time for anyone and made everyone feel valued and loved in her presence.  
Dorothy worked as a legal secretary for many years and later obtained her Real Estate License before retirement. 
Throughout her life, Dorothy was active in genealogy.  She loved sharing the stories of her ancestors with family and friends.  
Dorothy is survived by her four children: Randy, Tami, Scott, and Judy; 10 grandchildren; and 12 great-grandchildren.
She was preceded in death by her parents; her loving husband; grandson, Aaron Brown; and infant sister.
A resident of Kirkwood for 81 years, Dorothy loved her community and neighbors and actively participated whenever and wherever she could.
Her funeral service was held on Nov. 8, 2022, at The Church of Jesus Christ of Latter-Day Saints in Frontenac, Missouri. Interment followed at Bellerive Cemetery in Creve Coeur, Missouri.