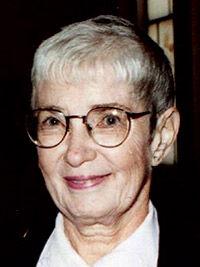 Wiltse, Dorothy L. passed away peacefully Oct. 30, 2020, surrounded by family. 
Dorothy was born Dec. 1, 1929. Dorothy was preceded in death by her husband, Jim, and her son, Chris. She is survived by her sons Jim and Ken, daughters-in-law Julie and Sheri, and grandchildren Emily, Maggie, Chelsea (Tim, Adler and Jackson) and Trea. 
Dorothy lived most of her life in Kansas City before moving to the St. Louis area to be near her grandkids. She worked at Black & Veatch in Kansas City, and volunteered for the Missouri Botanical Gardens and Oasis after she moved to St. Louis. She loved spending time with kids and helping them read.  
Services: A celebration of life will be held at a later date. In lieu of flowers, donations can be made to oasisnet.org/donate. See boppchapel.com.