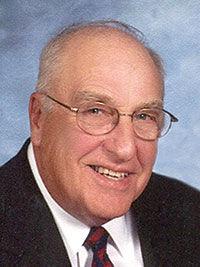 Hetherington, Donald E., 87, of Kirkwood, Missouri, died peacefully on Thursday, July 8, 2021, at Sunrise Memory Care in Des Peres, Missouri.
Don was born July 23, 1933, in Morning Sun, Iowa, to Ralph and Dorothy (Baird) Hetherington. His family moved to St. Louis, where he enjoyed his youth and played football at Beaumont High School. He often reflected on his time spent at Murray State University in Kentucky and was very thankful to have received a football scholarship allowing him to attend. Don served his country in the U.S. Army, stationed in Nuremberg, Germany, until his honorable discharge.
Don often shared fond memories of coaching JV football and teaching in the business education department at Kirkwood High School, having retired in 1988 after 28 years with the district. From that time, golfing, fishing and enjoying the company of many friends and family were his greatest joys.
Don is survived by his loving wife of 53 years, Shirley (Woehrer); daughter, Nancy Reams (Mark) of Chippewa Falls, Wisconsin; grandchildren Sam, Amy and Matthew; sister-in-law, Joan Hetherington of Nashville, Tennessee; niece Jeanne Johnson (Dan); nephews Robert and Kevin Hetherington (Arlene); sister-in-law, Gertrude Vieth of Fenton, Missouri; nieces Patty Johnston (Rob) and Teri Gray (Rodney); brother-in-law Howard Woehrer (Carol) of Centertown, Missouri; nieces Gina Strobel, Tracy Cooper (Lawrence), Lori Kleffner (Matt), Leslie Verslues (Rob) and Heather Walters (Josh); nephew Jon Woehrer (Christina); and many great-nieces, nephews and cousins.
He was preceded in death by his parents; dear brother, Robert S. Hetherington; brothers-in-law, Vester Vieth and Elmer Woehrer; and niece Deborah Vieth.
The family wishes to recognize the care and support from the staff of Sunrise Memory Care of Des Peres and Kindred Hospice.
A visitation will be held from 3-6 p.m. with service beginning at 6 p.m. on Thursday, July 22, at Bopp Chapel, 10610 Manchester Road, Kirkwood, Missouri 63122. A private interment will be at Jefferson Barracks Cemetery at 11 a.m. on Friday. In lieu of flowers, gifts may be made to the Murray State University, Racers Give Scholarship Fund at MurrayState.edu/giving. Go Racers! Arrangements by Bopp Chapel.