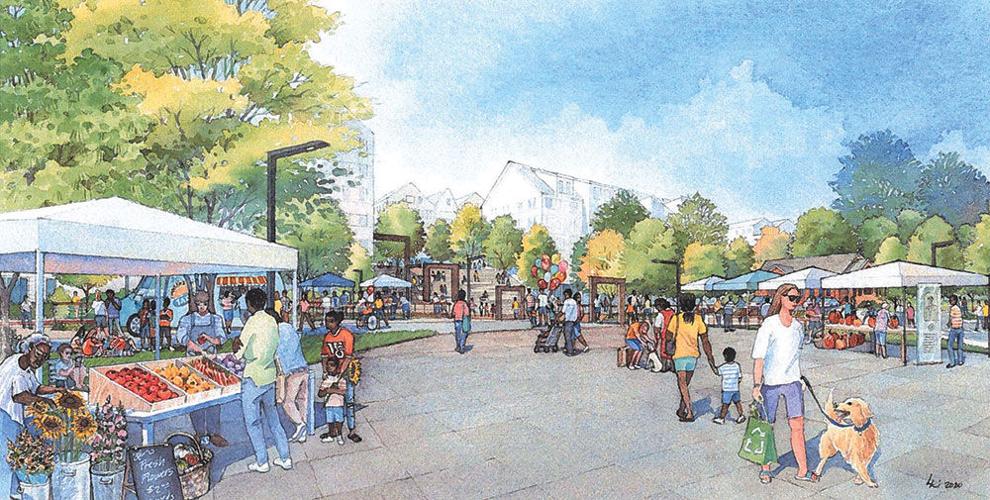 The team from SG Collaborative was front and center at the Monday night meeting of the Webster Groves Plan Commission, touting its ambitious vision of a new mixed-use development targeting 15 acres north of Old Webster.
Monday's meeting on July 12 was the second public hearing before the plan commission. A third meeting, to include public comment, is scheduled for Aug. 9.
The development site currently carries four zoning designations. SG Collaborative is before the plan commission seeking a single zoning designation of planned commercial district. Monday's presentation from SG Collaborative was followed by questions from plan commission members, but did not include public comments.
Prior to the meeting, Larry Chapman, an SG Collaborative partner and long-time Webster Groves resident, said the development plan is based on public input, starting with the first "town hall" meeting held in April 2020. Nearly 500 people attended the virtual meeting, which was followed by two more — in July and again in September, when SG Collaborative rolled out its plan.
"Our whole plan is based on feedback over that time. This is not just something we threw out there," Chapman said. 
During his presentation Monday night, Chapman talked about why the Douglass Hill development is important to Webster Groves, and spoke to a "very definitive source of misinformation out there."
Chapman said critics have been "hyper focused" on the project's density and the height of the buildings. The tallest building in Webster Groves is the retail and office building at 20 Allen Ave. in Old Webster. Because the development area is located at the bottom of a steep drop off, Chapman said seven-story buildings will appear as five-story buildings — no taller than the Allen Avenue building. 
"It's not a real seven-story building. Everything will be less tall than anything that exists in town," Chapman said.
As for the project's residential density, Chapman projects that about 1,500 residents, an average of two per residence, will live at Douglass Hill in condominiums, apartments and up to 16 town houses. Chapman told plan commission members on Monday that the project's density, along with the height of the buildings, are not open to compromise. He said the project's current density is needed to support and sustain the seven buildings, and to compensate for 10% of the project's reduced-rent "workforce housing," a priority according to public input.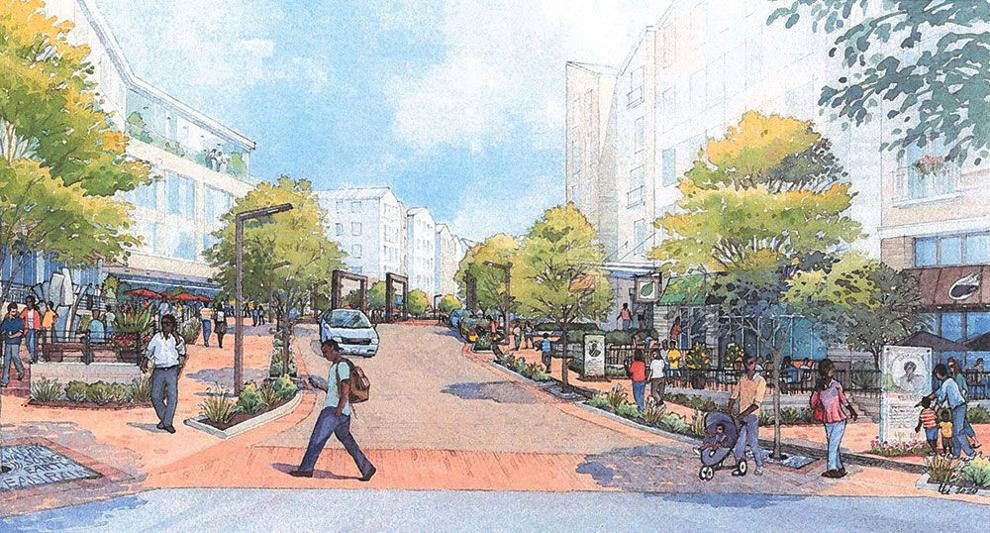 Douglass Hill As An "Economic Engine"
Chapman said that while the 15 acres proposed for development represents about one-half of one percent of the land area in Webster Groves, its economic impact on the city  would be formidable. The addition of 1,500 new residents would create a new "spending pool" for local goods and services, he said.
"In my opinion, for example, if we have a robust business district, then the pressure to raise other taxes to pay for city services becomes less," Chapman said. "I think we should do this project for a lot of reasons, but mostly this is about choices and the future of the community. Webster Groves is pretty monochromatic, but it does need to evolve over time or it will become stagnant. It also has to have an economic engine to pay for the future of the community."
Chapman said the 15-acre development site is mostly industrial, and "doesn't really contribute much to the community." He said while the development area now separates North Webster from Old Webster, Douglass Hill will serve to connect the two.
"We're going to create a pedestrian overpass to get people to and from the Old Webster area," he said. 
Increasing Traffic
In addition to the project's building heights and density, Chapman addressed another issue of major concern to residents. The developer's own traffic study showed traffic along Rock Hill Road, along the west side of the development, to already be congested, and that the development would make matters worse.
To better keep traffic off of Rock Hill Road, Chapman said Pacific Avenue would be made a one-way street. Motorists would enter Pacific on Rock Hill Road and exit onto North Gore Avenue. Vehicles from the project's underground garage will exit the property onto Kirkham Road, Chapman said.
"Gore doesn't have a traffic problem. One hundred percent of the issue is on Rock Hill," Chapman said.
Plan Commission Member Michael Buechter noted on Monday that the traffic study for Rock Hill Road did not take the Union Pacific train crossing into account — an omission he believed should be taken into consideration. 
Other plan commission members questioned whether Webster Groves will, in the end, get what is being promised, fearing the development will be primarily residential with a few scattered restaurants.
"I ask you to put yourself in my shoes," Chapman said. "Just the investment in the land and infrastructure will run somewhere in the neighborhood of $55 and $60 million. If that was all of my intent (residential), it would be crazy lunacy to even start. We really believe we are going to create all of this and we are focused on it entirely as the only way we will be successful.
"If I could tell you what every single building was going to be on a project that was going to take five to seven years to implement, I would do it," Chapman continued. "But the market is going to go through three or four ups and downs. What I can tell you is that I've been doing this for 42 years. You stay focused on the objective, which is to create a great experience living in Webster Groves."
Chapman said that while some have been critical of the Douglass Hill name, the name will only serve as a "general identifying characteristic." The planned riverwalk, new main street and new park will all have names people will come to identify with, he added.
Environmental Area Or A "Drainage Ditch?"
Chapman said the current 15-acre development site contains "exactly zero improvements to manage storm water — all storm water goes to the creek." He said working with the U.S. Army Corps of Engineers and the city of Webster Groves, plans are to collect and retain storm water, and what water does go to Shady Creek will go through a filtration system. 
"It will reduce water going into the creek in a substantial way," he said.
As for those who claim the development will take an environmental toll on Shady Creek and its wildlife, Chapman couldn't disagree more. He calls Shady Creek "basically a drainage ditch," filled with debris and surrounded by honeysuckle and trees that are in poor health. He claims it does not support wildlife.
"It's a red hot mess of junk and debris. People who haven't seen it wouldn't even believe it. Ninety percent of the time it's a dry creek," he said.
The plan, he said, is to remove debris from the creek, improve the creek's bottom and sides, and use a benching system with growing materials to create a habitat that Chapman said "just isn't there today."
Ultimately, Chapman said SG Collaborative wants to create a walkable community to include a park/plaza, a new central "Main Street," a mix of garage and street parking, a pavilion area, and public event spaces to accommodate art, a farmers market, interactive art and more.
"I've lived in Webster Groves for 30 years. I like being here, but when I no longer want to take care of my 100-year-old house and yard, where do I go in Webster Groves? The answer is there is no place to go in Webster Groves," Chapman said.