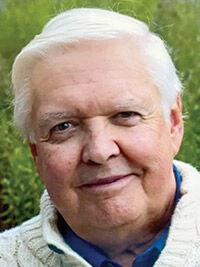 Fales, Dennis D. of Venice, Florida, and Ellison Bay, Wisconsin, formerly of Kirkwood, Missouri, passed away Saturday, May 22, 2021. He was born on Feb. 22, 1943, in St. Louis, Missouri, to Dean and Mary (Hornbeak) Fales. On Aug. 17, 1968, he married Mary M. Chapman in Springfield, Illinois.
Dennis graduated from Stanford University (BA) in 1964 and Washington University (JD) in 1969. He served his country in the U.S. Coast Guard Reserves.
Dennis retired as vice president and senior counsel of Ralston Purina Company in 2002 after 34 years.
Dennis performed in many plays and was known for his tenor voice in school and church choirs, and was notably a founding member of the Mendicants of Stanford University. Upon retirement, Dennis sang with The Doormen, The Peninsula Chamber Singers, and the choir at The Shepherd of the Bay Lutheran Church of Ellison Bay.
Dennis will be missed for his brilliant mind, love of literature, quick-witted humor, boundless generosity and unfailing commitment to family, friends and career.  
Survivors include his wife, Mary, of Ellison Bay; three children: Andrew D. (Kahala) Fales of Des Moines, Iowa, Margaret A. (Martin Coren) Fales, of Brooklyn, New York, and Tobin R. (Rebecca) Fales of St. Louis;  six grandchildren: Aiden, Hanna, and Mitchell Fales, Genevieve Fales Coren, and Elin and Edwin Fales; one sister, Lesley (Sam) McCorkle of St. Louis; brother-in-law, Bud (Marty) Chapman of Chatham, Illinois; two sisters-in-law: Ann (Cullen) Davis of Springfield and Jane (Vince) Siemer of New Zealand; Janet Fales of Ladue, Missouri; and 12 nieces and nephews. He was preceded in death by his parents; a baby brother, Kermit Douglas Fales; and a sister-in-law and her husband, Carolyn and Ed Lee.
A memorial service will be held at First Congregational Church of Webster Groves, 10 W. Lockwood Ave., Webster Groves, Missouri, on Saturday, June 19, 2021, at 10 a.m.  Reception will follow.  
In lieu of flowers, memorials may be made to First Congregational Church of Webster Groves, The Peninsula Players in Fish Creek, Wisconsin, or Shepherd of the Bay Lutheran Church in Ellison Bay, Wisconson. Burial will be in Hainesville Cemetery, Sturgeon Bay, Wisconsin. Forbes Funeral Home in Sturgeon Bay is assisting the family. Online condolences may be offered at forbesfuneralhome.com.