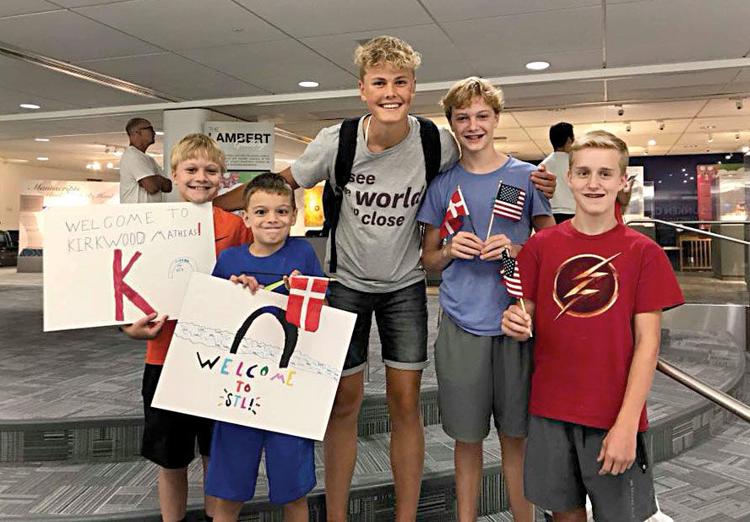 It's been 30 years since Kirkwood resident Shelly Wagner and Majbrit Eriksen of Denmark swapped homes and families through an exchange student program and promised to carry on the tradition with their own children someday.
Three decades later and each with three children of their own, that promise became a reality when Eriksen's oldest son, 16-year-old Mathias, came to stay with the Wagner family in August 2018 to attend Kirkwood High School for a year.
It was during Wagner's high school years at Harbor Creek High in Michigan when she traveled to Denmark in the summer of 1989 through the Youth For Understanding (YFU) international exchange student program. It was there where she met Eriksen and stayed with her family. The two became fast friends and it wasn't long before Eriksen traveled to the U.S. to live with Wagner's family in Michigan for a year. The two enjoyed the experience so much they vowed to host each other's future children.
"We both had a wonderful experience," Wagner said. "It got us both out of our small communities and opened our eyes to the huge world that's out there. We just said when we have kids we've got to do this because we wanted them to have this experience, too."
The friends kept in close touch over the years, traveling to see each other and marking significant occasions together including the start of their own families. Both now have three boys of their own.
The promise the friends made to host each other's children through the exchange program didn't come to fruition until Eriksen's son came to live with the Wagners at the start of the school year. The timing couldn't have been better, as Wagner's 14-year-old son was about to start his freshman year at Kirkwood High School.
"It was so neat to have both of them going to high school (at Kirkwood) for the first time together," Wagner said. "It's been wonderful to have Mathias here, and he's just fallen right in with our family."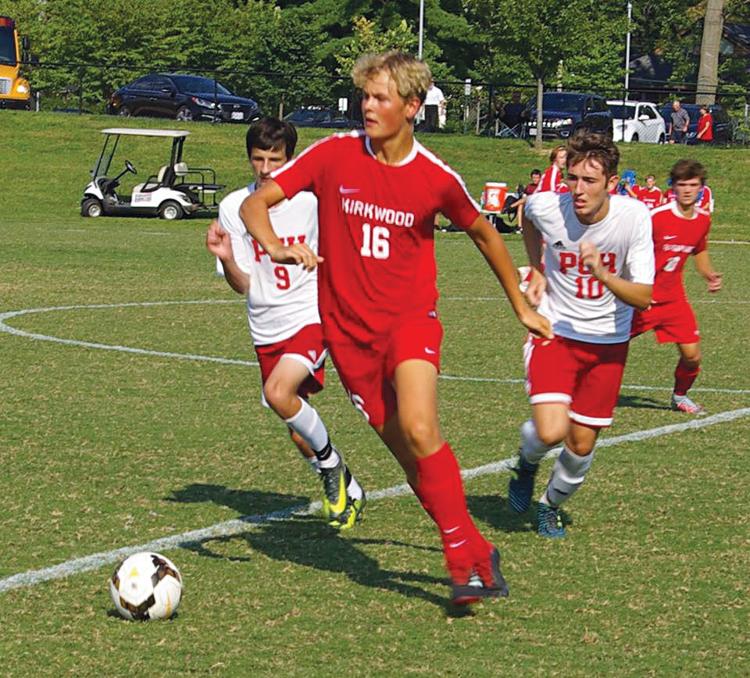 Mathias Eriksen said he's had a great experience since arriving in August, and that he's particularly enjoyed playing soccer for Kirkwood High, where he became the top scorer for the junior varsity team.
"One of the most memorable experiences I've had during this year was at the banquet for the Kirkwood soccer team," he said. "I had played for the J.V. team during the season, but practiced with varsity, so I had a great connection with both teams. Everyone was applauded for their effort, but when I was nominated as the best attacking player of the year I felt like the players went a little wilder, which I appreciated."
He said his favorite part about Kirkwood is the Pioneer Pride and school spirit.
"In Denmark we don't have any school sport, so I really love the school spirit and getting together with my friends to watch a high school game whether it's football, hockey or basketball," he said.
A St. Louis Experience
The Wagner family is doing its best to make sure Mathias Eriksen experiences the traditional St. Louis highlights.
"His birthday was in September, so we decided to do a STL-themed birthday for him," Wagner said. "We took him to the Arch, rented scooters, went to the City Museum and went to Fitz's for lunch. We had Imo's pizza and toasted ravioli for dinner, and then we had Ted Drewes, so we tried to hit a little bit of everything."
Mathias Eriksen said his favorite St. Louis restaurant is Amigos Cantina in Kirkwood. He's also taken in a St. Louis Cardinals baseball game and St. Louis Blues hockey game, and spent a day at the Six Flags theme park.
"We've been trying to do a lot of St. Louis things," Wagner said.
The moms couldn't be more thrilled their children are finally getting a chance to be part of an experience that was life-changing for them in their own teenage years.
"During my stay in the U.S. (in high school), I was lucky to meet a lot of fantastic people with whom I'm still in contact," Majbrit Eriksen said."It was an amazing experience. It has given me a more international approach to things and a much better understand of other cultures. Mathias is doing really well and getting a lot of unforgettable experiences. It is a really great feeling to be able to pass on the experience of being an exchange student to our kids."
Mathias Eriksen will spend a month vacationing around the U.S. when school is out before heading back to Denmark in late June.
"I've matured and learned how to live more independently," he said. "Getting to know another culture and see wider than just outside my doorstep is surely a big benefit as well. This is a year I'll always be able to look back on with a smile on my face, and I'll never forget the experiences I've gained."
The experience won't end with Mathias Eriksen. The Eriksen's middle son, 15-year-old Mads, has already been approved through the YFU exchange program and is set to travel to the U.S. and live with the Wagners this fall. On the flip side, the Wagners are working out the plans for their oldest son to visit Denmark and stay with the Eriksens.
The moms are hoping their younger sons will follow suit, but will leave the decision up to them. And who knows, maybe their kids will have children who participate in the program, too.
"Hopefully the kids will continue to keep in contact for many years onward, and bring the tradition into their coming families if possible," Majbrit Eriksen said.