A Simpler Life Awaits In Illinois Amish Country
Arthur, Illinois' Amish settlement is the oldest & largest in the state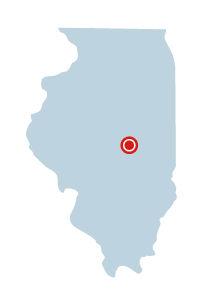 "Come from among them and be ye separate," is a verse from 2 Corinthians. This verse, along with several others, form the basis for the Ordnung (German for order), which is the unwritten code by which the Amish live.
One of the most fundamental beliefs common to the Amish faith is to maintain a simple life based on family, community and belief in God.
Holding to those beliefs, the Amish farm the land and operate numerous country shops around Arthur, Illinois. Arthur's Amish settlement is the oldest and largest settlement in Illinois. The village of Arthur has approximately 2,300 residents, which are surrounded by approximately 4,500 Amish residents. It is located 10 miles west of Interstate 57 at exit 203.
Visitors are welcome to visit Amish Country to observe, hear and experience the entire area.
The Amish's presence, where horse-drawn buggies are commonplace, combined with their more progressive "English" neighbors, create an intriguing cultural blend of the old and the new. The two cultures are respectful of one another's differences and together have created a haven for tourism. The area hosts about 200,000 visitors annually.
The Arthur area itself has something to please all tastes. Whether shopping for a perfectly tailored suit, homemade solid wood furniture or an amazing piece of apple pie, Arthur is sure to deliver. For family fun, take the kids for a dip in the pool or to play in Eberhardt Park. Other fun and unique experiences in the Arthur Area include Green Meadow Farms and Shady Crest Farm Market. Many Amish shops are closed on Sunday.
Before visiting the downtown or countryside, stop by the Arthur Amish Country Welcome Center located at 106 E. Progress Street. At this location, tourists will be able to gather information, directions and suggestions on where to visit and what to see. Visitors are welcome in the Arthur Amish Country Area, because in Arthur "you are a stranger only once."
Arthur hosts several annual festivals and ongoing events, such as the Third Saturday Market at the Moultrie-Douglas Fairgrounds which features everything from craft to flea market items.
Hundreds of competition quilts, exhibit quilts, auction quilts, quilt vendors with materials and supplies will be displayed at the 30th Annual Arthur Quilt Show, through April 27, at the Otto Center one half mile south of Arthur on the County Line Road. These quilts will be auctioned off beginning April 27.
Arthur Days annual Strawberry Jam Festival on May 31 and June 1 will feature craft vendors, store sidewalk sales, food stands, live entertainment, special entertainment for the kids, and fresh strawberries and strawberry items of all kinds. In addition it will have a Strawberry Pie eating contest, Backyard BBQ competition and more.
Check out the tractors at the 10th Annual Amish Country Tractor Cruise on Saturday, June 15.
Arthur plays host to about 40,000 on June 29 for Arthur's Freedom Celebration and Fireworks. The annual event features craft shows, parades, food, helicopter rides, a mechanical bull and more. In the evening, skies over Arthur will light up with the largest fireworks display in Central Illinois.
Other events are scheduled throughout the summer, such as the Annual Moultrie- Douglas County Fair, July 7-13, one of the oldest, continuous county fairs in Illinois.
For a complete schedule of activities, visit the website, www.illinoisamishcountry.com.
*************************************************************************************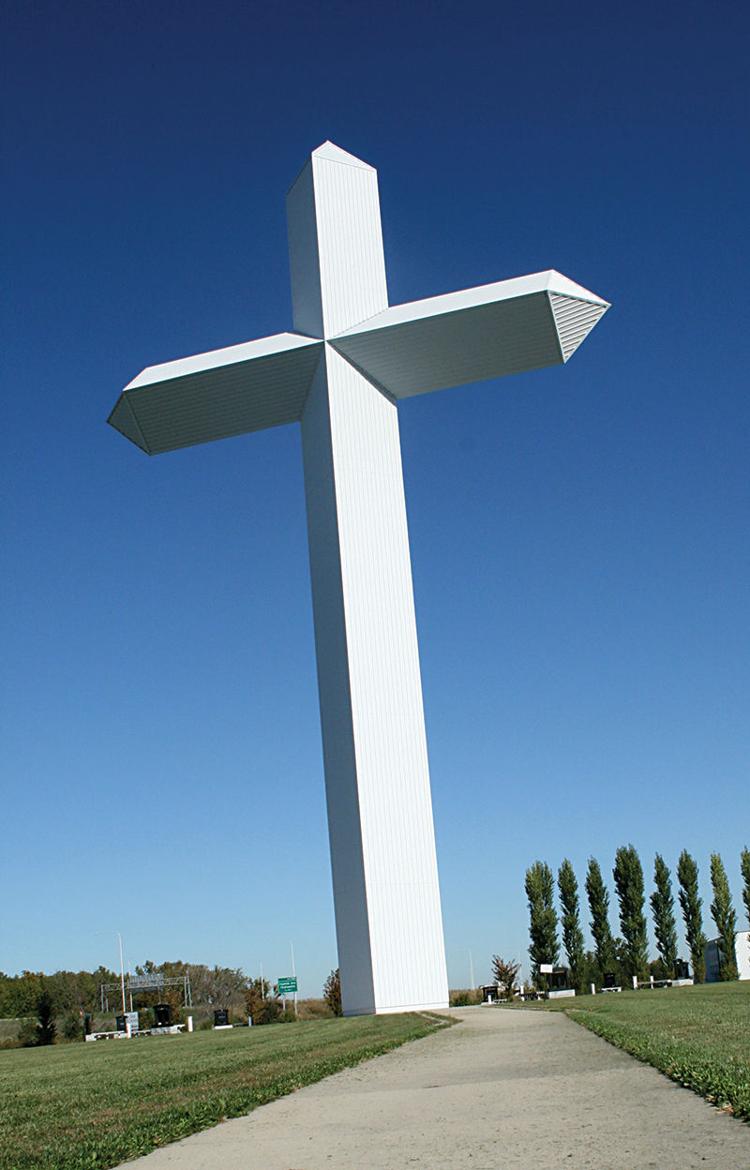 Stop To See Cross; Stay To See Sights
Effingham, Illinois – Many travelers find respite at the town at the crossroads of I-57 & I-70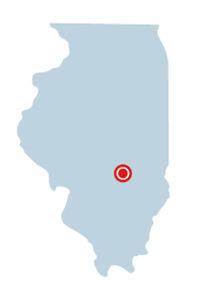 The gleaming Cross at the Crossroads, soaring nearly 200 feet skyward, is a landmark for the over 19 million travelers who pass through Effingham, Illinois, on Interstates 57 and 70 each year. The town is located about 100 miles from St. Louis where the interstates meet.
With 17 hotels and over 65 restaurants, the town is a stop for many travelers each year. It also attracts tourists with such attractions as the Funfest Amphitheater, MY Garage Museum, The Effingham Performance Center, Tuscan Hills Winery, Lake Sara and more. The farm-to-table Firefly Grill was featured in the March/April 2019 Midwest Living magazine as No. 6 on "The Meals Worth The Drive List."
Also in Effingham, John Boos & Co. has been manufacturing kitchen equipment including BOOS BLOCKS cutting boards, since 1887. These cutting boards are widely used by celebrity chefs such as Bobby Flay, Emeril Lagasse, Martha Stewart and many more. John Boos' products can be purchased at its factory outlet.
Hodgson Mill Mercantile is also based in Effingham where it makes nearly 200 products that appear in flour, baking mix, pasta, side dish and gluten-free grocery aisles across the country.
Effingham plays host to a variety of festivals during the year.
Shop from over 140 vendors, enjoy live music and food at the Hobnob Spring Market at the Effingham County Fairgrounds, April 26 and 27.
The second annual Spring Craft and Vendor Fair will feature over 70 crafters and vendors on April 28 in the Thelma Keller Convention Center.
Artists from across the region will participate in the Effingham Artisan Fair May 3 and 4. The fair also features wine, beer and bourbon tastings, Kids Korner, food and live music.
Sample over 20 craft breweries outdoors, at the "Middle of America Craft Brew Fest" on Saturday, June 1.
The 21st annual VW Funfest for Air-Cooled VWs at Mid America Motorworks runs June 7-9 with special displays, car show, Swapfest, seminars and more.
The Moccasin Creek Festival will highlight Americana music, plus arts and crafts on June 20-23 at Lake Sara.
On July 26 and 27, celebrate all things barbecue when downtown Effingham hosts EffingHAM JAM. The event features a barbecue competition, live music, food and more.
Lake Sara, located approximately 5 miles southwest of Effingham, is comprised of 614 acres with 38 miles of shoreline. Come for boating, fishing, skiing, swimming, picnicking, camping and vacation rentals.
*************************************************************************************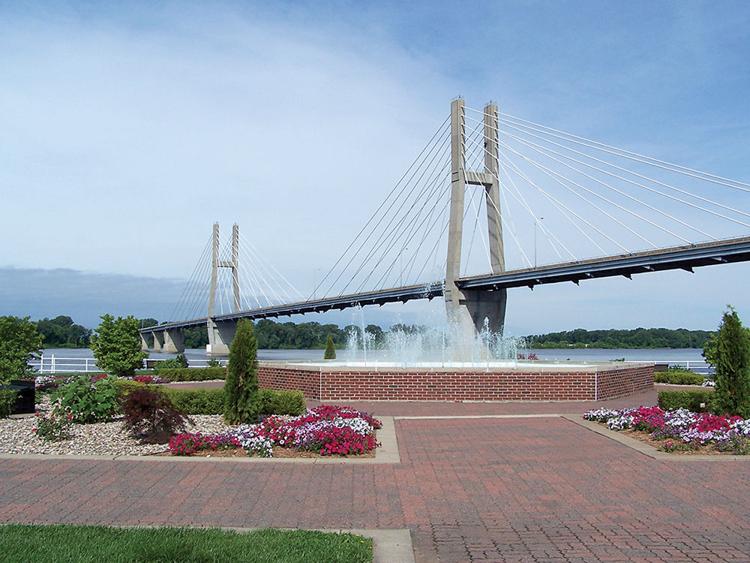 For History, Wine, Culture, Take Great River Road To Quincy, Illinois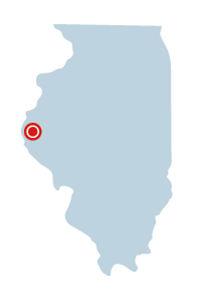 Situated on the banks of the Mississippi River along the Great River Road, Quincy, Illinois, is a rare combination of history, preservation, homegrown hospitality and visual beauty.
With 3,600 buildings on the National Historic Register and four National Register Historic Districts, the Illinois town is highly regarded as a prime architectural destination. These districts can be seen on a self-guided driving tour.
Quincy is also home to America's first arts council – the Quincy Society of Fine Arts. For two years in a row Expedia.com named it "One of America's Most Artistic Towns."
Among the many options for visitors to Quincy is taking the time to savor the grapes along the Mississippi Valley Wine Trail. Formed in 2014, it connects wineries in Hancock, Adams and Pike counties. Five family-owned and operated wineries make up the trail. Quincy invites visitors to take the Trailblazer Challenge. Visit all five wineries and win a Mississippi Valley Wine Trail T-shirt!
The five wineries are:
• Baxter's Vineyards & Winery is Illinois' oldest winery. It has been family owned and operated since 1857. Enjoy wine tasting, self-guided tours and a gift shop. It also features The Wine Barrel, a full bar, Carol's Pies and The Nauvoo Grand Bed & Breakfast.
• Lake Hill Winery was established in 2012 on 6.3 acres just west of Carthage Lake. It features a wedding gazebo, bridge and vineyard view, plus a tasting room bar and two banquet halls. Tours are available by appointment.
• See the views of the Mississippi River Valley at Spirit Knob Winery. With over 100 medals, it is one of the most award-winning wineries in the state. Enjoy the stone fireplace in cool weather and the outdoor vignettes seasonally.
• Choose from over 20 wine varieties and a patio overlooking the vineyard at Village Vineyard Winery. It also has a spacious banquet room and full menu restaurant plus ample outdoor seating.
• Hopewell Winery, atop the rolling hills of Pike County, offers dry and sweet wine varieties, plus fresh Peach Wine from Calhoun County Peaches. Other amenities include food, wine slushies and beer, service for corporate and personal events and festivals and dinners.
The Mississippi Valley Wine Trail is one of nine in Illinois. The state has over 100 wineries. It is among the top 12 wine-producing states in the country.
For information of all the attractions and events going on in Quincy, visit www.seequincy.com.
*************************************************************************************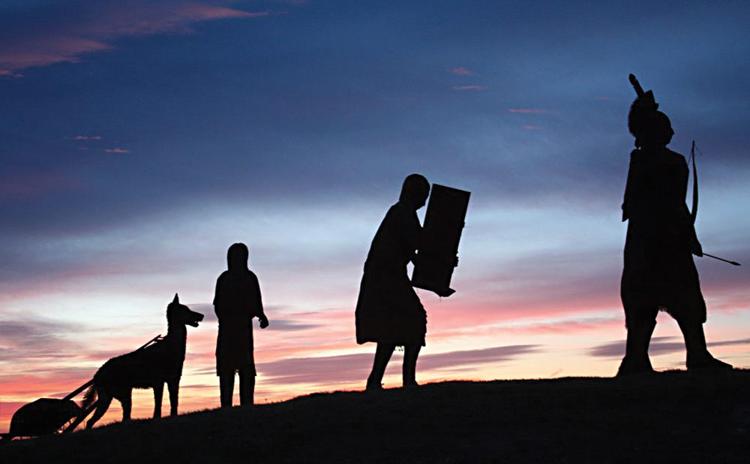 Family Fun On & Off The Water In Cuba, Steelville
Spend the day on the rivers or see the sights & sounds of the 2 small towns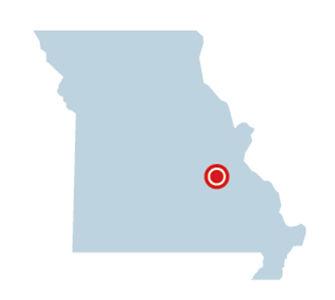 Steelville and Cuba, nestled in the foothills of the Ozark Mountains, are where rivers and people come together.
River enthusiasts can spend a day or longer on three spring-fed-rivers – the Meramec, Huzzah and Courtois – floating, rafting and camping and fishing. Both towns, however, offer numerous attractions off the water.
Cuba
Cuba is located 80 miles southwest of St. Louis on Interstate 44, about halfway between Eureka and Rolla.
Dubbed "The Rte 66 Mural City," the town boasts 14 colorful, outdoor murals. Each mural depicts scenes from local and national history, including visits from Harry S. Truman, Amelia Earhart and Bette Davis.
The area also touts a history museum, a veterans memorial and the huge Route 66 Red Rocker. The rocker lost its title as the Guinness World Record Largest Rocking Chair. It is, however, still the largest rocker on Route 66. Shoppers can find unique items at resale, art and gift shops and antique malls plus dining at area restaurants.
At the Cuba Visitor Center at I-44 and Highway 19, new sculptures by local artist Glen Tutterrow and his son Curtis pay tribute to the Osage legacy. The work depicts an Osage family, led by a 21-foot-tall warrior, moving westward on the Osage Trail.
Cuba will continue the century-old tradition when it hosts the annual Crawford County Fair July 9-13. One of the county's largest events, it features big name entertainment, carnival rides plus truck and tractor pulls.
Steelville
After a day on the river, take in a concert or an art exhibit, thanks to the Steelville Arts Council.
The Meramec Music Theatre, owned by the arts council, brings the best in country music and golden oldies, as well as many special performances throughout the year to the small town. Audiences can relax in a 600-seat theater while listening to the sounds of The Davis Family, Jim & Melissa Brady, Ricky Skaggs & Kentucky Thunder, Jim Stafford and others. For a schedule or to purchase tickets, visit www.meramecmusictheatre.com.
On Main Street, regional and national artists showcase and sell their works at Gallery Zeke, an upscale art gallery and meeting space. Events include exhibits, music, woodcarvers, potters and quilters.
Upcoming exhibits include the Gasconade Valley Conference Art Show, April 26-May 11; "Cats & Dogs & Horses; Oh, My!" May 16-25; a Plein Air Event, June 2-8 with the exhibit June 13-29.
Other upcoming events include "Into the Woods III," July 4-27; "Explosion of Cool Content II," Aug. 1-24; and the annual Show Me Quilt Show, Sept. 1-7. 
Steelville Arts Council has a new retail consignment shop. Heartland Arts Gifts and Gallery offers unique, handcrafted items from Missouri artists.
Steelville's Main Streets boasts several new shops including Pop Scherer's Cafe and Creamery, across the street from Gallery Zeke, and Ken Richardson's Knives which offers amazing, handcrafted, highly desired products.
The varied lodging options around Steelville include Kick'n K Farmhouse & Arena, overlooking the Meramec River. It offers two vacation rental homes – an 1899 farmhouse which sleeps up to 10 and Sunrise Cabin.
Bass River Resort features canoeing, kayaking or rafting trips on the Courtois, Huzzah and Meramec rivers, plus riverside camping along the Courtois River, RV sites and cabins for groups from two to 20 people. Activities include horseback riding, swimming in its outdoor pool and more.
Located on the Meramec in Steelville, Garrison's River Resort features camping or lodging, canoe, raft and kayak rentals, plus float trips on the Meramec, Huzzah and Courtois rivers, horseback riding, as well as parking and hookups for RVs.
Eleven miles south of Steelville near Cherryville, escape to Fair Winds Cabin Resort. It features five cabins on over 120 acres of woods and creek bed for a secret hideaway.
*************************************************************************************
Plan Vacation With AAA Travel
Myriad of resources available from trip planning to discounts
AAA Travel makes dream vacations come true whether traveling to Hawaii or taking a river cruise down the Danube .
The company offers a variety of travel resources to AAA members including road trip planning, experienced travel agents, tips on international travel, plus information on AAA inspected and approved and Diamond-rated hotels and restaurants.
AAA also has exclusive offers and pricing for its members.
Check out its website at www.aaa.com for a wealth of travel information including trips, travel tips and articles.
*************************************************************************************
Getaway To YMCA Trout Lodge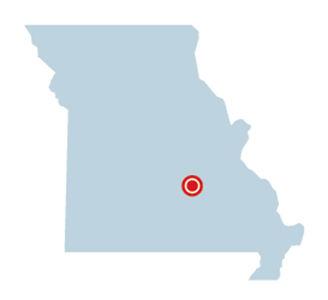 YMCA Trout Lodge is a year-round destination for fun with water, adventure and nature activities for the whole family. Located near Potosi, it is just 90 miles south of St. Louis.
Get out in the lake on a sailboat, pontoon, kayak, canoe or paddleboat. Take a swim or fly down the water slide. Adventure activities abound with a zip line, climbing tower, alpine tower and high ropes course and a mud cave. The Triangle Y Ranch offers horseback rides or pony rides for the little ones plus good old-fashioned hayrides. Guests can kick up their heels at a barn dance or make that special project at Arts & Crafts. That's not all. Trout Lodge also has the always popular archery, riflery and mini-golf and more.
Rates are all-inclusive for lodging, meals and many of the activities. Kids 5 and under stay free.
For reservations or more information, visit the Trout Lodge website at www.ymcaoftheozarks.org.
*************************************************************************************
Ride A Train In Monticello, Ill.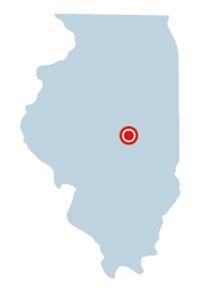 Monticello is home of the all-volunteer Monticello Railway Museum. Rides on vintage trains are offered on Saturdays and Sundays, May through October. Trains operate rain or shine.
Trains may be boarded at the Nelson Crossing depot (the main museum site) or at the Wabash Depot in downtown Monticello. Layovers at either depot are encouraged. Visitors can walk through the museum cars and view many pieces of rolling stock at the museum site.
Monticello is located about 160 miles northeast of St. Louis off Interstate 72. Visit mrym.org for fares and schedules and the numerous events featured during the year. For more information, visit www.mrym.org.
*************************************************************************************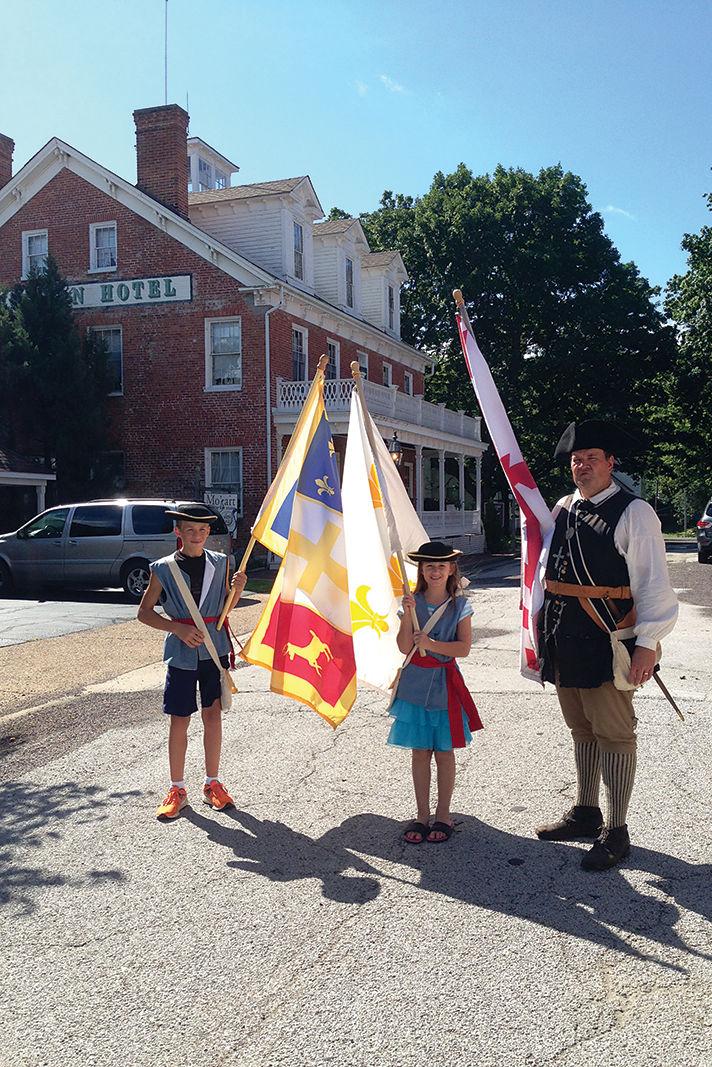 Spring/Summer Festivals In Ste. Genevieve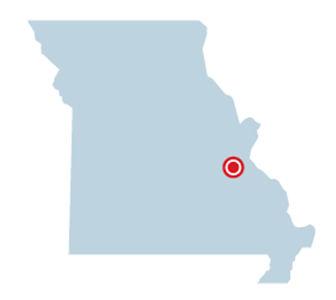 From celebrating its heritage to welcoming artists, Ste. Genevieve, America's original French Colonial village, has an event sure to please the entire family. The town, established in the 1700s, is located an hour south of St. Louis off Interstate 55 along the Mississippi River.
Fourth Friday Art Walks
In the heart of historic downtown Ste. Genevieve, on the fourth Friday of the month, art enthusiasts can explore the artwork and creativity in local galleries, shops and restaurants. Many downtown shops extend their hours during the art walk. Hours are 6 to 9 p.m. on April 26, May 24, June 28, July 26 and Aug. 23.
Spring History Conference: "Ecole du Soldat" (School of the Soldier)
April 27-28
Perfect for history buffs, this weekend event features lectures on the history and life activities of the French Colonial period in the Mississippi Valley and Illinois country. Friday through Sunday living history re-enactors will demonstrate and talk about French Colonial and militia life. Saturday morning lectures are held at the Welcome Center from 9 a.m. to noon. On Saturday afternoon, visit the campsite to watch demonstrations and attend a public heritage auction of "discovered desirables" – memorabilia, collectibles, accoutrements, utensils and "watch'a-may-call-its." Hours are 9 a.m. to 3 p.m. on Saturday, and 9 a.m. to noon on Sunday.
The event is free and open to the public. To register for lectures, call 800-373-7007. For more information, visit www.VisitSteGen.com.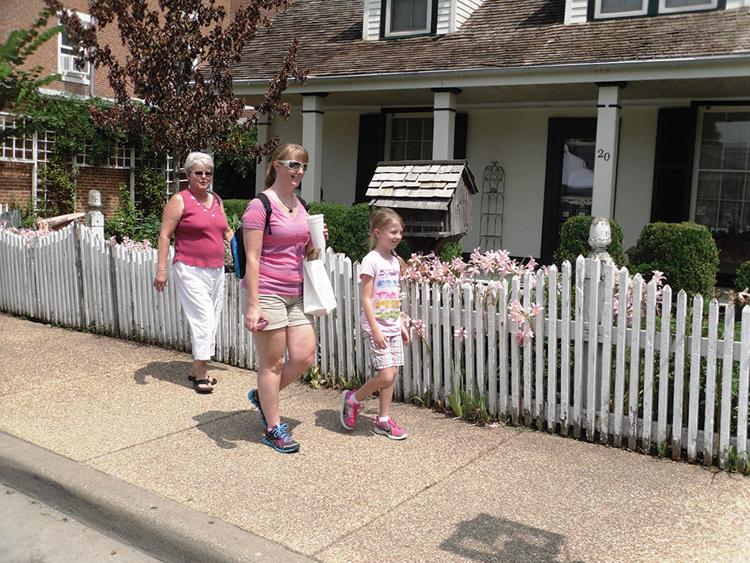 The Annual Master Gardeners' Garden Walk
May 18-19
Find inspiring landscaping ideas or simply enjoy the wide variety of gardens on display during the annual Garden Walk. This is a unique opportunity to tour private and public gardens. Several gardens are part of historic homes and are typical of the 18th-century time period. The famous plant sale begins at 9 a.m. on Saturday and extends to Sunday while supplies last. Other activities include private vendors, art exhibits and the Saturday morning Farmer's Market. Hours are 10 a.m. to 4 p.m. on May 18-19. Admission is $7 per person or $6 per person for groups of five or more. Children under 12 are free. Begin at the Master Gardener's canopy outside the Welcome Center at 66 S. Main St.
The 22nd French Heritage Festival
June 8
The annual French Heritage Festival takes place in the Ste. Genevieve's National Historic Landmark District. Sponsored by the Foundation for Restoration of Ste. Genevieve, this festival celebrates 300 years of French culture in North America from Quebec to New Orleans and recognizes Ste. Genevieve's status as having the greatest concentration of authentic French Colonial architecture in North America. There will be music, dancing, storytelling, French cuisine and other refreshments, an evening open air dance with Creole music by Dennis Stroughmatt et L'Esprit Creole. Enjoy wine and beer sales, reenactments, promenades (parades)and French Colonial architecture tours. The Felix Valle State Historic Site hosts a demonstration of French folk dancing by the Dance Discovery dance troupe. Most events and demonstrations are free, with a small fee for historic site tours. Early birds can take a guided "Audubon's Bird Walk" on Saturday at 7 a.m. More info at www.VisitSteGen.com.
573 Chalk Art Festival 2019
June 29
This festival features street and sidewalk chalk art of all kinds. Watch professional artists create amazing images while amateurs and art enthusiasts of all ages use the pavement of Main Street as their canvas. There will be live music, prizes, street performers and art exhibits. The event is presented by Ste. Genevieve Tourism, the Ste. Genevieve Art Guild and 573 Magazine. Hours are 9 a.m. to 4 p.m. on North Main Street. The event is free and open to the public with a small fee for artists. For event info, go to www.573chalkfestival.com, or www.VisitSteGen.com for lodging, dining and travel info.
Friday Nights: The Summer Music Series
Featuring a variety of musical styles ranging from soulful rhythm and blues to convincing musical tributes to Fleetwood Mac, the Eagles and Alan Jackson, the music series takes place every Friday night in June and July. Sponsored by the Chamber of Commerce, the Summer Music Series brings regional and national touring acts to perform on stage at the Orris, a former movie theater in the historic district. For tickets and more info, go to www.SteGenChamber.org.
Moonlight Madness
July 10
Sponsored by Downtown Ste. Gen, this after-hours shopping event has a Christmas in July theme with discounts, prizes and contests. Shop till you drop, 6 to 9 p.m., on July 10 at more than 20 participating shops. More information at www.Facebook.com/downtownstegen.
Traditional Artisans Showcase and Sale
July 20-21
This is a traditional art show and sale featuring artisans from the Midwest who have been selected by Early American Life Magazine as the best in their fields. These artists and fine crafters display and sell their work and happily educate the public on the traditional way "what they do" is made and was used. Hosted at ASL Pewter, 183 S. 3rd St. from 9:30 a.m. to 5 p.m. each day. Free admission.
53rd Annual Jour de Fete Celebration in Ste. Genevieve
Aug. 11-12
Easily Ste. Genevieve's most widely recognized event, the annual Jour de Fete (Day of Celebration) has been described as "the premier arts and crafts fair in the Midwest." With over 250 arts and crafts booths, plus hands-on exhibits, festival foods and special attractions, Ste. Genevieve's Historic District provides a perfect setting for this event. Hours are Saturday, 10 a.m. to 6 p.m.; Sunday, 9 a.m. to 4 p.m. For more information, visit www.stegenevievejourdefete.com.
*************************************************************************************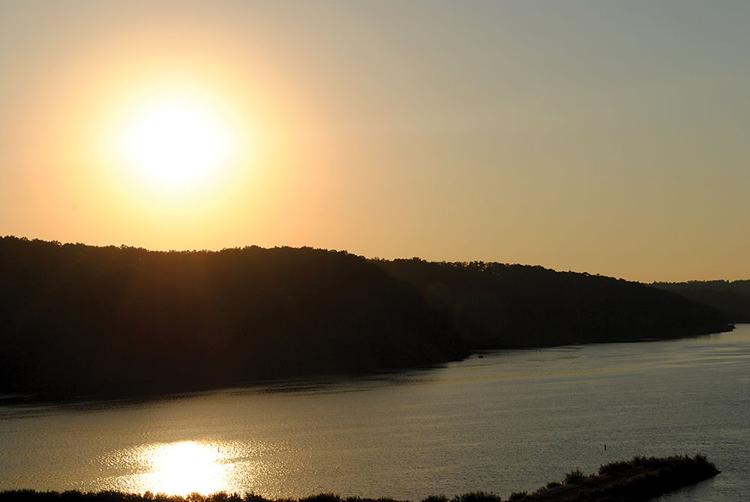 Jump Into Missouri's Natural Wonders In Ellington
Relax, float, boat, fish, hunt, camp in Ozark Highlands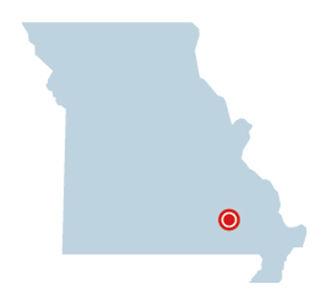 Experience "the real outdoors" in Ellington, nestled in the Ozark Highlands of Reynolds County. While the town is small – with only about 1,000 residents – natural attractions and recreation are plentiful. Ellington is located at Missouri Scenic Highway 21 and Scenic Highway 106 approximately 125 miles south, southwest of St Louis.
The area is a haven for outdoor enthusiasts for floating, boating, fishing, hunting, camping – or just enjoying the beauty of the area.
A favorite family spot is the Current River, the first river to be designated as a National Scenic River. Located just west of Ellington, it is known for its crystal clear water, large gravel bars and hundreds of springs.
Three rivers – the East Fork, Middle Fork and West Fork – come together to form the Black River as they enter the 1,700-acre Clearwater Lake to the north. The lake is noted for the grandeur of the surrounding hills, the picturesque bluffs, wildflowers and indented bays. Considered by locals to be a hidden treasure, Clearwater Lake is a place where families can relax without large crowds and enjoy a little peace and quiet.
Surrounded by three state parks, Clearwater Lake boasts excellent fishing, boating and skiing, as well as canoeing on the nearby upper Black River. Restrictions created by the U.S. Army Corp of Engineers to preserve the lake's natural beauty have prevented private boat docks from being constructed on the lake, leaving plenty of open coast line for exploring.
The lake is home to three campgrounds nestled in the hills surrounding the lake: Webb Creek Park, Bluff View Park and Piedmont Park. Three marinas provide gas, supplies, boat and wave runner rentals and boat rental slips. In addition, nearby are two other campgrounds: River Road Park located on the Black River near the lake spillway and K Bridge Park that is located on Black River at the headway of Clearwater Lake.
The Current River Conservation Area encompasses approximately 28,000 acres of state land and is home to a multitude of wildlife such as deer, turkey, eagles and elk.
Also in the area is Blue Spring. Known for its blue color, it is the sixth largest, and the deepest, spring in Missouri. To see the spring, called "Spring of the Summer Sky" by early Native Americans, requires a quarter-mile forest hike. The parking area has picnic tables and bathrooms.
Peck Ranch Conservation Area is part of the 346-square-mile elk restoration zone which extends into portions of Reynolds, Carter and Shannon counties. It also includes the Current River Conservation Area.
The Missouri Department of Conservation offers elk self-guided driving tours at Peck Ranch and Current River conservation areas. Look for signage.
The Current River Conservation Area driving tour runs from Highway 106 to South Road out of Ellington. The Peck Ranch tour begins at the office. The conservation areas are open sunrise to sunset seven days a week.
Hikers will find plenty of adventure and water along the Blair Creek and Current River section of the Ozark Trail. Along the trail, they'll discover Blair Creek, Bloom Creek, Current River, Rocky Falls, Klepzig Mill and Buzzard Mountain Shut-Ins.
For information about the area, stop by the Copeland-Shy Visitor Center located at 155 W. Walnut St., in a house thought to be the oldest in Ellington.
Learn about the area's history at the Reynolds County Museum, 233 S. Second St. in Ellington. The museum is open through November, Tuesday through Friday, 10 a.m. to 4 p.m., and the second Saturday of each month, 10 a.m. to 4 p.m. Call 573-945-2121 for more information.
See movies under the stars at the 21 Drive In, located on Highway 21 south of Ellington. The drive-in will open for the season on May 23. Movies are shown through September on Fridays and Saturdays. Bring a blanket or lawn chairs. Gates open at 7 p.m. The show begins at dusk.
To get a flavor of the area, Ellington Farmer's Market is open June through September on the second and fourth Saturdays of the month. Locally-grown produce and more is available for sale at the Main Street pavilion in Ellington.
From March through October, be on the lookout for bicyclists. The TransAmerica Trail, a 4,200-mile cross country bicycle route from Virginia to Oregon passes through Ellington via Highway 21 and scenic Highway 106. Brawley Park is a regular stopover/camping spot for bicyclists. Ellington accommodates cyclists at the Route 76 Bicycle Hostel.
*************************************************************************************
Go South For Strawberry Festival, German History, Wine
Down Interstate 55 discover Kimmswick, Barnhart & Perry County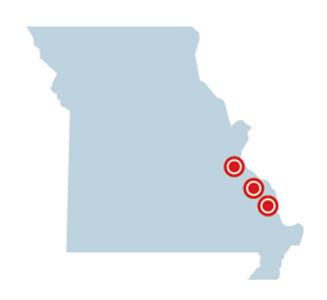 A trek down Interstate 55 will take travelers to unique small towns including the historic Kimmswick – hosting its annual Strawberry Festival – Barnhart and Perry County, known for its German history.
Kimmswick
For strawberry lovers, there's no place like Kimmswick's annual Strawberry Festival on June 1 and 2.
In addition to lots of strawberry-themed items, the event will feature over 200 homemade craft, direct sales, corporate sponsor and food booths. Plus all of the shops will be open and will be selling strawberry-themed items. For some of the Original Kimmswick Strawberry Jam, visitors are advised to get to the festival early since it sells out nearly every year. Youngsters will be entertained with a petting zoo and several fun rides. Admission to the festival is free.
Streets will be closed to vehicle traffic during festival hours. Park at Windsor School and catch a bus into town. The school is located on Windsor Harbor Road just south of Highway K.
On June 16, 10 a.m. to 5 p.m., bring dad to Kimmswick for the annual Father's Day Car Show. Open to all makes and models of cars, trucks and motorcycles.
The Daylily Sale on Saturday, June 22, 9 a.m., will offer about 1,200 freshly dug and bagged plants featuring approximately 90 different daylilies.
For more information on these and other events, visit gokimmswick.com.
Barnhart
Just west of Barnhart off Highway 21, the family-owned Persimmon Ridge Vineyards invites guests for a quiet experience at its vineyards and winery with Norton and Chardonel varieties. Savor its wine in an outdoor setting while listening to live music on Saturdays and Sundays, 2 to 5 p.m. The winery is open year round with a four-season tasting area.
Perry County
One of the oldest communities in Missouri can be found down Interstate 55 in Perry County about 80 miles from St. Louis.
The area was settled by Lutheran immigrants from Germany in the early 1800s. Their history can be found in Frohna, home to the Saxon Lutheran Memorial. On the National Register of Historic Places, the museum consists of 15 buildings, seven of which are log cabins dating from 1820 to 1840.
For lodging, nearby Perryville has Willow House Bed and Breakfast, the town's first bed and breakfast. Built in1901, the restored Victorian home with many modern convenience, offers lodging as well as private dining for special events. Located just two blocks off the Perryville Square, the B&B is five minutes from I-55.
Perryville will host its annual Perryville Mayfest on May 10 and 11 with food, a parade, craft fair, carnival and live music.
*************************************************************************************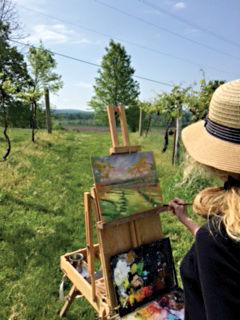 Artists Converge On Missouri Wine Country
Annual Augusta Plein Air Art Festival runs through May 5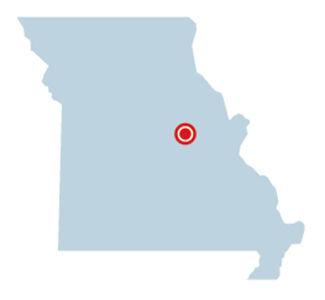 With award-winning wineries, scenic rolling hills and river bluffs plus a host of events, Missouri Wine Country invites visitors to come, relax and savor the day.
Featuring rich German history, the quaint town of Augusta along Highway 94, as well as the historic river town of Washington, located off Highway 100, boast a number of wineries. In addition to sampling locally-manufactured vintages, tourists can tour the wineries and stroll through the towns' historic districts while browsing through the shops.
Through May 5, the area will be filled with over 100 artists for the 17th annual Augusta Plein Air Art Festival. The event is hosted by the Greater Augusta Chamber of Commerce.
Artists will be scattered throughout Defiance, New Melle, Washington and Augusta capturing the rolling hills of wine country. They'll be propped along the Missouri River bluffs, fixed upon prosperous farmland, tucked along the Katy Trail while recreating historic structures on their canvas.
Unique events will be featured each day during the festival at a variety of locations from local wineries to historic sites, with special days in surrounding towns. Along with special events, there will be Pop-Up Art Galleries at several of these events and at the Harmonie-Verein/American Legion Hall for viewing art and purchases daily.
Visitors may discover they want to try their hand at plein air painting at one of the Sip 'N' Paint events at Augusta Winery on April 27 or Kate's Coffee on April 30.
Judging, awards and the final sale will take place at Mount Pleasant Estates on May 5. For details, visit the website, www.augustapleinair.com.
Augusta
The small town of Augusta is situated on the bluffs overlooking the Missouri River Valley about 35 miles west of St. Louis. In 1980, Augusta, not California Wine Country, was designated as the "First United States Wine District."
With approximately 11 bed and breakfast establishments, restaurants, unique specialty shops, the quaint village is perfect for a weekend getaway.
Montelle Winery is among the excellent Missouri wineries in Augusta with spectacular views of the rolling hillside vineyards. Stop by, relax on Montelle's deck with a magnificent view of the Missouri River Valley and enjoy its wine, music on weekends and cuisine from the Klondike Cafe.
In 2010, Noboleis Vineyards' first vintage of grown, produced and bottled wines won awards at the Missouri Governors Cup. Live music is featured on the weekends and a tasting room is open year round.
Washington
See the rolling hills of wine country blossom this spring with a relaxing outing aboard Amtrak to the "Heart of Wine Country" – Washington, Missouri. Over 50 wineries are located within 40 minutes of the town.
Since the depot is located within walking distance of shops, restaurants, riverfront park and lodging, visitors can enjoy the sights and history as well as the many events happening in this river town.
A few of the events the town hosts throughout the year include:
• April 25 - Sunset on the Riverfront. Live music on the fourth Thursday of the month through September.
• May 17-19 - Art Fair & Winefest. Sample wines from Missouri wineries, and check out the work of Midwestern artists in the juried event.
• Aug. 7-11 - Washington Town & Country Fair with fine art, midway rides, plus lots or entertainments and music for the whole family.
Discover the myriad of other happenings by visiting www.washmo.org.
*************************************************************************************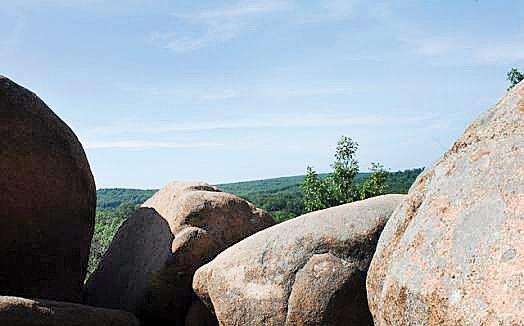 St. Francois County Seat Boasts Many State & Local Parks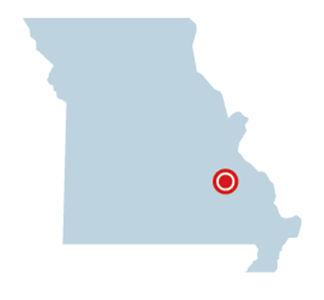 Picturesque state parks, award-winning wineries – even an ATV park – can be easily accessed from Farmington, located in St. Francois County one hour south of St. Louis off Highway 67. In addition to the state parks, 14 city parks, offer sites for fishing, playgrounds, ball fields, picnicking, walking trails and more. One park is dedicated to skateboarders, in-line skaters and BMX riders.
Farmington serves as a regional shopping hub and county seat for St. Francois County. The town is proud of its historic downtown district with quaint shops, local wineries, galleries and more.
The St. Francois County Fairgrounds in Farmington is the site of the Auto Plaza Group Rodeo on May 24 and 25.
On May 31-June 2, Country Days 2019 will feature activities for all ages including concerts, entertainment, amusement rides, a parade, concessions and a marketplace.
Wine lovers are sure to find that perfect vintage at one of the area's 15 vineyards and wineries.
Golfers are invited to Farmington's world-class golf course. Crown Pointe, situated on a 208-acre tract, was designed in 1993 by Gary Kern. Golfers can take advantage of the private club-style amenities and four-star course, while enjoying its public course status.
Nine state parks surround the area including Hawn, Elephant Rocks and St. Joe, Sam A. Baker and St. Francois. Each park offers its own unique features.
St. Joe State Park is one of two off-road vehicle parks in the state park system. The many trails set aside for off-road vehicle use make the park the premiere off-road vehicle area. The park also features four lakes, two swimming beaches, equestrian trails, a hiking and bicycling trail and picnic sites, as well as two campgrounds.
Explore the history of the lead business in the eastern Ozarks at Missouri Mines State Historic Site. The mine's former powerhouse has been turned into a museum and houses one of the Midwest's finest mineral collections.