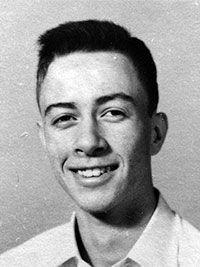 Winslow, David Carl, 86, of Liberty, Missouri, passed away peacefully at home on Feb. 3, 2023. Services will be held Saturday, Feb. 18, 2023, at 11 a.m. at Saint James Catholic Church, 309 S. Stewart Road, Liberty, Missouri, with Father Mike Roach officiating. Family will receive visitors from 10 to 11 a.m. at St. James Catholic Church. Arrangements are entrusted to Park Lawn Funeral Home in Liberty. 
David is survived by his brothers, Leon Winslow (Carol) and Charles Winslow (June); and his sister, Diana Jakum (Jake). He is also survived by daughters Yvonne Bishop (William) of Liberty and Laura Mize (Jeff) of Excelsior Springs; six grandchildren, Tyler Winslow (Erin), Amanda Pettis, William Bishop III, Hollyann Bishop, Elijah Mize (Hope), and Melissa Barrera (Oscar); as well as 11 great-grandchildren and many nieces and nephews. David was preceded in death by his wife, Frances (Macy); and his parents, Edward and Bernice (Neibert) Winslow. 
David Carl Winslow was born in Valley Park, Missouri, on Dec. 24, 1936, to Edward and Bernice Winslow. He was born with defects to his arms and spine and was not expected to live past infancy. His parents gave their son the best care they could. He grew up in Kirkwood, Missouri, outside of St. Louis and attended Kirkwood High School, where he developed public speaking skills in the Junior Toastmasters Club, in forensics competitions and at American Legion Boys State. He graduated from Rockhurst College in 1959.
After college, David went on to have a successful career in manufacturing, first as a manufacturer's representative, then as the owner of a manufacturing business making photo electric controls. David met his wife, Frances, at the Catholic Alumni Club in Kansas City, and they were married on Dec. 12, 1970. They had two daughters, Laura in 1971 and Yvonne in 1975. 
After his career in manufacturing, David was a substitute teacher for the Liberty School System for many years and was one of the few substitutes who could teach the chemistry, higher math and Latin classes. He was an active member of St. James Catholic Church, where he enjoyed serving as lector for nearly 40 years. He read the scriptures with care and precise diction. 
Dave could strike up a conversation with absolutely anyone, a skill that served him well in sales. He especially enjoyed being around and interacting with children. When they asked him what happened to his arm, his response was always, "That's the way God made me!" Dave ate breakfast and shopped at HyVee in Liberty nearly every day for several years and made many friends there among the staff and shoppers. 
Dave loved his family well and leaves a legacy of love, kindness, patience, and generosity. He exemplified true and selfless marital love to Frances, his wife of 44 years. In lieu of flowers, donations may be made in his memory to the Shriners Hospital for Children, which provided care for him when he was young.