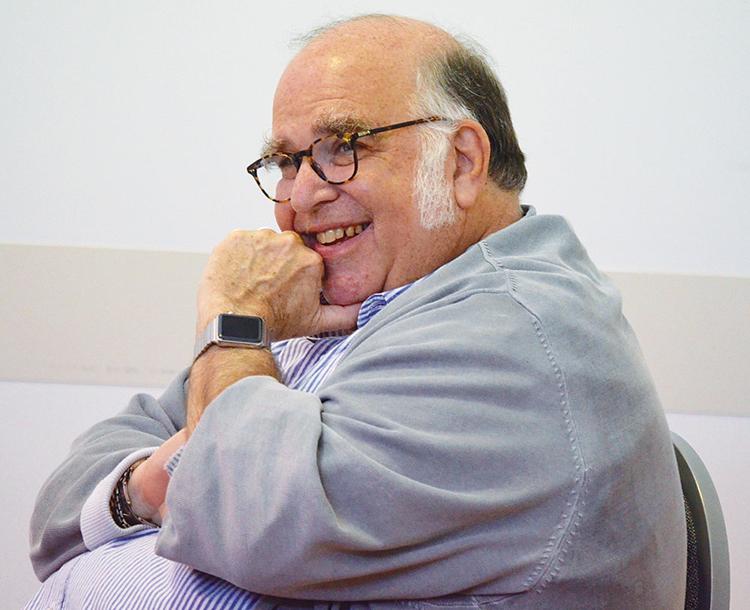 One of St. Louis's most iconic personalities and distinguished directors, Steven Woolf, is ending his 32 years of leadership at The Repertory Theatre of St. Louis on a high note.
As the end of the 2018-2019 season approaches, Woolf looked back on the year that was – directing his final two shows, "Oslo" and "Admissions;" record-setting sales; receiving awards and heartfelt tributes.
"I really never approached any of the shows thinking about 'finality.' That would have put a lot of pressure on producing the season. The honors that have come my way this season were wonderful and fulfilling," Woolf said.
"I didn't spend time reflecting on my career too much – it was more a reflection as to how fortunate I've been to have a long career in the American theatre," he said. "It is rare to be able to have 30-plus years in this business, much less at the same institution. So, my personal celebration is to reflect on some good fortune that came my way."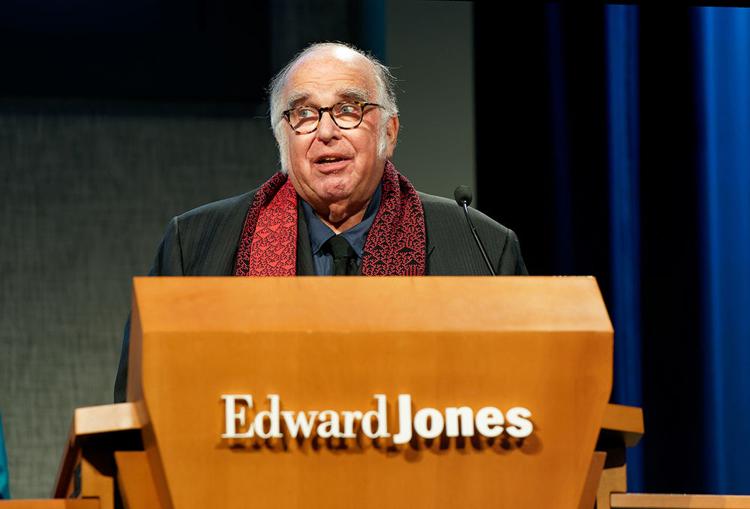 Living the Dream
For a kid from Milwaukee to travel the world, all the while living his dream, Woolf marveled at his opportunities. His dreams took him to New York City, but St. Louis is where he thrived. He has built a regional theater into a powerhouse of prestige.
"It's not often you get to live your dream, but I've been able to do just that at The Rep. My life's work has been about the theatre and making it all come together has been a grand experience," he said.
"Our theatre has had major successes and some bumps in the road. But through it all, I've had fun – it's too hard a gig not to have fun. I am wildly proud to have been a part of the collective effort that has built our institution into a community leader."
For the past three years, The Rep has exceeded $1 million in single ticket sales. The recently concluded 2018-2019 season topped the record with $1.5 million for single ticket sales for six mainstage and three studio productions.
The Rep's total ticket revenue, including subscriptions, exceeded $5.2 million. The big sales splash had everything to do with the choices for Woolf's grand finale.
"We saw tremendous enthusiasm from our single ticket buyers this season. That's a testament to the strong titles that Steve Woolf selected for his final year," said The Rep's Managing Director Mark Bernstein.
In fact, three blockbuster productions entered The Rep's top 10 highest grossing mainstage shows of all-time: "Evita," "A Christmas Story" and "The Play That Goes Wrong."
In the Emerson Studio Theatre, "Admissions," directed by Woolf, posted The Rep's third highest studio sales total ever.
"This season was everything I had hoped for. It felt like a true celebration of the theatre," Woolf said.
Although he's retiring from The Rep, Woolf is not leaving town. He will remain as artistic director emeritus. Hana S. Sharif, who came from the Baltimore Center Stage where she was associate artistic director, begins her new journey as artistic director June 1.
"Hana will bring an excitement and verve about the theatre to our community. It will be an exciting adventure for audiences," he said.
As he prepares to end one chapter and start another, Woolf mused: "I'm thinking about how strange it will be not to be at my desk around 9 a.m. every day. And how strange it may be to actually be at home before 10 p.m. on any night."
Award-Winning Career
Woolf's accomplishments are vast. During his tenure, he produced more than 300 shows. Since 2006, The Rep has received 111 combined Kevin Kline and St. Louis Theater Circle awards, including seven for "Evita." The Rep had received the most nominations, 19, and has dominated every year.
As a tribute to his three decades in St. Louis, scenic designers Peter and Margery Spack included a nod to Woolf on the bookshelves in "The Play That Goes Wrong," which featured the name of 42 shows he directed.
Woolf, the Augustin Family Artistic Director, was recently feted with a ceremony celebrating his legacy of artistic excellence and financial stability, "A Standing Ovation for Steve."
During the past farewell year, Woolf received the 2018 Lifetime Achievement Award from the Arts and Education Council of St. Louis and the St. Louis community theater non-profit organization Arts for Life for his "vision, passion and excellence."
He was honored last summer with the National Theatre Practitioner Award, which is given by the Theatre Communications Group.
He received a Lifetime Achievement Award from the St. Louis Theater Circle last month during its annual awards.
Judith Newmark, a local theater critic, said she appreciated Woolf's commitment to an audience "with lots of different tastes.
"Steve also made it clear that he particularly savors plays with political heft. You could feel his relish when he directed 'The Life of Galileo,' 'The Crucible' and 'Red,'" she said. "I loved the big, bold political dramas he served up with such relish, shows like 'All the Way' and 'Oslo.' But Steve also has a love for intimate, beautifully written explorations of human relationships."
Woolf has said before that he loved producing shows that sparked conversations – those in the car on the way home, and those that continued from different viewpoints.
Lasting Legacy
Woolf fell in love with the theater at an early age and earned a bachelor's degree in theater and an MFA in directing from the University of Wisconsin at Madison.
While in New York City, he worked on Broadway and directed in off-Broadway theaters. He was on the Juilliard School of Drama faculty under the legendary John Houseman.
When he took over as artistic director of The Rep in 1986, the theater was in trouble both financially and artistically. His guiding principle was to present interesting programming and do it well, he said. He became not just the vision, but the voice and premier ambassador of The Rep.
His joy was contagious. Season ticket holders also steadily increased under his leadership. He not only has made The Rep financially successful, but a beacon in the arts community.
"I'm most proud of the fact that The Rep has become a major player in the regional theatre world in the country," Woolf said. "We have grown a lot in many ways over the past decades and those were big steps from where we came from in the early 1980s. And if we had some influence in the growth of the St. Louis theatre community — that is also something to be proud of."
Woolf's clout means St. Louis gets plays before anywhere else in the country. Case in point – he knew the producers of one of Broadway's hottest tickets, "The Play That Goes Wrong." The madcap farce closed out The Rep's 52nd season.
In accepting his Lifetime Achievement Award from AFL last year, Woolf said people come into the theater as individuals, but bond and leave united, changed through their shared experience. In his last letter to subscribers, he thanked people for their well wishes this past year.
"I have been humbled and moved by the many very kind and supportive comments you have spoken to me during this season. There are lots of new adventures to be had by all of us. It's going to be a whole new universe for me to explore and for you as audience members," he wrote.
As for what is next, he remains open.
"I don't really have any future plans at this moment in time. I'm just going to relax and enjoy some time off — read a lot and travel a lot," he said.
As a lasting legacy, the Studio performance series is being named after Woolf. The Rep launched a campaign to honor him for his innumerable contributions to The Rep and the St. Louis community.
"Our goal is to raise $1 million by May 31, 2019, to fund an endowment which will support the hiring of world-class directors, designers and actors to create the intimate, exceptional live theatre for which we are known," the organizers stated.
To share a memory, visit www.repstl.org/steve-woolf-memories. To make a contribution to honor Woolf's legacy, visit www.repstl.org/support/steve-woolf-endowment.