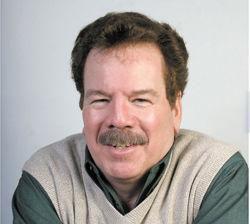 Back in the pre-pandemic days when students met in classrooms, I used to teach a media law class in the Sverdrup Center at Webster University. After every class, I would pass by a wall photo of Twitter genius Jack Dorsey who came to Webster in 2009 where he was named "Person of the Year."
Dorsey, a St. Louis notable and 1995 Bishop DuBourg High School graduate, was lavishly praised at Webster for his role in creating the social networking sensation of Twitter. Unless you are a snoozing Rumpelstiltskin, you know that Twitter is a 280-character (originally 140) communications technology allowing millions to connect in short word bursts.
On his visit, the Business School Dean introduced Dorsey and compared him to inventors Johannes Gutenberg and Alexander Graham Bell, revolutionary thinkers who have made the world a better place with their technological marvels.
When I have passed Dorsey's photo in the hallways over the years, I have been more inclined to curse than to genuflect. Of course, this is partly because I am a Luddite who has seen every advance in social media as another nail in the coffin of the good, old-fashioned, reliable print newspaper.
Another reason for my skepticism was a journalism review article by my teaching colleague, Art Silverblatt, now professor emeritus at Webster. He predicted Twitter would be abused by communicators. The citizenry and his own students would consider themselves informed on everything from foreign policy to politics based on short bursts of 140 characters – not 140 words, but letters.
No one has proven the validity of Silverblatt's prognostications as well as our Tweeter-in-Chief, Donald Trump. He has amassed a core following of millions who hang on his every tweeted character on issues such as immigration, trade, race, foreign policy and politics. He has belittled many people in his tirades Some people have sued him. 
As a media law professor, I was dumbstruck when a judge threw out one of those libel suits on the grounds that no one really takes his Twitter messages seriously. The judge said Trump's tweets were harsh and demeaning, but more akin to the level of a schoolyard bully.
Judge Barbara Jaffe wrote that Trump's tweets "are rife with vague and simplistic insults such as 'loser' or 'total loser' or 'totally biased loser,' 'dummy' or 'dope' or 'dumb,' 'zero/no credibility,' 'crazy' or 'wacko' and 'disaster,' all deflecting serious consideration."
Even if you agree with Judge Jaffe that Trump's tweets are not actionable, what does it say about a presidency reduced to communicating through invective and insult? And, I would argue that there are plenty of Americans who appear to take his hate and dispersions on social media very seriously. Some are armed and dangerous.
Much to Jack Dorsey's credit, he has finally taken steps to address the irresponsible words from the White House with warning messages attached. Among Twitter's labeling of the President's messages are: "glorifying violence," "manipulated media" and "potentially misleading."
The misleading label was earned by a Trump tweet attacking mail-in voting as fraudulent and a conspiracy. The glorifying violence label was earned by Trump's dismissal of protesters as thugs and his threat that "when the looting starts, the shooting starts." Dorsey naturally has now come under attack by Trump.
However, Dorsey apparently has awakened a sense of responsibility in another social media giant, Facebook, the empire of Mark Zuckerberg. Facebook has taken down Trump ads describing "Dangerous MOBS of far-left groups," featuring an upside-down triangle used during the reign of terror of the Nazis.
The real test for Dorsey will come as we get closer to the election. Can Dorsey help get America through the election, and through the dangerous period between Nov. 3 and perhaps a much-needed transfer of power on Jan. 20, 2021? If so, Dorsey should be invited back to Webster Groves for a "Person of the Decade Award" at the local university.