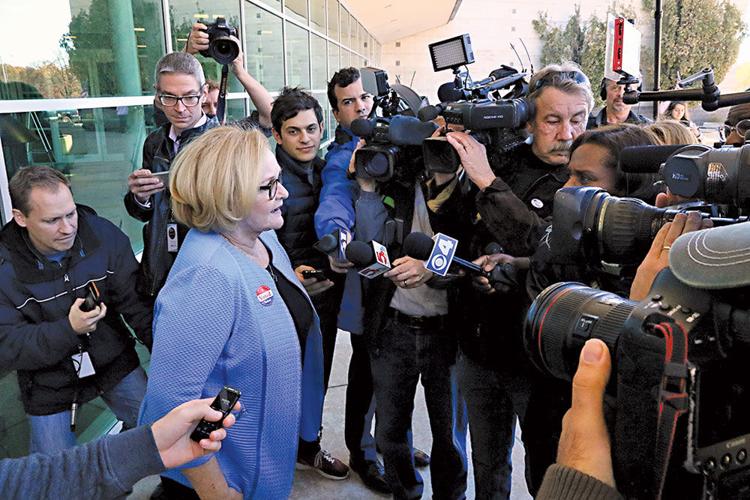 Kirkwood resident Claire McCaskill, 65, will finish out her term as Missouri's U.S. Senator in January. Her bid for another six years in the Senate was quashed by Republican challenger Josh Hawley in the Tuesday, Nov. 6, election.
Hawley bested Democrat McCaskill by about 150,000 votes in a race that saw him repeatedly portray her as a Washington insider and a radical liberal. At 38, the Missouri Attorney General will become the youngest member of the 2019 U.S. Senate.
"Despite the fact that she did better than her performance in 2006 in St. Louis County and the other urban and suburban areas in the state, it was just not enough to counter the share of votes that Hawley pulled from the outstate areas," noted Terry Jones, a longtime Missouri political analyst.
"The McCaskill defeat is just another indication that Missouri is a red state," said Jones, a professor of political science at the University of Missouri-St. Louis. "However, the strong showing by Cort VanOstran against Ann Wagner for the 2nd District House seat shows that the state's suburban areas are trending bluer and will likely continue in that direction ."
Wagner Victory
Wagner, 56, basked in her victory at an election night party at the Village Bar and Restaurant in Des Peres. The incumbent Republican came up with 51 percent of the vote to VanOstran's 47 percent out of more than 300,000 votes cast in the congressional race on Tuesday.
"For me, serving my constituents is not a job; it's a calling," Wagner said in a victory statement. "I am honored and humbled to have the support of my friends and neighbors in Missouri's 2nd District. In the past several months. It is easy to get swept up in negativity and harsh rhetoric, but I am proud of the positive campaign we ran that focused on the issues that matter."
Wagner, 56, emphasized her work with constituents and her experience during the campaign, as well as touting tax cuts and a strong economy during the past two years of the Republican presidential administration of Donald Trump. Like Hawley in the U.S. Senate race, Wagner aligned with Trump on the economy and on immigration.
VanOstran, 30, made health care his top issue. His campaign ads against Wagner stressed his defense of the Affordable Care Act (ACA) against Republican attempts to kill the healthcare law from the Barack Obama era.
VanOstran also cited his mother's fight against cancer as a defense of ACA and its medical insurance guarantees for pre-existing conditions.
"The 2nd District has a Republican preference of about 55 to 60 percent," said political analyst Jones, "but the VanOstran campaign really did eat into that. No other opponent Wagner has had in the past has been able to do that, and it's clearly an invitation for him to run against her again in 2020.
"While Missouri is redder than ever, the 2nd District, as a suburban area, is just getting more blue," added Jones. "It could be even more in play in 2020, depending on the economy's performance and a number of other circumstances."
Nicole Galloway Victory
A lone bright spot for Democrats in Missouri, on an evening that turned into a red romp for Republicans in the state, was the victory of Democrat Galloway in the state auditor's race. Galloway holds the same office that was once a platform for U.S. Sen. Claire McCaskill's launch into national politics.
Galloway, defeated her Republican challenger, Saundra McDowell, by about 100,000 votes out of more than 1,250,000 cast in the statewide race. During the campaign, McDowell, 38, was plagued during the campaign by her past legal and financial problems, as well as questions about her residency.
Galloway, 38, emphasized her own track record in state office as well as her credentials as a certified public accountant. Galloway was appointed to the state office by then-Gov. Jay Nixon after the 2015 death of Republican State Auditor Tom Schweich. Her Tuesday night victory will give Galloway her first full term in office.
Of local note, Galloway grew up in Fenton and graduated from Ursuline Academy in Oakland before going on for a B.S. at the University of Missouri at Rolla. She has been mentioned as a possible Democratic gubernatorial candidate for Missouri in 2020.