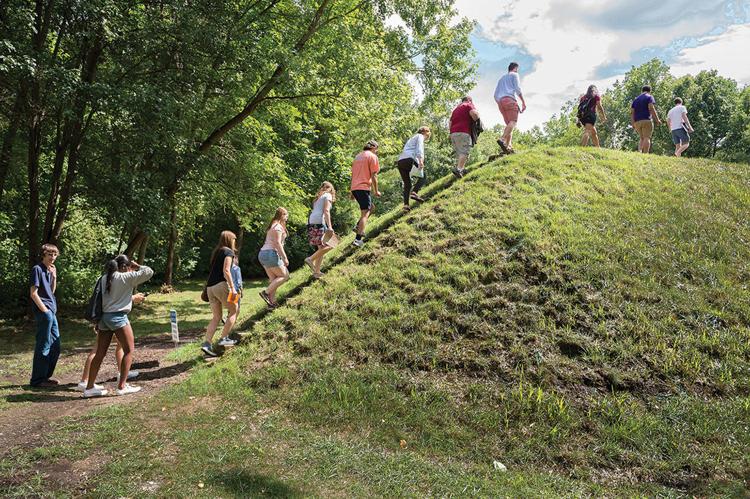 For those who need to walk off some stuffing, turkey and pie after Thanksgiving dinner, look no farther than Laumeier Sculpture Park.
Known for its popular sculptures like the massive eyeball (Tony Tasset's "Eye"), or the big red oil drums (Alexander Liberman's "The Way"), or for its annual art fair, many visitors might not take the time to wander the trails that meander through the woods. These trails feature site specific artworks and sculptures and are my favorite aspect of the park.
You can't miss some of the sculptures, like the historic ruins of Mary Miss' "Pool Complex: Orchard Valley." But others may surprise you, like Sam Durant's "Hanging Chain."
One of our family's favorite sculptures to visit is Beverly Pepper's "Cromlech Glen." "Cromlech Glen" is a steeply angled bowl carved into the landscape. From the trail, you see two sandstone stairways that ascend a steep hill. Between them is a narrow path. You can either ascend the stairways and walk along the rim of the bowl, or you can enter the earthen amphitheater between the stairs.
Pepper designed the sculpture to undergo the wear and tear of foot traffic and to change throughout the seasons. It is a living sculpture that invites the viewer to be a part of the work, and blends nature with human presence. Plus, it's just plain fun to walk around and in.
Beverly Pepper has been described as a "brilliant artist you have never heard of." Still, Pepper has been renowned enough to make prominent site-specific sculptures and land art for major cities in the United States and across Europe.
An inspiration to us all, Pepper was born in 1922 and continues to work to this day. This past spring, she designed an amphisculpture (part amphitheater, part sculpture) for the town L'Aquila in Italy, which was devastated by an earthquake in 2009.
This year, why not skip the Black Friday shopping hysteria and walk the Art Hike Trail to "Cromlech Glen?" Learn more about Laumeier Sculpture Park at www.laumeiersculpturepark.org, and about Beverly Pepper at www.beverlypepper.net.