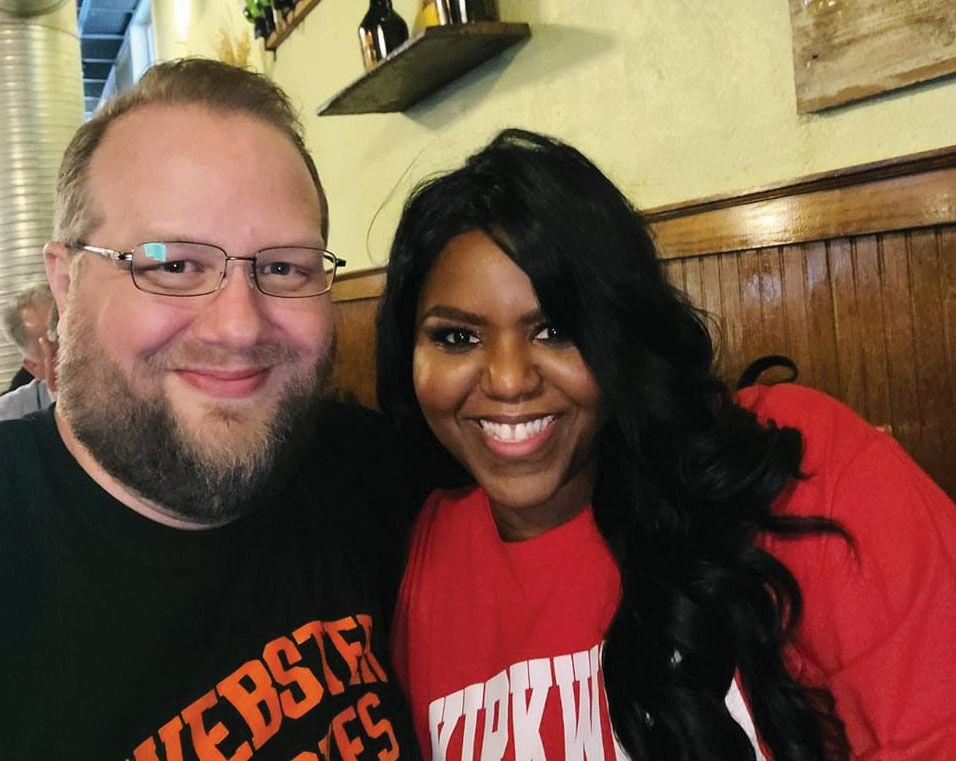 Kirkwood High School alumna Melissa Dorn and Webster Groves High School alumnus Tom Anson, both 2003 graduates, could have never imagined they would be sitting on the same side of the stands at a Turkey Day game. 
But that's exactly what will happen when the annual Thanksgiving Day football game between the longtime rival schools kicks off at Moss Field in Webster Groves this year.
Even more surprising, this tried-and-true Kirkwood girl and Webster Groves boy who bleeds black and orange are set to tie the knot on March 25, 2023.
"I never thought I'd be getting married to a Kirkwood girl," said Anson, 37. "It wasn't in the cards until I met her. When it came up that she was from Kirkwood, it was like, 'Oh, we have our own version of 'Romeo and Juliet.'"
Dorn echoed that sentiment.
"It's so crazy. I never thought I'd marry a guy from Webster, but it's so perfect that it happened that way," she said.
Although the two attended neighboring high schools with plenty of opportunities for their respective classes of 2003 to mingle and mesh, the pair didn't meet until nearly 15 years later during post-graduate studies at the University of Missouri-St. Louis.
"I knew people from Webster and he knew people from Kirkwood, but our paths never crossed in high school," said Dorn, 38. "But then we both went to UMSL to get our MBA's."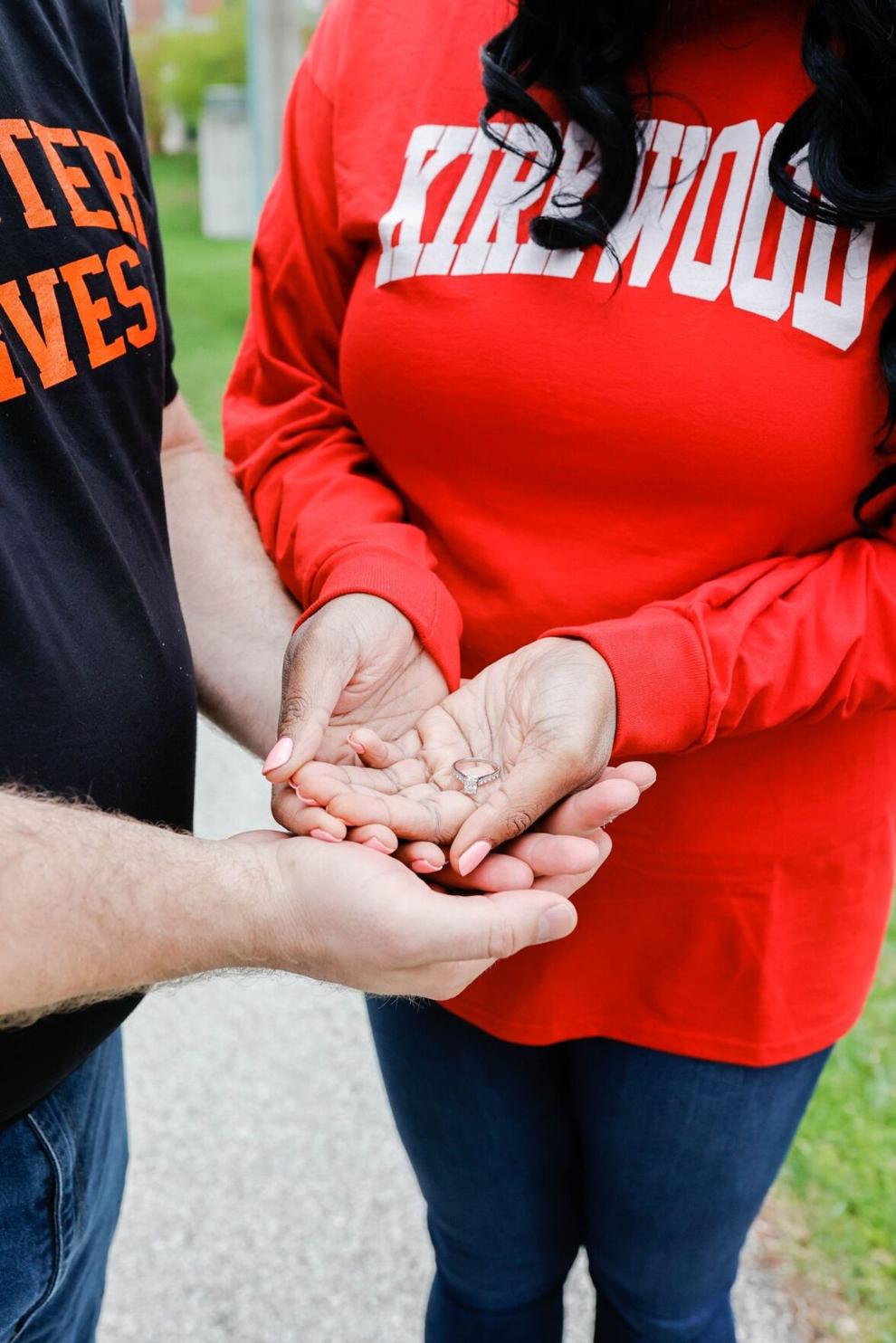 It was during a communications course in 2017 that Dorn first took notice of Anson. A couple more classes together and a few semesters later, the two became good friends.
"We kept sitting next to each other and kept talking," Dorn said, giggling with delight as she relayed the story. "That's when we figured out that he went to Webster and I went to Kirkwood, and that we both played clarinet. When I found that out, I was like, 'Oh, this is my homie!'"
The pair started dating in March 2019, and got engaged in October 2021. When it came time to take their engagement photos, the couple couldn't resist working in some good old-fashioned fun with a nod to their alma maters. 
The photos feature Dorn sporting her signature red and white for the Kirkwood Pioneers and Anson in his Webster Groves Statesmen orange and black on the campus of the University of Missouri-St. Louis. Anson gives his Kirkwood sweetheart credit for coming up with the creative idea.
"I thought of it about a week before we did the photos and thought, 'How cute would it be if we wore our Webster and Kirkwood shirts?'" Dorn said.
Turkey Day Memories
Although the two didn't meet during high school, they have plenty to reminisce about from those days — specifically, Turkey Day.
"Even though we never crossed paths in high school, we have commonalities that we can talk about," said Dorn, who is a product marketing manager at The Knot Worldwide. 
"We both remember the Turkey Day game our senior year," she added, noting the game was at Webster that year. 
"He brags about Webster (football) winning state our senior year, but Kirkwood got the bell!" Dorn said, referring to the coveted Frisco Bell that goes to the Turkey Day champions.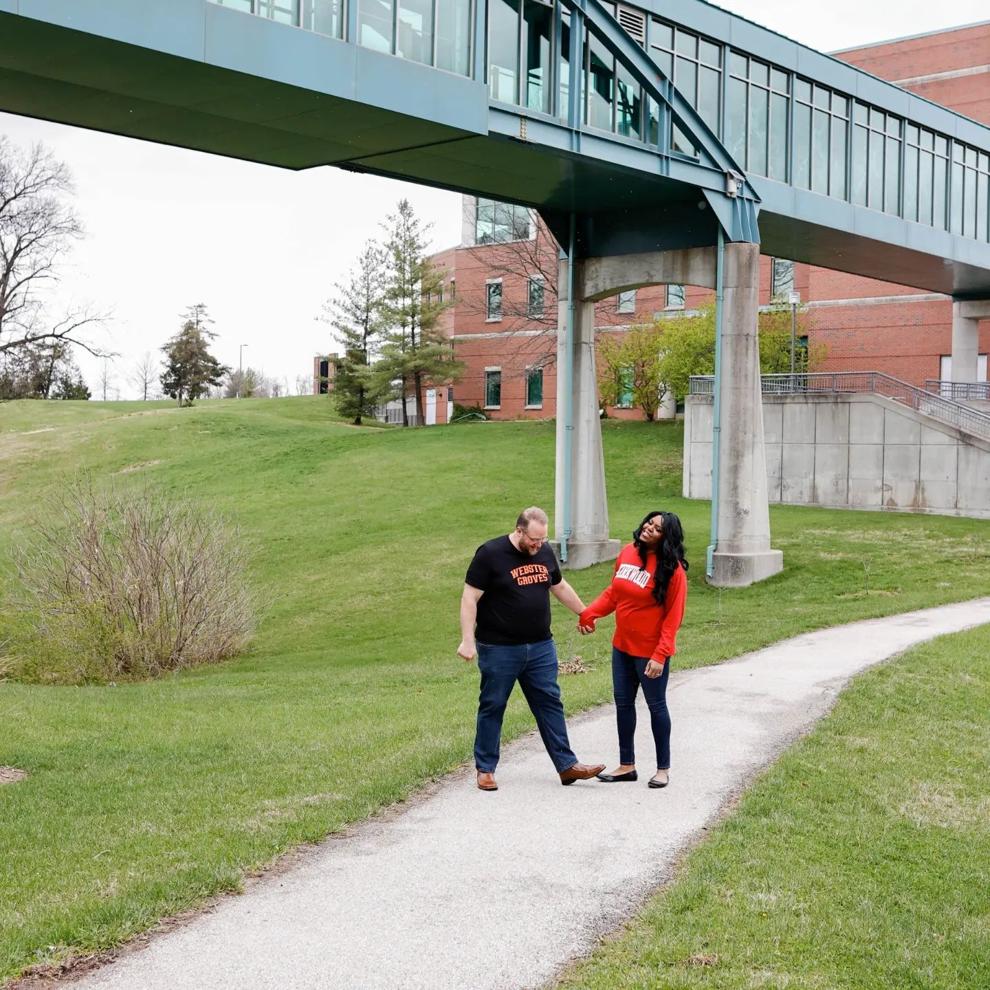 Most of Dorn's fondest Turkey Day memories include performing with the Kirkwood High School Pioneer Pride marching band, and there were plenty of memories both on and off the field. The week leading up to the game is full of spirit at both high schools, with festivities ranging from dress up days to hall decorating contests, pep assemblies and more. 
"I remember the energy of the week — dressing up, decorating the halls, the pep rally, the skits," Dorn said.
Her Webster Groves counterpart recalled that same palpable energy during the week of Turkey Day.
"Spirit Day was always fun," Anson said. "My mom had gotten me this bright, orange shirt — like solid, hunter orange. I'm going to school in this thing thinking I would stick out like a sore thumb, but then I got to school and everyone was wearing the same thing."
That spirit spills from the hallways of the high schools and into both communities for chili contests, pep rallies and bonfires the night before the big game.
"I always think about the bonfire," said Anson, who is a consultant for Booz Allen Hamilton. "The smell of the smoke in the air and the crowd ... you get caught up in this rivalry that on its face is kind of silly, but everybody is buying into it and it takes on a life of its own. Going to the games, with one side all orange and black, and the other side all red and white ... it was so cool."
For both Anson and Dorn, Turkey Day memories linger throughout that of their families. Dorn's two sisters also attended Kirkwood schools and graduated from Kirkwood High. 
"My younger sister was a cheerleader and her husband was a football player, and I have three nieces and a nephew who went to Kirkwood. Now, my two great nephews go to North Glendale (Elementary), which is where I went, so we are all 'Kirkwooded' out," she said with a laugh.
Anson's family is as deeply rooted in Webster Groves. His four brothers attended Webster schools and graduated from Webster Groves High School. His mom also graduated from Webster.
Starting New Traditions
Though their families have many Turkey Day memories, Anson and Dorn are looking forward to creating their own Turkey Day traditions together. 
"We want to go to the chili cook off every year, and we also want to start going to the game together on Thanksgiving," Dorn said. "We've never attended the game as a couple, so this will be a first."
"This Is A Pretty Good Place, Too"
A Webster Groves guy through and through, Anson certainly didn't see himself moving to Kirkwood.
"I never thought I would live in Kirkwood. I was so against it when we were looking for houses. My buddy from high school moved from Webster to Kirkwood and I gave him so much trouble about it when he did," Anson said, chuckling. "But then you get a little distance and you realize this is a pretty good place, too."
His fiancée is of course very happy the couple has settled in Kirkwood.
"We moved here a little bit over a year ago ... I told him he saw the light," Dorn said with a laugh.
While you might be able to take the boy out of Webster, you can't take the Webster out of the boy. Anson will be proudly sporting his Statesmen orange and black while his Kirkwood lady dons her red and white at this year's game. As for what side of the stands to find them on, the couple plans to sit with the home team each year. 
"It'll be a fun time," Anson said.