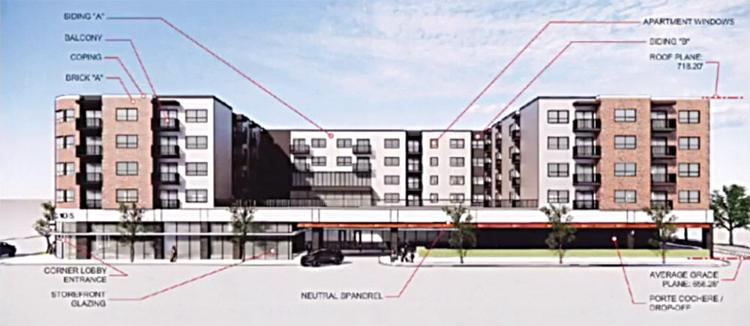 The Kirkwood City Council held two public hearings on Oct. 1 regarding a mixed-use development at 300 N. Kirkwood Road, at the intersection of Kirkwood Road and East Adams Avenue  near First Presbyterian Church. 
The proposed development is a five-story luxury senior living complex with one floor of commercial developments.
Petitioner Opus Development, represented at the hearing by Director Ryan Carlie, is a 67-year-old firm of architects and engineers with nine offices across the country, including in St. Louis. Within the last seven years, the firm has developed two local senior housing structures — Ceylon Apartments in Clayton and Citizen Park in the Central West End — both of which Carlie called "immensely successful."
Opus is partnering with Allegro Senior Living, represented at the Oct. 1 meeting by Senior Vice President of Development and Acquisitions Joe Miklich. The company has 19 senior communities across the country, including a project in Richmond Heights. 
Allegro Kirkwood would include 66 independent living units and 56 assisted living units, including a mix of sizes from studio to two-bedroom. Miklich said all units would be upscale, with rent priced between $4,500 and $6,500 per month, which would include meals, laundry service, housekeeping and a tailored care plan, among other amenities. Plans for the facility include a movie theatre, library, fitness center, indoor pool, spa, salon and conference room.
"We really believe this would be an option for the aging population of Kirkwood to be able to stay in the community they love," said Miklich.  "We did a lot of studies that suggest there is demand for this."
Miklich added that through community outings and residents and staff members going out for lunch or shopping, the development will stimulate economic growth in Downtown Kirkwood.
The first hearing oversaw a request to define "assisted living facility" in the Kirkwood zoning code, as well as add the designation as an available special use in the B-2 general business district, where the development is being proposed. The current code does not allow for such a project. The amendment would also set parking space requirements and lot sizes.
The second hearing was for the aforementioned special use permit to allow Allegro Kirkwood to begin development. 
Several council members expressed objections to the project. Maggie Duwe said that while she is not concerned with the development, she has "great concern" with its location.
"You're asking to add assisted living to a B-2 district, the Kirkwood Downtown Business District. As I was thinking about this I remembered my mother, throughout the years, lived in several residential facilities. How often did she want to go shopping or eat in a restaurant? Even in the few years before she sank into dementia, the answer was little or none," said Duwe. "So my question is, why should we include assisted living to be added as permitted, not just in any B-2 area, but essentially in the heart of Kirkwood's iconic downtown?"
During the public comments portion of the meeting, several residents questioned the project's plan for only 131 parking spaces to accommodate 122 units and a full staff, citing concerns with additional traffic at an already-busy intersection. Others said they were in favor of the project, arguing that the "underutilized" site would give residents more options to stay in Kirkwood as they age.
A first reading for the proposal to amend the zoning code is scheduled for the Kirkwood City Council meeting on Oct. 15 at 7 p.m. The special use permit will be voted on at a later date should the council approve the
amendment first.