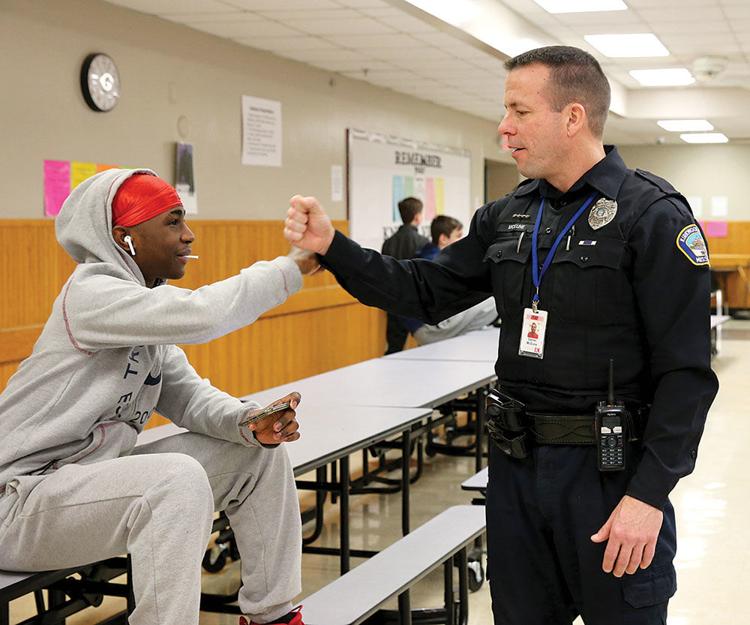 Going beyond the badge is something Kirkwood Police Officer Dan McCune does every day at work.
Since August of 2018, McCune has been the resource officer at Nipher Middle School. Through his personal interest and genuine caring, McCune has taken his job beyond the four walls of the school and developed a true connection with the middle school students.
McCune has been with the Kirkwood Police Department since 2011. Although he did not have experience working with students, when the position of resource officer became available, it piqued his interest.
After talking with Levaughn Smart, director of safety and security for the Kirkwood School District, it became apparent that McCune was a good fit for the job.
McCune began his career at the Ferguson Police Department as a patrol officer. Of 16 years with the department, several were spent on the narcotic and gang task force. McCune noted that his time spent on the streets enables him to know how to adapt to different situations. It's also given him the ability to talk with just about anyone, which is an important skill in a school environment.
Making connections takes time and is not often easy with some students, McCune said. However, once a connection has been made, it is a good one.
"Once you earn their trust, it is a stronger bond and proves a need for a trusting adult," he explained.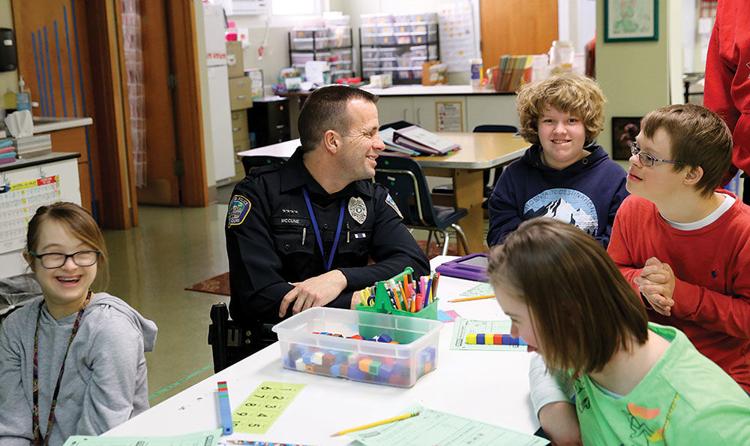 McCune said there are two types of security he maintains at the school as a resource officer. The first is hard security. This is his number one priority: to make sure all doors are locked and people in the building are accounted for and monitored.
The second type of security involves getting to know students on a personal level and building trust. This is where McCune's role of resource officer becomes more of a counselor and mentor. McCune's purpose is to help, not discipline, when something goes wrong.
Understanding students' personal lives and any difficulties they may have helps McCune recognize why they might be having a bad day – whether that involves financial problems, housing, food, divorce or abuse.
"Letting them know that I care is very important," he said.
Through the building of trust, McCune has also seen that students are willing to talk with him not only about problems inside of the school, but problems that lie outside as well.
"Keeping them safe outside of school helps them navigate through difficulties at home and helps them have a better day at school," he said.
Eighth grader Tyler Vincent is one student who has gone to McCune for help sorting out issues he was having with a teacher.
"There are few people that you can trust and he is one of them," said Vincent. "I like the relationship and being able to talk with him."
The comfort level McCune has with the students can be seen in all the greetings and fist bumps throughout the day. Students address McCune as "Officer Dan," which he prefers because it is less formal.
Seventh grader Caleb Speech was recently given the Kirkwood Police Outstanding Youth Award for making the right decisions in two separate situations at school. Rewarding positive behavior encourages them to do it again, said McCune.
When asked about Officer Dan, Caleb replied, "He is my favorite officer. He does not get mad. He just tells you what is right from wrong."
McCune's time with the students extends to after school as well. Some students approached McCune about helping them start a Ping Pong Club. After McCune discovered there were no school funds available for a club, he looked elsewhere for help. He was able to secure a $500 grant from the Walmart Foundation, which enabled McCune to purchase two ping pong tables and supplies.
"I surprised them with the tables and told them they have their club," McCune said.
The ping pong club of 12 boys meets every Wednesday at Nipher.
When McCune learned that residents of Meacham Park were having issues with shopping carts being left in the neighborhood from the adjacent shopping center, he hit on an idea of how students could help solve the problem.
Every Thursday after school, McCune and two students gather up all the stray shopping carts and return them to their proper venues. Students get something in return for their efforts. McCune was able to secure free meal certificates through Raising Cane's restaurant's "Cane's and Community" program.
When McCune is not busy with his job as a resource officer, he serves as an Explorer advisor for 14- to 20-year-olds who are interested in law enforcement.
When asked what he likes most about his job, McCune doesn't hesitate.
"It is absolutely the relationships I have built with the students," he said. "I see these relationships going beyond middle school. You can never stop learning how to connect with kids. This is easily the most satisfying and rewarding position I have ever had in my career."