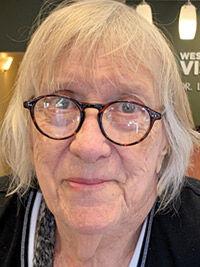 Hoffman, Colleen (nee Jenkins), age 88, passed away on Dec. 10, 2020. She was born in Muskogee, Oklahoma, to Dan and Lillie Mae Jenkins on Dec. 8, 1932. She is survived by her children Celeste, Valerie (Darrell) and Donna (Mike); four grandchildren; her two cats and one dog. Her youngest child, Brian, died in 1998. 
She was a gourmet cook, talented artist and seamstress. She did every type of needlework and was an enthusiastic gardener, planting everything from seeds. She was a good friend to everyone and loved by her neighbors and family, and she will be missed.
A tree will be planted in Honor Heights Park in Muskogee in her honor, and her ashes will be scattered amongst the beautiful azaleas there and with her son, Brian, here in St. Louis. Donations encouraged to any animal charity.