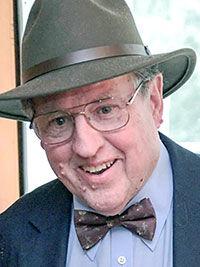 Adams, Clyde Donald "Don," 77, of Kirkwood, Missouri, peacefully passed away on Oct. 8, 2021, surrounded by the love of his family. 
He was a treasured son, brother, husband, father, grandfather, and friend to all. His charming smile, silly jokes, and warm embrace will be missed, but Don's legacy of unconditional love and strong family values lives on. Don was many things in life and he was good at all of them, but his greatest joy was being a father. May he be remembered for his kind spirit, warm heart and gentle soul. 
Don was preceded in death by his parents, Elizabeth and Hughey Jacobsen; and younger brother Samuel George Adams. He is survived by his beloved wife of 39 years, Karolyn Adams; children Christine Marie (Don) Lauer, Jeffrey Donald Adams, Sara Elizabeth (Larry) Spears, and Emily Patricia (Abigail) Adams; grandchildren Adam Charlton, Payton Lauer, Alex, Jessica, and Johnathan Adams, Rory, Nolan, and Rudy Spears, and Lennon and Dylan Adams; and sister Carol Ann (Charlie) Sanders. He was a loving uncle, cousin, and friend to many. 
Services were held Thursday, Oct. 14, at Schrader Funeral Home, 14960 Manchester Road, Ballwin, Mo. 63011. Visitation was held Wednesday, Oct. 13, 2021, at Schrader Funeral Home. 
If desired, in lieu of flowers, donations may be made to St. Louis HELP, Kirkwood United Church of Christ, The Michael J. Fox Foundation, or the American Parkinson Disease Association.