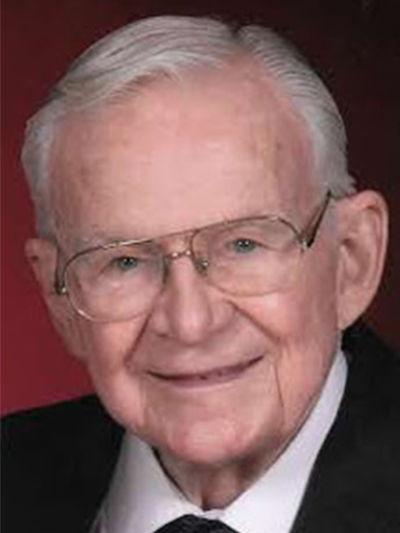 Whitley, Clyde "Buck" Efird, 97 of Webster Groves died Thursday, August 29, 2019 at Laclede Groves Lutheran Senior Services Care Center. Mr. Whitley was born on June 25, 1922 in Washington, D.C. to Puah Catherine Efird and Lawrence Butler Whitley. He married the love of his life, Leona Pearl Kintner in Washington, D.C. on July 8, 1943. They celebrated 70 years of marriage prior to Leona's passing in 2013.
Clyde served in the US Army during World War II, serving in France from 1944 - 1945. He returned from his service to live in Washington, D.C. with his new bride Leona and enrolled in George Washington University for his bachelor degree in Pharmacy. After a short time as a pharmacist at People's Drug Stores, he started his 35-year career with The Upjohn Company, later transferring to St. Louis as an area Sales Manager. Both Clyde and Leona were long time members of Trinity Lutheran Church in Kirkwood, Missouri while living in St. Louis, raising their five children with an appreciation of music, choirs and a faith that sustains them still.
Clyde retired in 1987. He and Leona enjoyed a lake home in Bonne Terre, Missouri and spent their winters in South Florida, later moving to North Fort Myers on a full-time basis. Clyde enjoyed golf, a good game of poker with friends and traveling the world with Leona.
He is survived by his children, Lawrence (Peggy) Whitley; Stephen (Judy) Whitley; Janice (Jim) Pelley; Scott (Linda) Whitley and Pamela (Mark) Hoffman; nine grandchildren and nine great-grandchildren.
Mr. Whitley's family would like to thank the caring staff in the Assisted Living area for seven years and the Care Center staff of "The Hill" for the last year at the Lutheran Senior Services facility at Laclede Groves and the Kindred Hospice Staff for the exceptional care he received.
A celebration of his life will be held at Laclede Groves Chapel, Webster Groves, MO on Monday, September 23 at 11 a.m. followed by interment at Jefferson Barracks National Cemetery. Gifts In lieu of flowers can be given in his name to the memorial fund at Trinity Lutheran Church, 820 Lockett Road, Kirkwood, Missouri.