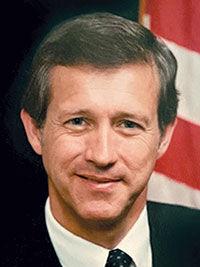 Christy, Claude James "Jim", was born in Morgan City, Louisiana, across the bayou from an island granted to his great-great-grandfather for service in the War of 1812. He attended Sacred Heart School and LSU before becoming a Marine Corps officer and an agent and supervisor in Washington, DC, for the FBI. Following three decades with The Bureau, Jim headed security for Hill Behan Lumber Co., completing his career in law enforcement as chief of police in his hometown of Morgan City. 
He was preceded in death by his father, Orrin Sr.; his mother, Clara; brother, Orrin Jr.; and sister, Nell. 
He is survived by the love of his life, Gail; adoring children Craig (Julie), Jamie, Colleen, and Carey (Scott); as well as nine grandchildren and a great-grandson who bears his name.  
Jim was a faithful servant of the Lord, his family, and his country. Semper Fidelis, Captain. You outshone the sun. 
Jim will be laid to rest in Morgan City. Arrangements by Bopp Chapel.