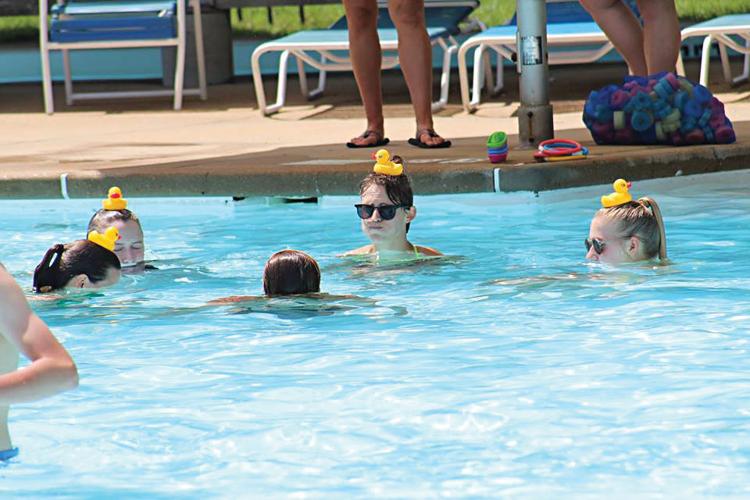 The city of Kirkwood is reaching out to Glendale and Oakland to help fund an estimated $700,000 in needed improvements to its 20-year-old aquatic center.
A tri-city agreement with Kirkwood, Glendale and Oakland was set up 20 years ago to build and furnish the Recreation Station Aquatic Center, located at 111 S. Geyer Road. Kyle Henke, Kirkwood's superintendent of recreation, gave a presentation to the Glendale Board of Aldermen on Nov. 19. He noted that the agreement technically expired in September, with the construction bond being paid off.
Bonds paid by all three cities for construction and furnishing of the center totaled about $7.4 million with principal and interest, Henke said. He noted that $1.2 million of that came from Glendale. Residents of all three cities are able to use the center.
"Our goal is to break even on operating expenses," Henke said.
Over the past 20 seasons, the center has recovered about 99 percent of its operating expenses – though the average revenue loss is $3,973 per year, Henke said.
"There is a very positive relationship in regard to the center," Henke said. "It's a unique situation among St. Louis County municipalities, and Kirkwood is all in favor of it continuing."
Glendale City Administrator Ben DeClue said the board of aldermen requested a presentation on the center, such as how many Glendale residents use it, rate of use, etc.
"Our board is evaluating continued participation going forward in the arrangement with Kirkwood and Oakland," DeClue said.
"The board gave no direction at the Nov. 19 meeting regarding the agreement but they did appreciate the presentation and felt it was very informative," he added. "The board would decide on whether to continue the agreement before the next season, and the cost to Glendale would be a matter of negotiation at this point, should the board elect to continue the partnership."
Henke told Glendale officials that no additional capital improvement costs were charged to Glendale and Oakland until four years ago. The last four-year average annual cost to Glendale was $19,097, he added.
During the 2018 season, 58 Glendale residents participated in water fitness, aqua camp, swim lessons and specialty programs with 53 Glendale residents being on the Kirkwood Riptide Swim & Dive Team, Henke said.
For the 2018 season, 2,193 Glendale residents (or 37 percent) held a valid Kirkwood Parks and Recreation ID card. During that season, 464 season passes were sold, compared to 484 in the 2017 season, Henke said.
But Henke said significant capital repairs will be needed to the facility in the next two to three years to increase its longevity. A St. Louis County municipal parks and recreation grant is being considered though an application hasn't yet been submitted, he noted.
"Glendale and Oakland benefit from this agreement because their own staff don't have to deal with aquatic center operations," Henke said.
The majority of improvements would likely be related to underground piping, which has some issues including leaks underground, some of which haven't been identified, Henke said. Another capital improvement need is for work inside the pump room, he said.
He estimated total improvement costs at $700,000 to be spread over the next two to three years.
"We want to continue the agreement with them, with some adjustments to help maintain the center in the future, as well as to seek funding for improvements," Henke said.
A similar presentation is planned for Oakland officials, but the date has not been finalized, Henke said.