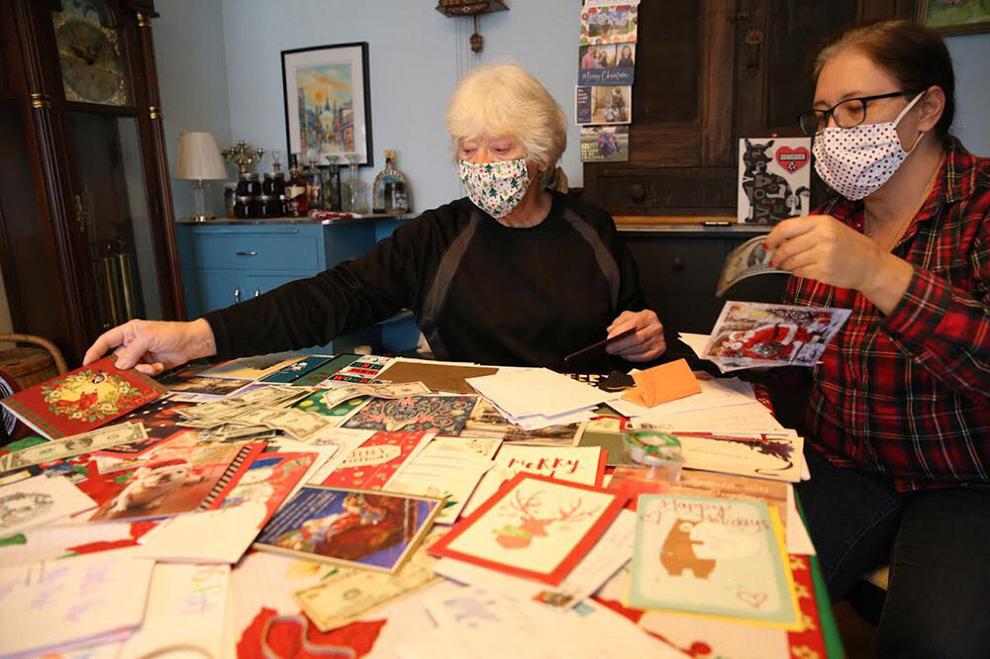 The way nearly 200 neighbors, and many complete strangers, have come together to show a Webster Groves woman that her kindness matters has the makings of a Hallmark holiday movie.
Longtime Webster Groves resident Pat Robinson, affectionately known as "Ms. Pat" by her neighbors on Lanvale Drive,  isn't used to being on the receiving end of things. She's a giver, and a constant do-gooder.
Robinson didn't know what to think when Christmas cards began arriving at her door from people she didn't know — and then soon there were dozens upon dozens more. The count currently stands at 172 cards, but there will most certainly be more.
"You needed to know you were loved,  and Webster came through because they always do," said friend and neighbor Angelica Taylor, who took to a social media community forum a few weeks ago asking people to send Robinson Christmas cards. "It's just amazing. Webster is like a Hallmark movie."
The ask, which outlined countless ways Robinson helps others, was simple: "Ms. Pat takes care of everyone. She is alone. She lost her husband/best friend four years ago, and her family is four hours away. Holidays are hard, and the other day she said how lonely she is. She loves little kids, stickers and animals. I'm asking everyone to send her a Christmas card."
Taylor noted that drawings from kids would be great, and if anyone felt so inclined, gift cards to Cracker Barrel or Golden Corral — or $2 bills — would also be greatly appreciated to help Robinson pay for veterans' meals.
Robinson was incredulous as more and more cards showed up in her mailbox. Cards of all kinds from people of all ages — many of them filled with money and gift cards. Mail arrived en masse from elementary school classrooms, along with others from Girl Scout and Boy Scout troops in the area. Those from kids included holiday drawings of Santa and reindeers, plus stickers galore. 
"I can't believe the ones who gave their stickers away to me — that's really something," she said.
Robinson struggled to describe just how much it all means as she and Taylor pored over the cards in piles on the dining room table.
"I never expect anyone to give me anything ... I'm a giver, not a receiver," Robinson said. "It makes me feel loved  and appreciated. I'll be paying all of this forward."
Although she loves all the cards, among her favorites is from an 8-year-old boy named Dimitri.
"Dear Ms. Pat, I like outer space. What is your favorite food? How old are you?" Robinson read from the letter, chuckling at the last line. "I'm going to write him back."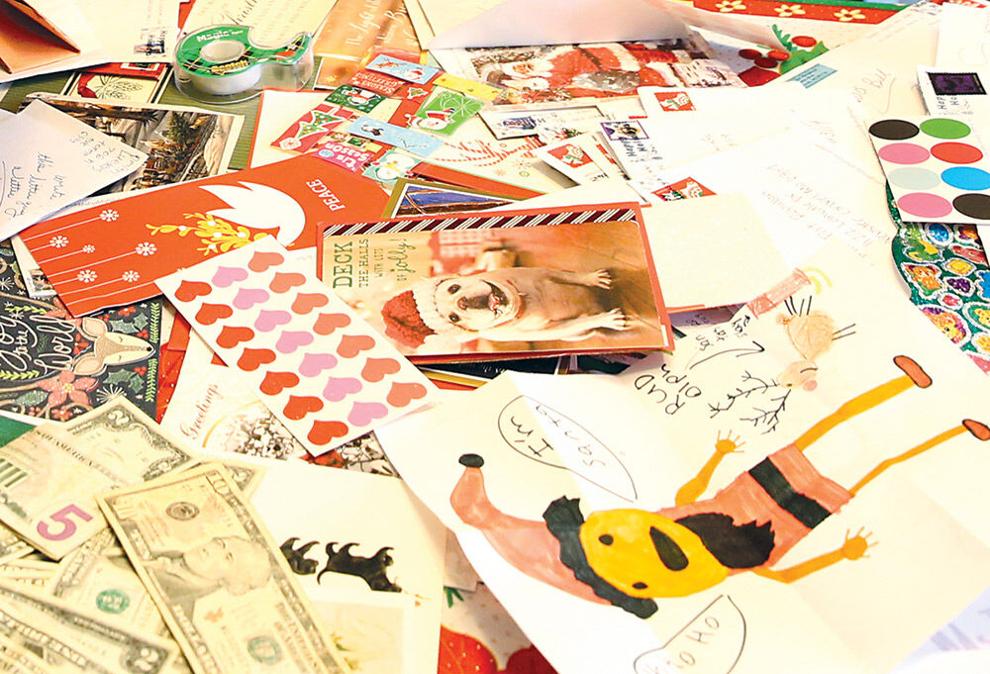 "I Like Giving"
The 77-year-old who has lived in the 1200 block of Lanvale Drive for nearly three decades has always looked out for her neighbors — and just about everyone else, too. 
Robinson sweeps up  trash left behind after the trash trucks come through every week, takes it upon herself to rake others' leaves, feeds stray cats in the neighborhood, makes welcome kits for anyone who moves in, leaves random gifts on neighbors' porches, puts out holiday decor and much more.
"I've caught her raking leaves out of the middle of the street at 10:30 p.m.," Taylor said.
Robinson is often seen walking along the street with her dog Sophie — and Mittens, the stray cat she adopted, following behind. "There goes Ms. Pat and her cat," neighbors often say.
But Robinson's kindness extends well beyond her neighborhood. She often takes meals to other seniors and always carries a stack of cards containing a "lucky" $2 bill that she gives to any veteran she sees. 
When she spots veterans at restaurants, she thanks them for their service, hands over a card and often secretly pays for their meal. She's also one to drop by the table of someone celebrating a birthday to offer best wishes and her latest purchased trinket just for these kinds of instances. At the grocery store, it's pushing loose carts back in the corrals  — there's not a place or a time you won't find her being kind.
"She's always, always, always doing things for everyone else — never herself, and she never lets anyone do anything for her," Taylor said. "She'll never ask people for anything."
"But if I have it, it's yours," Robinson broke in before Taylor could say more.
Unfortunately, every Christmas story and every town has at least one Scrooge, and Robinson's kindness isn't always appreciated. A few find it a nuisance, others are just plain ungrateful and some can't understand why she's so kind in a world that's often so cold. 
No matter to Robinson — her mantra is to be kind anyway.
"I'm a giver," she said. "I like giving people things, and I just try to make people happy. If it makes their day, it makes my day."
Taylor wanted a way to show Robinson how much people appreciate her kindness — and that she shouldn't focus on those who don't, which is why she organized the Christmas card surprise. What's not surprising is that Robinson plans to use everything she's received to keep the kindness going.
"I will be paying all of this forward and passing it onto so many people," she  said.
So far, Robinson has received nearly $400 in cash, 54 $2 bills, $75 in Cracker Barrel gift cards, $10 in McDonald's gift cards, $15 to QuikTrip, a gift card to Rolling Ridge Nursery, a $50 VISA  card, a case of cat food for Mittens and "a lot of stickers."
"Her first reaction was to send things back to everyone who sent something," Taylor said, noting she finally talked Robinson out of that. "I reassured her that she can use all the money and gift cards to purchase meals for veterans. What she could do is buy them a meal and also buy herself a meal, but she won't do that."
Additionally, an anonymous donor reached out to Taylor, paying more than $500 for desperately needed repairs to Robinson's truck. Robinson still can't quite believe it all.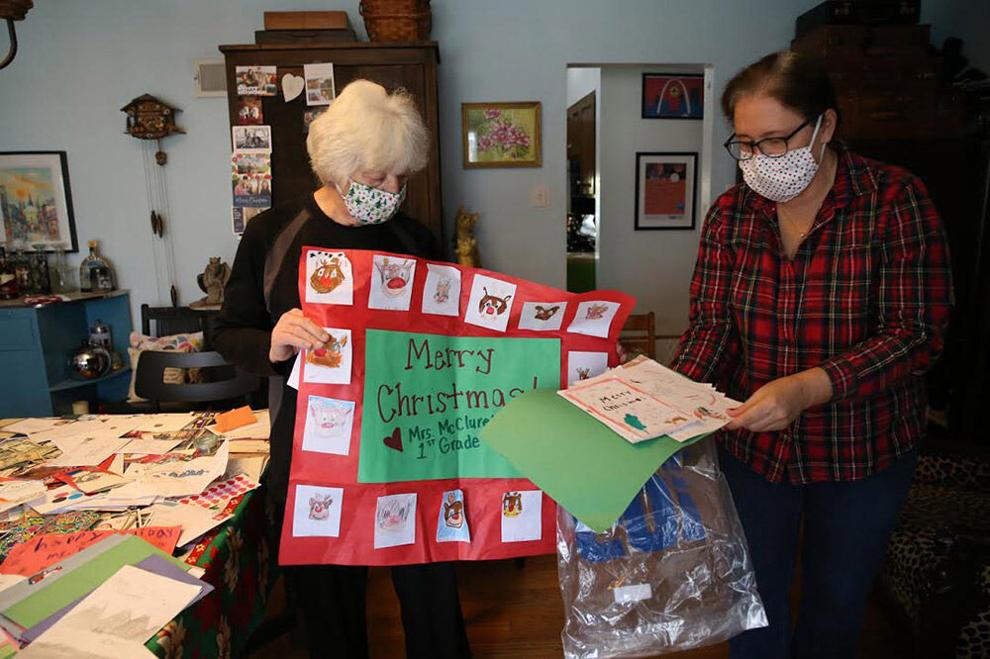 More Kindness
The community's Christmas card project for Robinson is already sparking more kindness.
"Other beautiful things are already coming from this," Taylor said. 
Robinson and Taylor have plans to begin "Ms. Pat's Pen Pals," which will pair elementary school children with senior citizens to exchange letters. The pair of friends also wants to team up with others to send a smattering of cards to a different senior in the community each month. Robinson's only wish is to have others feel as loved and appreciated as this has made her feel.
"I challenge myself to do at least one good deed every day, and I hope everyone else will do the same," she said.