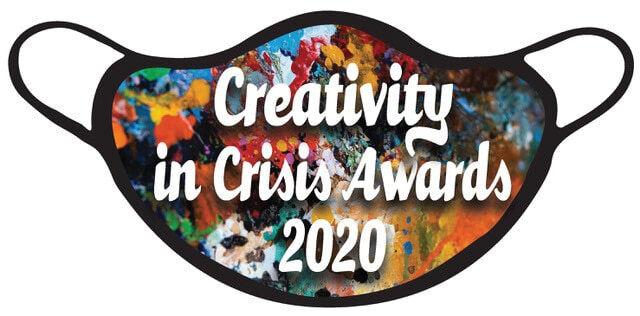 The Webster Groves/Shrewsbury/Rock Hill Area Chamber of Commerce recently honored citizens, businesses and non-profits in the 63119 Zip code whose creativity and innovation triumphed in the midst of an especially stressful year due to the pandemic.
The recipients of the "Creativity In Crisis Award 2020" were honored at a virtual banquet on Wednesday, March 31. The following businesses, individuals and non-profits received the award.
Businesses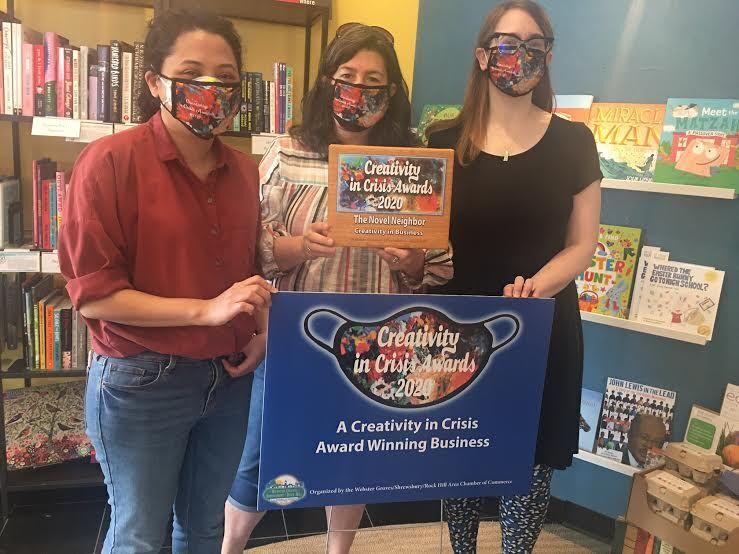 The Novel Neighbor. The Novel Neighbor bookstore received an award for adapting to the times and changing the way customers could access the shop. Owner Holland Saltsman offered curbside pick-up and private shopping, and created customized literary mystery boxes. Saltsman supported students and small local businesses and artists by selling their products at The Novel Neighbor. 
Yucandu Art Studio. Kim Harris accepted the award for Yucandu Art Studio, which created take-home arts-and-craft kits to keep kids entertained during the pandemic. Yucandu also added online shopping to its existing website, created templates and protocols for packaging kits, and added virtual instructions for all camp projects for many of those kits. The business just recently implemented a reservation option for in-house studio experiences for its patrons.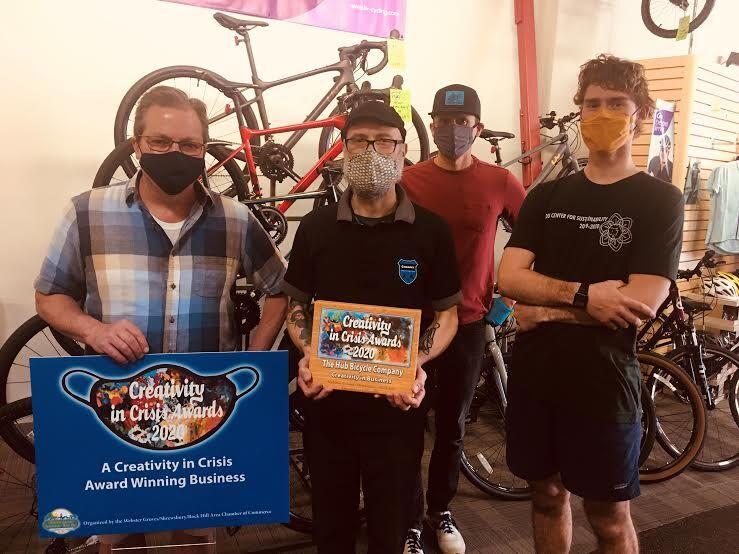 The Hub Bicycle Company. Though nominated for "Most Creative Business," co-owner Ron Clipp of The Hub Bicycle Company said his employees deserve the honor because of the extraordinary lengths they went to in maintaining a safe business environment for customers. Clipp's employees wore masks, sanitized hundreds of showroom products regularly and ensured social distancing on the sidewalk outside the bike shop.
Katie's Pizza & Pasta. Katie's Pizza & Pasta received nominations for some of the same reasons. When COVID-19 closed dining rooms, the restaurant began freezing and selling wood oven pizzas that could be delivered anywhere in the U.S., and made personal deliveries to St. Louis residents to protect the salary and livelihoods of its employees.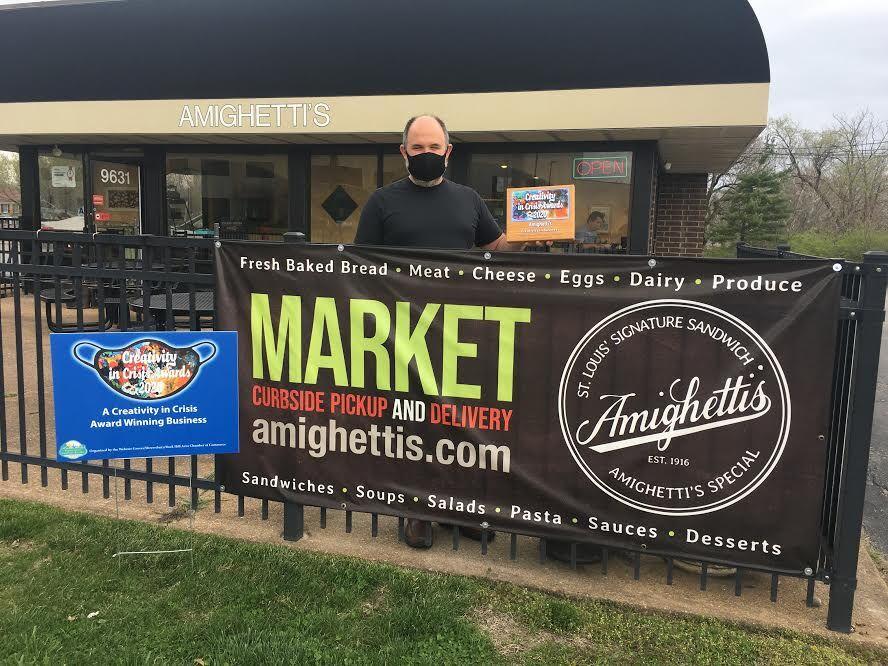 Amighetti's. Amighetti's received the award because of its proactive actions and registering with St. Louis County as a grocer early on in the pandemic. It modified equipment to bake bread in Rock Hill, launched curbside pick-up and online ordering and delivery, and offered staples like eggs and milk — products that were scarce in the early days of COVID-19.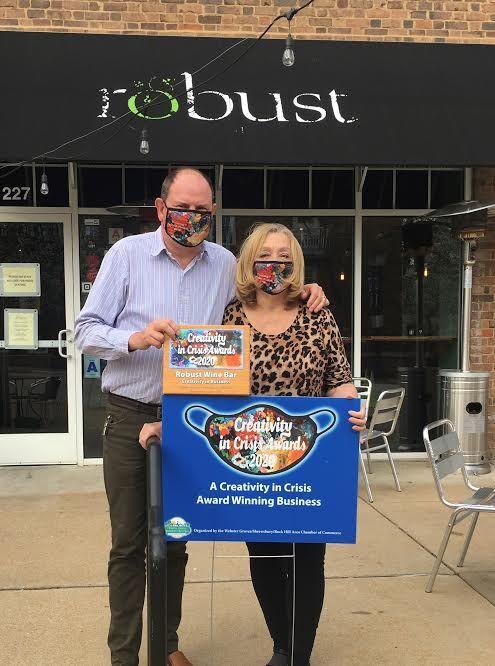 Robust Wine Bar. Robust Wine Bar also got creative in 2020 as one of the first eateries to offer curbside pick-up. The venue later added new lines of beverage options, including Clean and Juicy beverages, bone broths, and fresh vegetable and fruit juices.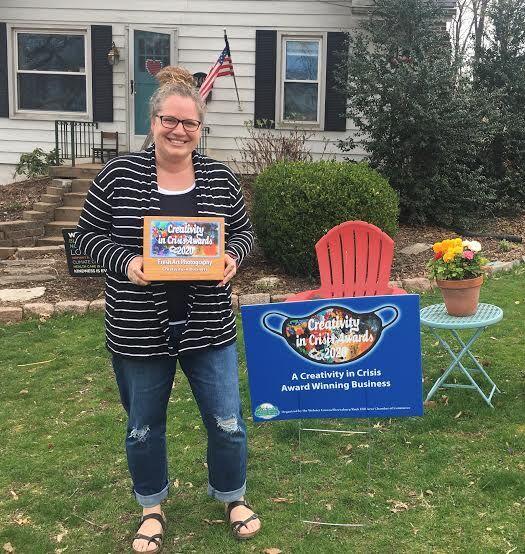 Fresh Art Photography. Jodie Allen, owner of Fresh Art Photography, received the Creativity in Crisis Award for offering free porch photo sessions to community members. She drove around town and photographed people on their porches to record the history of the lockdown, and to give people something fun to do while remaining socially distanced. When Christmas rolled around, she offered socially-distant Santa sessions for children and families. Allen also ran Zoom art classes for kids during the shutdown. 
Shaker's Dog Wash. Owner Steve Curran accepted the award for Shaker's Dog Wash. The company allowed customers to stay in their cars while employees processed payments carside, took and washed their furry friends, and then returned them to their owners carside. Shaker's also sponsored the Webster Groves Dog Egg Hunt last weekend.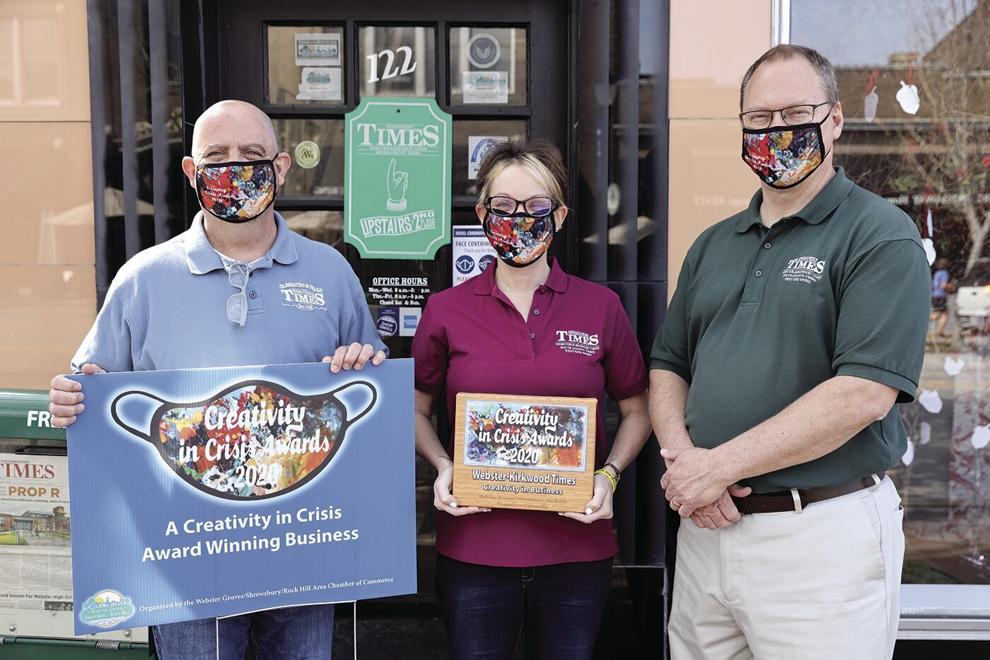 Webster-Kirkwood Times. The Webster-Kirkwood Times newspaper received the award after a several-month hiatus ended in a change in ownership and a return to print. The new owners — Randy Drilingas, Jaime Mowers and Kent Tentschert — publisher, editor-in-chief and general manager, respectively, and their business partner Eric Tentschert — are grateful for the community's support in making the Times' return to print possible and are honored to keep the community informed during the pandemic and beyond. 
Individuals
Several nominees from the Webster Groves School District received the award for going above and beyond. 
Tim Brown, director of instructional technology, was recognized for the work he did in the weeks leading up to the shutdown. Brown brought on a new platform for distance learning, training all teachers, supporting students and troubleshooting all along the way. Brown researched best practices, created online modules, made videos, hosted webinars and answered a tsunami of questions. 
Angela Richard, a second grade teacher at Edgar Road Elementary School, has gone above and beyond to develop close relationships with her student and families. She created opportunities outside of the school day for students and families, and she rented a movie theater for the whole class and their families to watch a movie together. She also kept school creative and safe.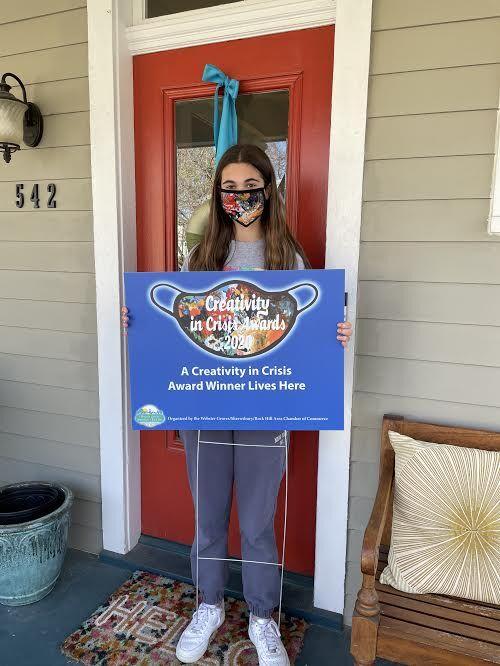 WGHS students Julia Fowler and Sloane Carfield volunteered at Webster-Rock Hill Ministries during the time when supply of masks, gloves, feminine products, soaps and more were limited. They received the award for their efforts distributing products through COVID supply stands and social media posts. They created lunch handouts for students who weren't getting lunches at school, filing systems that organized products and their distribution, and a COVID-safe Christmas toy drive.
Rachel Huertas, head nurse of the Webster Groves School District, showed her creativity in staying abreast of St. Louis County health guidelines and working to make sure schools were as safe as possible as students and teachers  headed back to in-person learning. She was also the driving force in securing vaccines for Webster Groves School District teachers and employees.
The Drier family received an award for collecting food donations for local food pantries through Operation Food Search. The Driers started with setting up a barrel on the corner of Gray and Swon for donations, and now have a more permanent drop-off at the same location.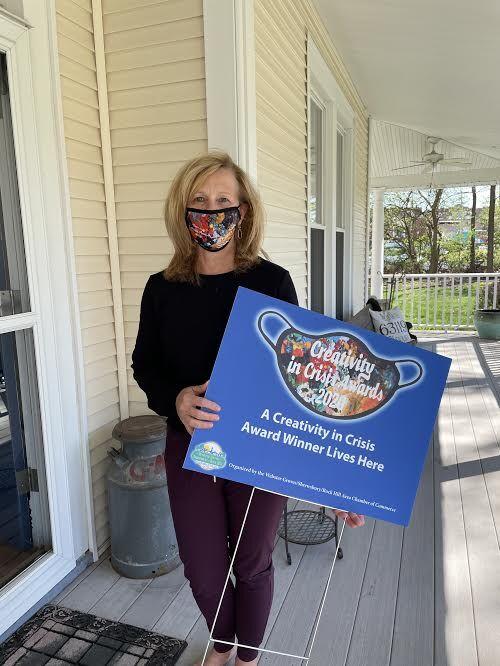 Christine Wood accepted the award for creating FLAG 63119 — a group of Webster Groves residents who collected funds to donate meals to frontline workers. Meals were purchased from Webster Groves restaurants, helping them to stay afloat through the pandemic. 
Amy Tappmeyer Whisler received the award for starting a group called Masked Mommas, which shares resources to create and donate masks to frontline medical workers and others. To date, Masked Mommas has donated more than 7,000 masks. 
Caitlin Reynolds of Shrewsbury was given the award for planning food truck events in Wehner Park, including an end-of-summer park party. She organized 14 community events from May through the end of the year. 
Terri Gonnella Oliphant, owner of Play Daze, had to shut down her small preschool in Webster Groves at the start of the pandemic, but pivoted to offer socially-distant learning, Zoom story times and a virtual classroom experience. She has also dropped off toys and sanitation supplies to a local park every single day so parents can  drop kids off outside to play.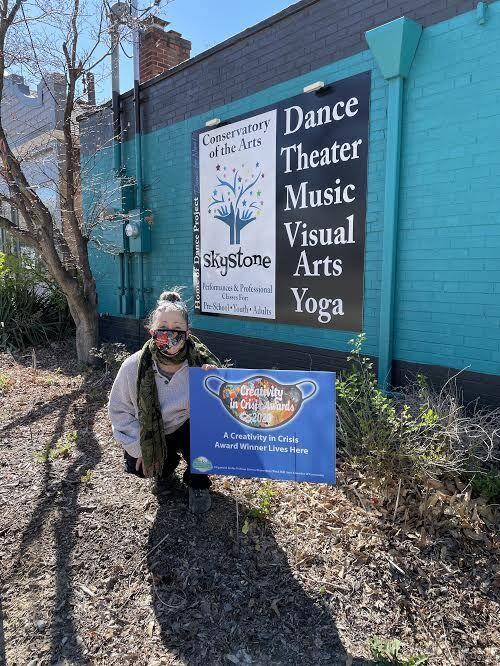 Deborah Fahnestock and Jennifer Medina, co-artistic directors from SkyStone Conservatory of the Arts in Webster Groves, also received the Creativity in Crisis Award. Fahnestock put technology in place to teach virtually, developed new merchandise and an online platform to sell videos of past shows, and filmed and edited a Nutcracker film. 
Medina utilized a hybrid program allowing families to remain remote while still receiving a supportive dance education. She also developed a holiday performance opportunity that gave students a chance to be part of a 10-year retrospective of the "Endless Forest Nutcracker" through socially distanced rehearsals and outdoor performances, which were incorporated into the film.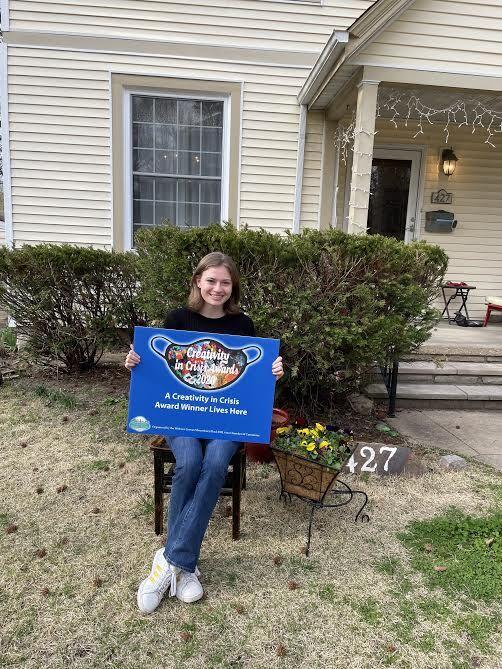 Dave Buck and Ashley Jaworski, coordinators of Webster's first-ever Porchfest, received the award for bringing a vision of a walkable musical event to life. Fourteen local music performers shared their time, talents and music, and 14 homeowners shared their front porches as stages. All tips collected were donated to several local non-profits.
Non-Profits
The Webster Groves High School Parent Club Class of 2020, which organized car parades to celebrate the graduating class of 2020, also received the award. Every single senior had a car parade drive past their house and a special gift delivered to their door.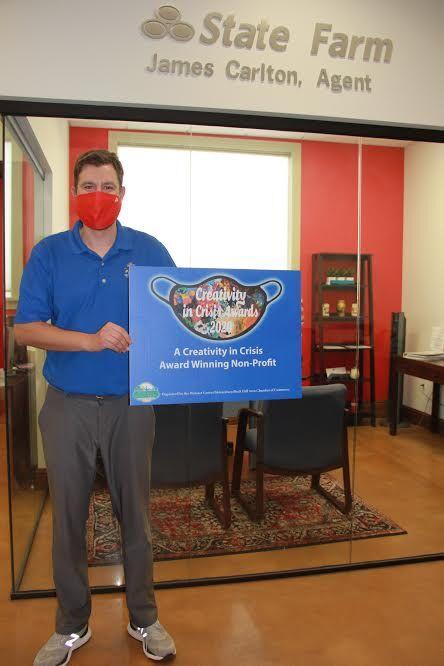 Rotary Club of Webster Groves.Although the club couldn't host its traditional Pancake Festival fundraiser in October, it received the award for pivoting to a drive-thru event. The club also continued its December Progressive Dinner tradition virtually via Zoom. 
The Webster Groves Public Library Children's Room received the award for keeping kids entertained throughout the pandemic, offering crafts to take home, kids' cooking kits, librarians' choice book bags and more. On Halloween, it staged a "Drive-thru Trick-or-Treat," which hundreds of Webster Groves families enjoyed, and in December, it held a "Drive-thru Visit With Santa."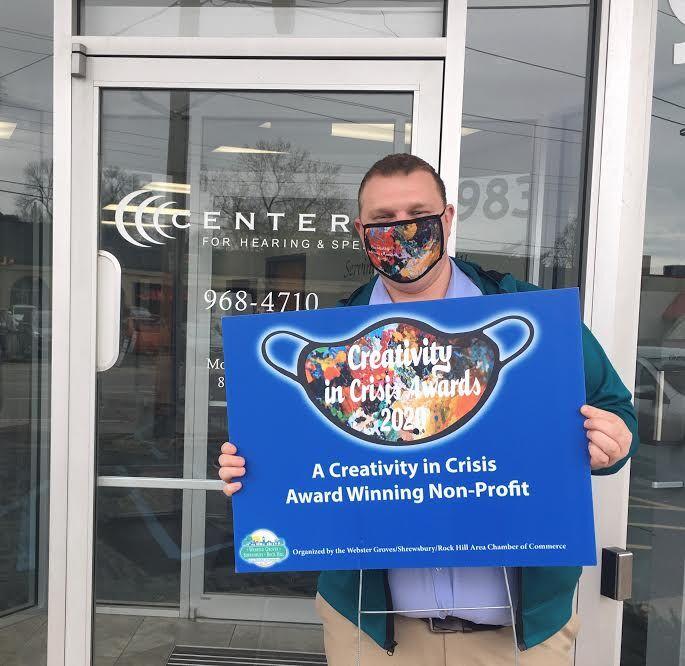 The Center for Hearing and Speech received the award for its Virtual Duck Derby event in August. Created in response to the cancellation of the Giving Voices to Children charity event, the center's development team hosted an event live on Facebook, which raised over $8,000 for the charity.
Webster-Rock Hill Ministries received the award for its extensive community services throughout the pandemic. Donations by businesses and individuals were in abundance and there were many volunteers distributing food, dinners, gift cards, merchandise, and Christmas toys for those in need.