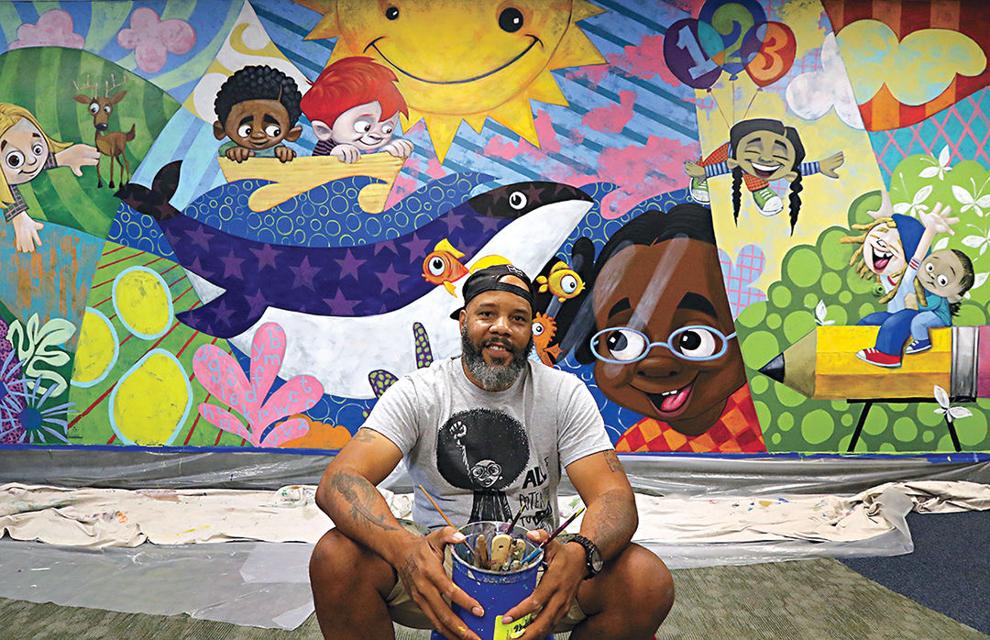 Artist Cbabi Bayoc spent the past week working on a mural for Webster Child Care Center, located on the campus of Laclede Groves senior living community, 723 S. Laclede Station Road.
Bayoc's name is of his own design. Cbabi (pronounced Kuh-bob-bi) stands for "Creative Black Artist Battling Ignorance." Bayoc stands for "Blessed African Youth of Creativity."
The prolific artist says his calling is creating art which reflects his love of music and family.
Bayoc's 2012 painting series, "365 Days with Dad," reflects a positive image of black fatherhood. Following that series, Bayoc wrote a book titled
"When I Become Dad," which he describes as "a few images and words of encouragement for our youth to think about when that magical day comes when they themselves become someone's 'daddy.'"
Over the past year, 17 elementary schools have commissioned Bayoc to paint murals on their walls, including the Elementary Computer School in Rock Hill, Clark Elementary in Webster Groves and Tillman Elementary in Kirkwood.
For more information about the artist, visit www.cbabibayoc.com.