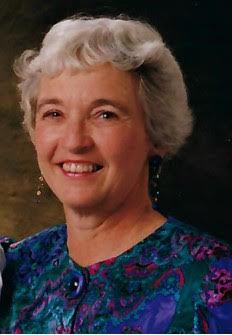 Woodruff, Carolyn C. (nee Clark), 87, of Kirkwood, Missouri, died Tuesday, May 5, 2020, at Parc Provence. Carolyn was beloved wife of the late Bruce E. Woodruff. She is survived by her children David C. (Lisa) Woodruff, Douglas B. (Gina) Woodruff, Lynn (Charles) Colburn and Daniel R. (Stacey) Woodruff; grandchildren Chase, Hadley, Jana, Jordan, Catherine and Clark Woodruff, Catherine and Christopher Colburn; brother Wallace R.(Sharon) Clark Jr.; nieces and nephews William (Laura) Clark and Sandra (Brian) Galbraith. She was proceeded in death by her husband Bruce, and her parents Margaret and Wallace R. Clark of Webster Groves.
She was born on July 12, 1932, in Elizabeth, New Jersey, although the family lived in Easton, Pennsylvania. Carolyn was the first of two children. Born three months premature, her father told the story of the Clarks putting her in a shoebox by the fire since there were no neonatal units in those days. At a young age, Carolyn and her family moved to Webster Groves where she talked about raising chickens during the war. She graduated from Webster Groves High School and later attended the University of Missouri Columbia, receiving a bachelor of arts in education. While at Mizzou, she was a member of the Pi Beta Phi Sorority and proudly served as the first female editor of the Savitar yearbook.
Following her passion for education, Carolyn returned home to Webster Groves as a devoted second grade teacher at Robinson Elementary School in Kirkwood. She married Bruce Woodruff in Webster Groves with many of her students in attendance. The couple resided in Glendale and later settled in Kirkwood where they were both active members of the community for over 40 years. Bruce and Carolyn lovingly embraced their 48-year partnership, balancing their lives with family, friends, careers, travels and faith. A true partnership, Bruce often acknowledged that his accomplishments were in large part the result of Carolyn's insights, opinions and practical guidance.
Carolyn was a vociferous volunteer, first supporting her kids as she served as a Cub Scout Den mother and leader of Brownie and Girl Scout troops at Henry Hough Grade School. As life progressed, she became very active with the Salvation Army, volunteering in support of the organization for more than 20 years, including being awarded the Midland Region's Volunteer of the Year award in 1995. Her community activities were numerous, including participation on the board of the Repertory Theatre, taping books for the visually impaired, volunteering at the Kirkwood Public Library, as well as serving in various leadership capacities as a longtime member of the First Presbyterian Church of Kirkwood.
She loved spending time with her friends in book and bridge clubs and other groups, family camping all over the U.S., canoeing on the Buffalo River in Arkansas with close friends and family, and later with Bruce, traveling the world to experience diverse cultures, reaching every continent except Antarctica. She loved to curl up in a cozy chair with one of her long line of library books in hand and many times a pound bag of peanut M&M's secretly tucked under the book, hidden from her children and later her grandchildren.
She will be remembered for her wonderful smile, her friendly nature, and as a loving mother and grandmother.
Due to the current pandemic, a celebration of life is scheduled at a later date for Saturday, Aug. 15, at 11 a.m., at First Presbyterian Church of Kirkwood, 100 E. Adams Ave. Please confirm the date and time with the church prior to the celebration due to unforeseen issues that may develop. In lieu of flowers, memorials are requested to the Alzheimer's Association Greater Missouri Chapter, 9370 Olive Blvd., St. Louis, MO 63122, or to a charity of one's choice. Arrangements by Bopp Chapel.