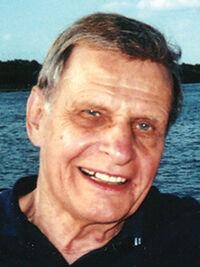 Moehlmann, Jr., Carl Theodore "Ted," was born Aug. 20, 1929, and died Aug. 9, 2022, at the age of 92. 
He was the devoted husband and best friend of J. Nadine Moehlmann for 42 years; beloved father of Todd (Bev) Moehlmann and Mauri (Mike) Catalfano; stepfather of Roshelle (Mark) Bender, Mike Patty, and Jeff (Barb) Patty; dear grandfather of Jacquie (Rick) Massey and Jennifer Moehlmann; step-grandfather of Heather (Todd) Alferman; great-grandfather of Kailyn, Desirae, and Faith; step-great grandfather of Ava and Keegan; great-great grandfather of Avianna; dear brother, uncle and cousin.
Ted, born and raised in St. Louis, Missouri, graduated from University High School in 1947 and University of Missouri at Columbia in 1951. 
Ted traveled 750 miles north of the Arctic Circle to Thule, Greenland, in 1951, and again in 1952, with the Armed Forces to help manage construction of the northernmost base of the U.S. Armed Forces. While there he witnessed the Polar Night, the Midnight Sun and the beauty of the Aurora Borealis.
In 1953, he was employed by Traveler's Insurance Co., where he remained for 40 years, retiring in 1993.
Ted held many passions, from sports to design and construction.
His most loved activity was playing badminton. His father brought him a badminton set at the age of 10. By the age of 13, he had won his first trophy locally. 
Badminton was not an Olympic sport. However, he won tournaments locally, regionally, and nationally. As his love for the sport grew, he excelled to the level of Olympic play, winning national titles in Men's to that level in Singles, Doubles and Mixed play. He held National Champion titles in the categories of Junior, Regular and Senior play. He retired from competitive play at the age of 75.
Visitation and service was at Bopp Chapel, 10610 Manchester Road, on Aug. 12, 2022. Interment was at St. Lucas Cemetery, 11735 Denny Road, Sunset Hills, Missouri.
In lieu of flowers, donations may be made to the Humane Society of Missouri or the charity of your choice. Arrangements by Bopp Chapel.