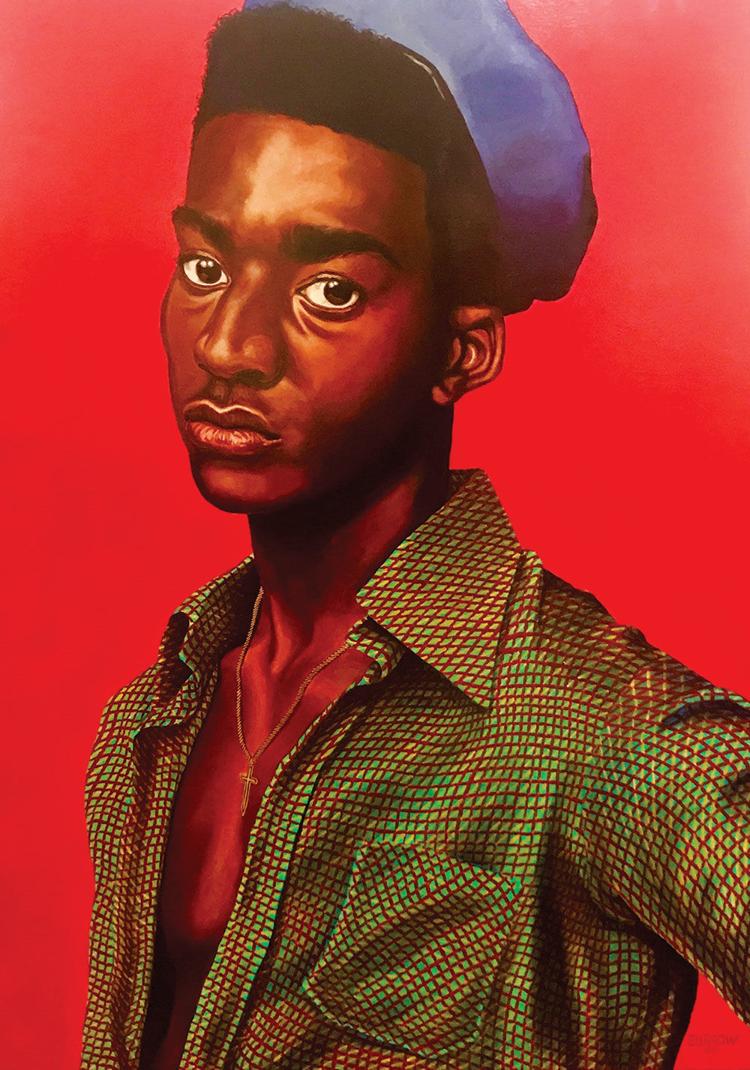 Roland Burrow hopes that his paintings can help people see themselves and each other. His most recent body of work, "The Renaissance Revolution," is on display at McCaughen & Burr Fine Arts.
Scott Kerr, along with Sara Kerr who run McCaughen & Burr, say that "Burrow is painting things the way they should be, not necessarily the way things are." He looks for the beauty in his community and highlights it, playing in and with the artistic tradition.
Burrow grew up on St. Louis' north side. He began his formal art training at McCluer High School, and received a bachelor's in fine arts from University of Missouri - St. Louis (UMSL).
"The Renaissance Revolution" features many of Burrow's portraits — larger than life, vibrant and bold, they meld current figures from his community with Baroque and Renaissance styles. More than just painting appearances, Burrow depicts the psyche.
Visiting the exhibit, I found myself drawn into the paintings such as "Alvez," where the figure gazes back at me. Who is this? The delicately patterned clothes and lavish red background indicate his importance, and I'm left wondering at Alvez' story.
The strength of Burrow's artwork is wrapped in this personal encounter, not a political message. He wants everyone to interact with his art as it is. In this sense, Burrow wraps his idealism in the individuality of each person, and he places his hope in our shared human dignity. At their core, Burrow's paintings create a human encounter where we get to practice empathy, interest and admiration.
At McCaughen & Burr, Burrow is the new kid. The gallery was founded in 1840 and is the oldest continuously operating gallery this side of the Mississippi River. It specializes in 19th and 20th century art and regularly features work by artists like Joseph Meeker, George Caleb Bingham, Thomas Hart Benton and Joe Jones.
The gallery only works with a handful of contemporary artists, and they are excited to hang Burrow's work on their walls. To see his work, visit McCaughen & Burr Fine Arts, 117 W. Lockwood in Webster Groves. For more information, visit www.mccaughenandburrr.com.