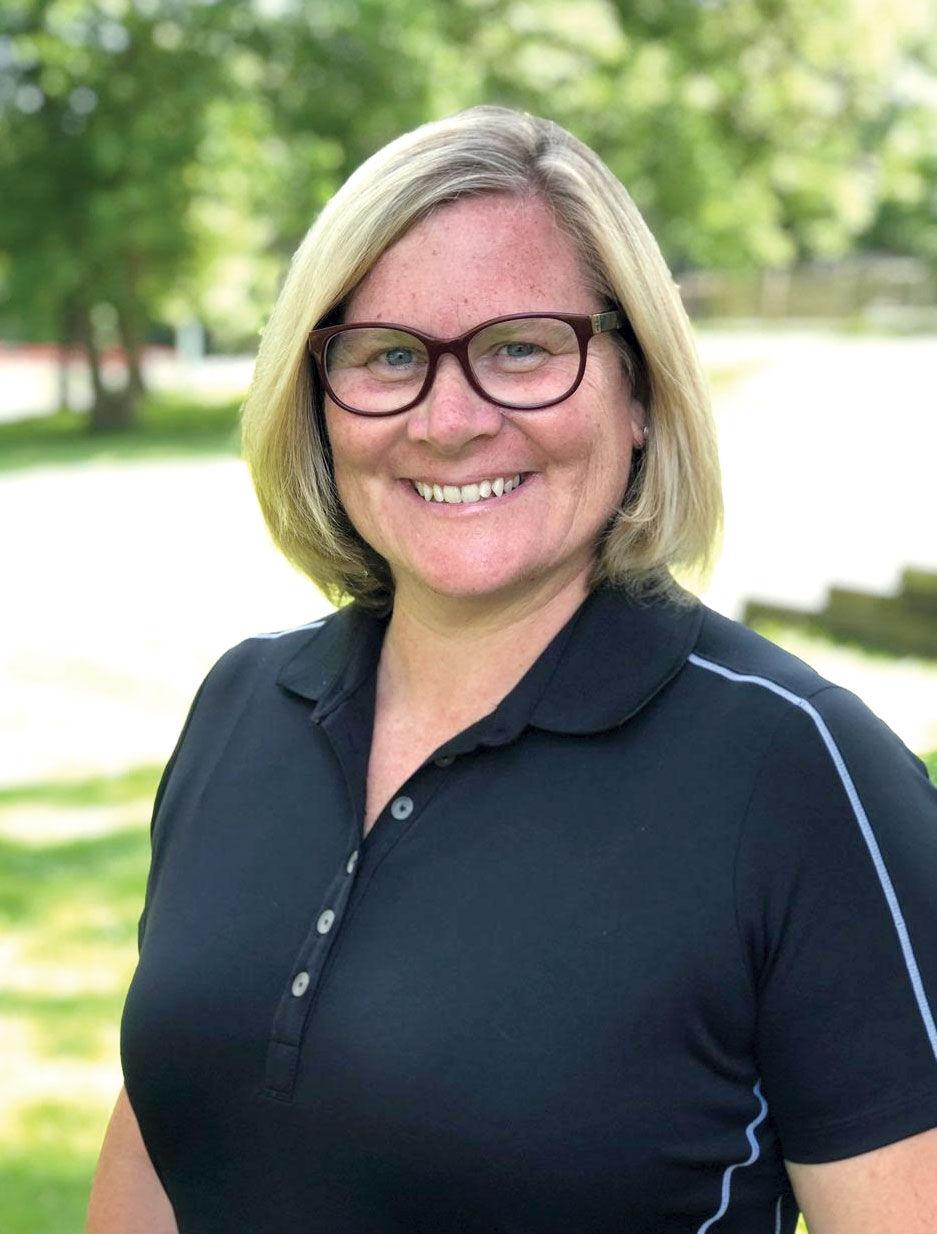 Ursuline Academy Athletic Director Jen Brooks is breaking glass ceilings as a role model for girls in helping them to achieve their dreams.
Brooks was recently recognized for her efforts when she was named the Missouri Athletic Director of the Year by the Missouri Interscholastic Athletic Administrators Association. Brooks is only the second female to win in the 47-year history of the award. She views the award as further inspiration in continuing her long-term goal of being a role model for her student athletes.
"I hope they see me breaking the glass ceiling. I hope they've got their Converse on because I'm breaking the ceiling for them," Brooks said.
"Converse" references the wearing of Converse Chuck Taylor shoes in celebration of Kamala Harris' inauguration as the first female vice president of the United States. Harris enjoys sporting Chucks.
"That's the whole point," Brooks added. "I do this so that their paths in life — no matter what it's going to be, whether it's on the field of play or in the boardroom — they can say, 'You know, Jen Brooks did this. She stood up. She was the only one in the room, and she managed and she succeeded and she went far. I can do the same thing.' So, I hope I'm modeling that for them. I like to say, 'If they can see it, they can be it.'"
Not only is Brooks the second woman to win Missouri Athletic Director of the Year, but she is also the first non-public school athletic director to win the award. Brooks said she has made an effort to bridge the gap between public and private school athletic directors and is glad a private school is finally being recognized. 
She was nominated for the award by St. Louis area athletic directors. The all-male board of the Missouri Interscholastic Athletic Administrators Association then selected her as the winner in Missouri. Brooks said she was shocked — and pleasantly surprised — to learn she was chosen over one of her male counterparts.
Paving The Way
Brooks began at Ursuline Academy, an all-girls Catholic school in Oakland, after graduating a year early from Maryville University as a three-sport athlete. After two years as a teacher and basketball coach at Ursuline, she became the school's athletic director and has served in that position for 25 years. 
During her time at Ursuline, Brooks has been an advocate for female voices, specifically in high school sports and athletic director groups. Her website, "The Power of Being the Only Woman in the Room," is dedicated to helping women find their voices in male-dominated areas.
Brooks has added sports to the high school athletic program that were, in the past, considered for boys only.
When former Ursuline student-athlete Lisa Miceli Standage attended the school in 2000, Brooks led an effort to introduce a golf team at the school.
Standage said she was surprised that only two females have ever been named the Missouri Athletic Director of the Year in its nearly five-decade history, but is hopeful there will be more in the future thanks to Brooks' work.
"It's alarming that in the 47 years (of the award) there would only be two female athletic directors, but I think that speaks volumes to what she's done and how she's continued to raise a voice to the athletic community and beyond," Standage said. "Hopefully, she's going to continue to pave the way for more women in her position and other positions to be recognized for all of the amazing work that they have done. I'm honored and blessed to have had her as a mentor for so many years in my life."
Brooks' daughter, Nora Brooks, was a student-athlete at Ursuline Academy and is now the school's volunteer assistant basketball coach. Nora Brooks said her mother has always encouraged her to go after her dreams and stand up for what she believes. Being awarded the Missouri Athletic Director of the Year has been special for both Brooks and her daughter.
"We were all just so proud of her because we know all the hard work and dedication that she has for women in sports, specifically high school sports," Nora Brooks said. "One of the things she talks about is how she's often the first woman at the table, but she doesn't want to be the only one. So whenever she can, she tries to bring other young girls and young women with her. I think I'm kind of a cool example of that because I've been next to her on the sideline for as long as I can remember. She's always trying to include people when she can."
Megan Glasgow is an intern with the Webster-Kirkwood Times. She is a rising senior at Kirkwood High School, and is an editor-in-chief at the student newspaper, The Kirkwood Call.