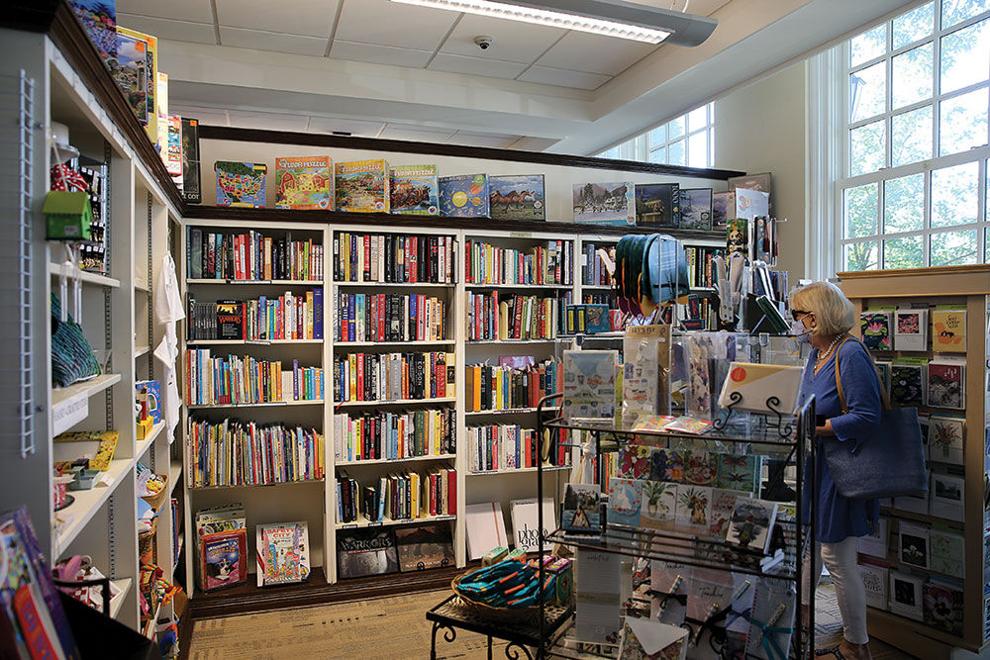 Books & Beyond, a book, craft and gift store located in the Kirkwood Public Library, has served library patrons for almost a quarter of a century. Last month, it reopened after a 17-month shutdown due to the pandemic.
On its "Reopening Day" on Aug. 9, 2021, the small shop racked up more than $300 in sales. Typically, the shop does $50 to $100 a day, although it can do better during the busier holidays.
"Opening day was unusual," said Christa Van Herreweghe, the library's director. "I think the volunteers had spread the word and had a lot of longtime customers come in that day."
Books & Beyond is at a strategic location in the library — right across from the circulation and reference desks. Positioned directly outside the shop are the library's "Hot Reads," the best sellers that get a lot of attention.
"All funds from shop sales now go into the general operating fund and are used for programming and materials purchasing," said Lisa Henry, director of library operations. "When the Friends (of the Kirkwood Public Library) group ran the shop, they kept the money and the library requested funding for specific things. Sometimes the Friends had ideas of things they'd like to purchase for the library."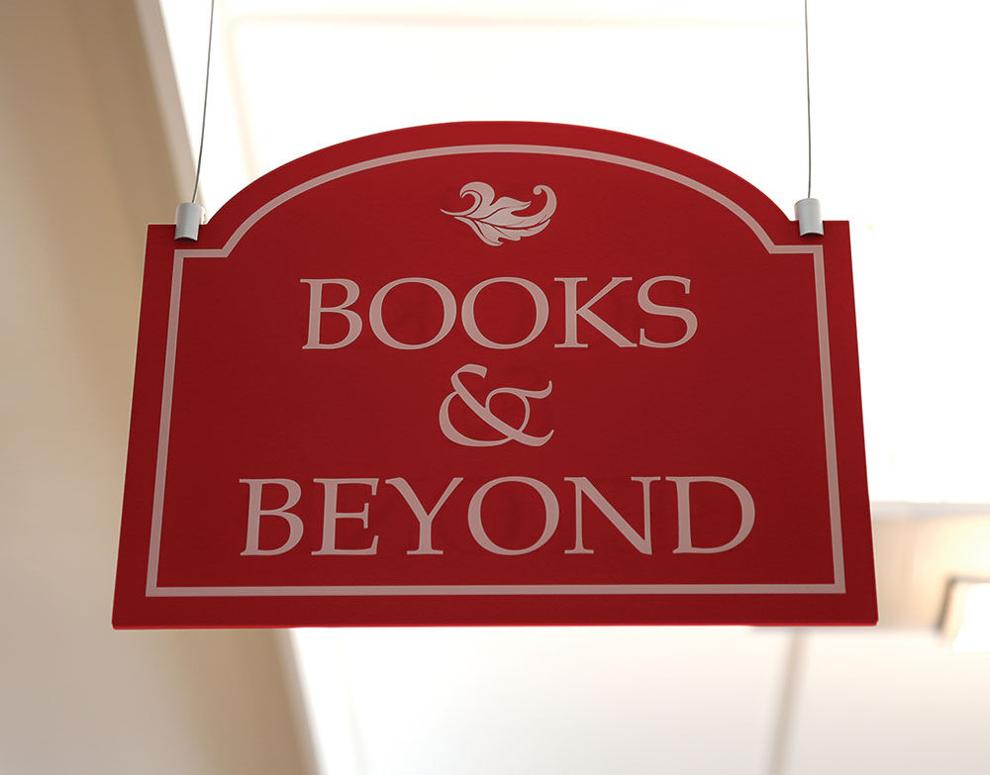 Wicky Sleight, a past director of the Kirkwood Public Library, along with a dedicated group of volunteers, opened the original shop, then called Greentree Books. The 1997 opening event included a family scavenger hunt, a visit by a Walt Whitman actor and games in the children's room. 
From the beginning, the shop focused on kitschy items that library patrons would love — crafts handmade by volunteers including gift items, greeting cards and puzzles. Before the turn of the century, there was even a rack of literary-themed ties. 
Volunteers Excited 
Books & Beyond volunteers are elated that the shop in the public library is open again for business. Jane Bond, who serves on the merchandise committee for the shop, said customers also are pleased. 
"Our customers are happy to find gifts that they don't find elsewhere," said Bond.  "They enjoy getting like-new used books at bargain prices, and the shop is a convenient place to pick up greeting cards. It's one more reason to visit the library."
Joyce Patton is the shop manager. After being closed for 17 months, she said volunteers needed some training sessions to get back into the swing of running the shop.
"We put together a training program for our 50 volunteers," said Patton.  "Webster Hills United Methodist Church was kind enough to allow us to have our training sessions in their Great Hall free of charge as part of their community outreach."  
Finding a venue to hold 50 volunteers with social distancing measures in place was difficult because so many facilities couldn't accommodate that need during COVID-19 restrictions. Patton said all obstacles were finally overcome.
"I feel that a strong library is an integral part of a healthy community — a place where ideas are nurtured and shared," she said. "It's been a part of my life since I was three years old when I got my first library card in my Christmas stocking. 
"That was a big deal," added Patton. "I imagine my many visits to the library played a part in my decision to be a reading teacher. It's a privilege for me to give back to the library and community by volunteering at Books & Beyond.
Bestsellers & Rare Books
Books sold in the shop are usually for gifts — they are books that have been donated to the library. They can be recent best sellers or rare, hard-to-find books.
Kirkwood has a large population of book lovers who enjoy both purchasing and borrowing books. They also love to donate their books, according to VanHerreweghe.
In normal, pre-pandemic years, the volunteers hosted large book sales. They were held three times a year in the library's meeting room on weekends. Volunteers sold all of the books, bringing in about $10,000 a year.
Volunteers took over Books & Beyond services after the disbanding of the Friends of the Kirkwood Public Library in 2016. The Friends developed a plan that merged its organizational functions with the library's administrative responsibilities and eliminated the need for a separate legal status. 
Volunteer activities continued and donations to the library will continue to receive tax-exempt status. Volunteers are still needed to run the shop, as well as collect and organize donations on a daily basis. Donations not sold in the shop or in large book sales are given to Thrift Books, which sells them online.
As the holidays approach, Kirkwood Public Library supporters should check out what's available at Books & Beyond.  Also, during the holidays, volunteers sometimes hold a sale in the children's room featuring inexpensive items that children can pick out as gifts for family and friends. This year's scheduling of a children's holiday sale will depend on progress with pandemic issues.