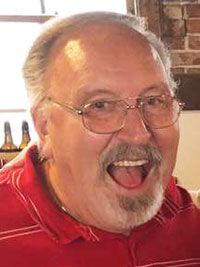 Buerk, Bob, of Webster Groves, Missouri, passed away peacefully on Oct. 3, 2021, in the comfort of his home at 75 years old.
Bob was born in St. Louis and graduated from Lindbergh High School, Meramec Community College and Southwest Missouri State University (now Missouri State) where he received his bachelor's degree in marketing. 
He was a proud Vietnam Veteran, serving in the Navy from 1966-1972 as a radar technician. Bob was married to his college sweetheart Cathy for nearly 50 years and they have two daughters. In his career, he built a very successful insurance business, R.J. Buerk Insurance Associates, where he loved working with people and was a remarkable salesman. 
He was an active member of the Webster Groves Lions Club for 35 years, serving in roles such as carnival chair and club president. He was also an active member of the First Congregational Church of Webster Groves. In his spare time, Bob loved an ice-cold beer, singing, or taking on any home improvement project — he was a master handyman! He also loved traveling to Hawaii, where he enjoyed camping, hiking, scuba diving and meeting new people along his way. Bob was always the life of the party and loved being around his family and friends most.
Bob is survived by his wife Cathy (Carter) Buerk; daughter Lauren (Mark) Albenesius; Jennifer (Daniel) Brown; and granddaughters Sydney Albenesius and Charlotte Brown.
In lieu of flowers, the family requests donations be made to the Alzheimer's Association.
Services: public visitation will be held on Monday, Oct. 18, from 4-8 p.m. at Kutis Funeral Home in Affton, 10151 Gravois Road, St. Louis, Mo., 63123. Funeral service will be Oct. 19. Arrive at 10 a.m. for viewing at Kutis, leaving at 11 a.m. with interment to follow at Jefferson Barracks National Cemetery at 11:30 a.m. The family requests that masks be worn at all times while indoors at Kutis Funeral Home.