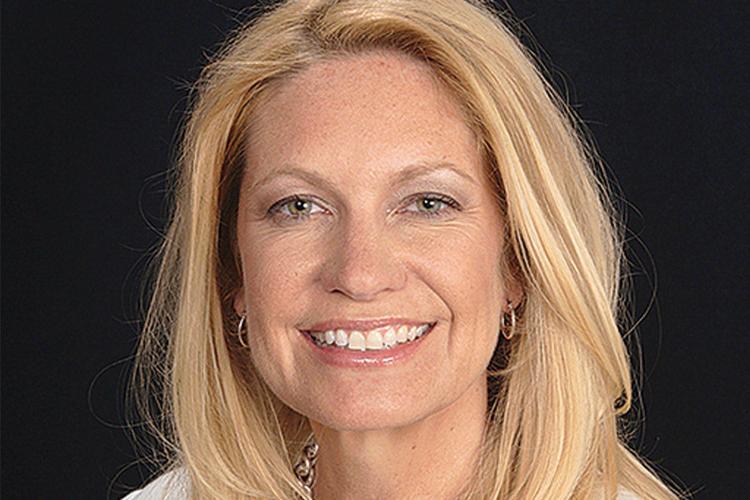 Despite having evidence that Kirkwood School District Board of Education Member Julie Backer violated several board policies, Board President Darnel Frost on Monday unexpectedly decided not to censure Backer or remove her from various committees.
Frost instead asked the board to remove a resolution on its Feb. 10 agenda that called for censuring Backer and removing her from the Special School District Governing Counsel and Kirkwood School District committees, including the search committee for a new superintendent.
The resolution to censure Backer cited violations of several board policies related to conflicts of interest and the confidentiality of information discussed during closed sessions. 
Frost decided not to move forward with the resolution after he and Backer signed an agreement that included an apology from Backer to board members, administrators, staff and the district for statements and actions that were "inconsistent" with board policies and board norms. She also agreed that "some of her efforts should be more directed toward unified board action as opposed to personal advocacy."
Frost agreed not to ask the board to vote on the censure, saying a "resolution of disputes" had been reached.
"I was prepared to go through with the resolution because of the serious nature of the offenses, but ... I thought it was best for our school district to accept the acknowledgment and apology to bring unity to our school district in order to move forward to refocus on the welfare of the children and focus on the superintendent search," he said.
Documents Detail Allegations
Despite the agreement that was reached, documents supporting the resolution to censure include dozens of pages detailing the alleged violations against Backer, some of which date back to 2016.
The documents, which were obtained through an open records request and are publicly available on the district's board of education Feb. 10 meeting agenda, include board memos, communications between board members, employee complaints against Backer and screen shots of text messages Backer sent to employees and administrators containing confidential information that was not to be released. In one such text, Backer had written: "Delete this," the documents show.
There are also letters from lawyers stating concerns about the appropriateness of some of Backer's behavior, a timeline of attempted interventions with her and multiple forms of communication claiming her actions have compromised the district's superintendent searches.
The documents show her behavior played a role in the early departure of a longtime superintendent, as well as a newly hired superintendent's decision not to take the position. Although names of individuals are redacted within the documents, the dates line up with when the district hired Jeff Arnett in 2018 to be the next superintendent, but canceled the contract two months later.
According to the censure resolution, Backer met with newly hired superintendent and told him that "if he didn't take care of a certain administrator he would have a short stay at Kirkwood."
The resolution also states Backer told district administrators that it was her intention to "make the new superintendent her b----," which was among the reasons the future superintendent gave as justification for refusing to take the job. He also told administrators she had pressured him to buy a home in Kirkwood for which she was the real estate agent.
Text messages between Backer and various administrators and board members back up Frost's claim that Backer's violation of board policies was negatively affecting the district's current superintendent search. Through various messages, it appears Backer was pushing fellow board members and administrators to consider a district employee as the next superintendent even though the person had not applied for the position.
The resolution to censure Backer also outlined complaints that she attended individualized education meetings with parents and "appeared to be offering her services as political muscle" due to her position as a board member.
Emails say Backer pressured a district employee to destroy the recording of a public meeting during which she publicly disparaged the superintendent, and there is also documentation that a district employee sought legal counsel after she felt threatened by Backer.
The resolution to censure goes on to say Backer promised a potential home buyer for which she was the agent that she could get their child an exemption to attend a Kirkwood school other than the one assigned to the house.
"The Damage Has Been Done"
Supporters of Backer, including several who spoke in her favor at Monday's meeting, said while they were glad the board did not move forward with the censure, her reputation — and that of the board — has already been marred.
"The damage has been done — to Julie's reputation, to the board's and to the school district," Kirkwood resident Jeremy Bedenbaugh said. "You've pointed these fingers publicly, and we now have a whole community wondering about all of this. This board has become dysfunctional and they're at the most dysfunction at a critical time."
In addition to the district's current superintendent search, there is a school board election in April and a bond issue on the ballot. Backer, who has served on the board since 2014 and is up for reelection, has been a vocal opponent of Prop S, which would include the construction of a new elementary school to alleviate overcrowding.
"It is unprecedented and outrageous that fellow school board members would attack another member publicly so close to reelection," Backer said after Frost brought the alleged violations against her to the public's attention during a specially called board meeting on Feb. 1.
"I am proud of my record working on behalf of students, parents and residents of the Kirkwood School District," she added.
Meghan Stewart said censuring Backer would have amounted to censuring families of children with special needs, for which Backer has been a longtime champion.
"If you remove her voice from these committees, you are silencing the many of us who voted for Julie to advocate for our families," she said.
Stewart admonished Frost for publicly attacking Backer, and said the "public infighting" is an embarrassment to the district. She said it has also lead to a lack of faith in the board.
"You act like that and then you ask us to put our faith in you ... for the first time ever I'm thinking of not voting for a bond issue or a prop," she said.
Frost said bringing the policy violations to the public's attention was a last resort, stressing he did so only after several attempts at private meetings with Backer to resolve the issues failed. Backer denies that Frost attempted to work things out with her before going public with the allegations.
Editor's Note: Julie Backer responded to the allegations and spoke with the Times on Friday, Feb. 14. Read that story here.