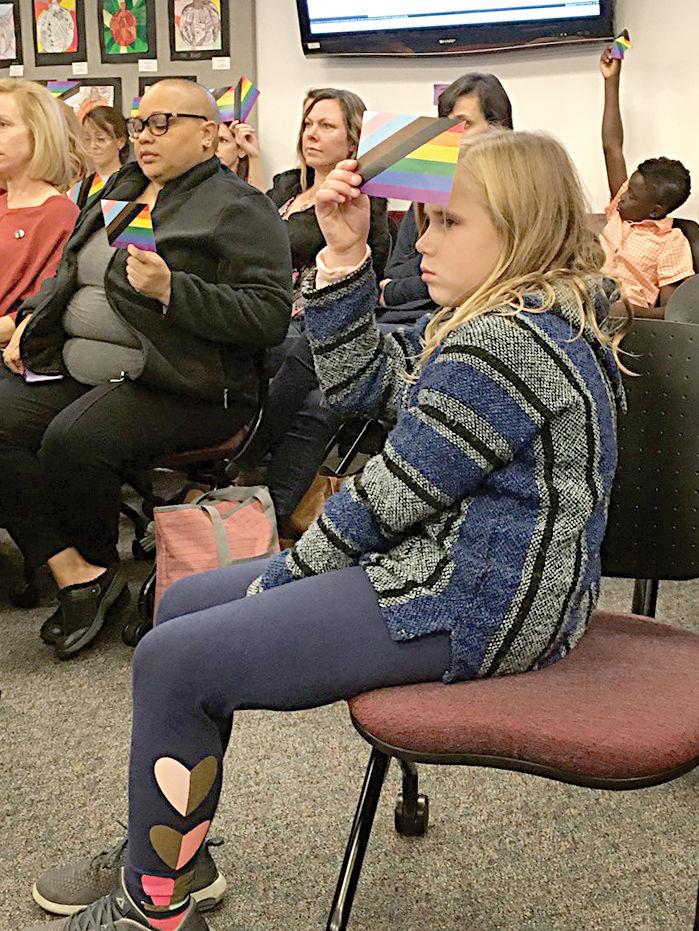 Dozens of parents and students packed into Kirkwood's school board meeting Monday holding placards of brightly colored pride flags to show their support of the district's decision to allow a teacher to go by the gender-neutral title of "Mx."
The Kirkwood School District's decision to allow a teacher at Keysor Elementary School to be addressed by "Mx." instead of a traditional honorific title of Miss, Ms., Mrs. or Mr., has been debated for months – even though it's not up for debate and the decision stands.
The district's decision, which was made prior to the start of the school year, has continued to draw support and criticism. Opponents argue that allowing the teacher to go by "Mx." is confusing to children, is not age appropriate and is forcing parents to have conversations with their children about controversial topics such as gender identity and fluidity.
While critics have implored the district to retract, rescind or reverse its decision, proponents made their message even louder at Monday's school board meeting. Of the 16 people who spoke about the issue, all but two expressed support for the teacher's use of Mx.
When supporters stepped to the podium, many in the audience raised colorful placards of the trans queer person of color pride flag. Support ranged from children to adults, students and teachers, transgender individuals and parents of transgender children.
"Zack. I picked that name. I'm trans. The moment I realized that, my suicide rate went up 100%. The moment I heard that name (Zack), nothing had ever felt so right," Kirkwood student Zack Garavaglia said.
"Everyone deserves to be respected. Respect is what I need, and respect is what this teacher needs," Garavaglia said, drawing applause.
Kirkwood parent Susan Mason also gave a heartfelt testimony, saying how crucial the district's support has been for her transgender son and their family.
"We have received full support from Kirkwood – from principals, staff and administrators," Mason said, noting that support has been instrumental to her child's health and well being. "I am proud to live in Kirkwood, and I respect and thank you for making a decision that increases awareness, inclusion and diversity."
Tom Baranski from the Washington University School of Medicine said 10,000 university employees are currently going through diversity training.
"Pronouns are important, and diversity matters," Baranski said, citing statistics that show suicide rates are much higher for transgender individuals.
Jay-Marie Hill, trans justice organizer for the American Civil Liberties Union of Missouri, said the language matters, as does using preferred pronouns.
"The designation Mx. is a helpful and honorable way to refer to those of us who do not experience or perform gender in a binary way," Hill said. "Language like this honors our presence and gives young people language for what they are seeing with their two eyes, but have not historically had language for."
Hill said as a former fourth grade teacher and the current trans justice organizer for the ACLU of Missouri who uses they/them pronouns and prefers the Mx. designation, they've seen how using a person's preferred pronouns impacts their well being.
"The many trans students in this school district will be served by this person standing in their truth," Hill said. "This teacher and their students deserve our full support."
Not Everyone Agrees
Not everyone supports the use of students addressing a teacher by Mx. Opponents say it endorses a belief that should not be imposed on children in public schools, and that parents should have discretion in discussing topics such as gender identity with their children.
"It is the parents' right to introduce sensitive topics at the time they deem best," Kirkwood parent Jared Keplinger said. "Many parents here have been able to exercise that right while others have had it taken away."
Keplinger and others offered this compromise: That students address teachers and principals by "teacher" and "principal" instead of Miss, Ms., Mrs., Mr. or Mx.
"We want to show respect to our teachers, which is why we suggested a gender-neutral honorific title of 'teacher' for all teachers," he said. "This is a way to show honor and respect while eliminating the need to address a teacher's biology or personal preference with our young children."
In August, the district released a statement about its decision: "We respect individual preferences from our teachers, staff and students. If students ask why the teacher prefers the title Mx., the response will be that it is the teacher's preference."
Hill said using an individual's preferred pronouns is important, even if some are uncomfortable with it.
"Though it may confuse or frustrate some, that does not take away from the fact that this language gives voice to the many of us gender non-conforming people who have been here, teaching youth, and serving disabled and elderly populations for decades," Hill said.
Kirkwood parent and former Kirkwood High graduate Tanya Craft read a brief statement of support from a letter signed by nearly 400 other district parents.
"By fostering this inclusive environment, you are allowing people to truly be who they are," she said. "The example you are setting is crucial. We thank you and we stand by you."