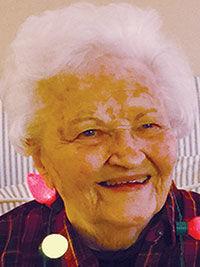 Spence, Betty "Rams," of Kirkwood, passed away on Saturday, Sept. 18, 2021. She had recently celebrated her 93rd birthday.
Betty was a dedicated wife, mother, grandmother and great friend to so many people, all of whom will miss her fun and youthful spirit, sage advice and incredible sense of humor.
She worked for many years as a teacher's assistant at Keysor Elementary School in Kirkwood, a job she loved so much and where her legendary organizational skills earned her the honor of Support Person of the Year. 
She was also famous for the lively, spontaneous gatherings around her kitchen table that often went late into the evening. She enjoyed nothing more than to have a group of friends, old and new, stop by so she could serve wonderful, non-stop snacks and drinks.
Betty is survived by her children, Betsy, John and Allen; and her grandchildren, Claire, Elizabeth and Will.
In lieu of flowers, please consider supporting the Kirkwood School District Foundation: https://www.kirkwoodschools.org/domain/93