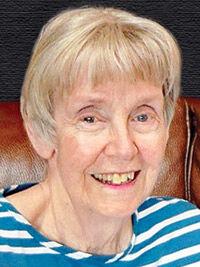 Stoll, Betsy B. Betsy Byard Brawley Stoll died on Sunday, March 21, 2021, at age 89. She was preceded in death by her beloved husband of 67 years, Richard ("Dick") Stoll, and is survived by her children, Mark (Lyn) Stoll, Bonnie (Mike) Dumpert, and John (Jill) Stoll; as well as grandchildren Alex, Erin, Ian, Noah, Hannah, and Mara; and great-grandchildren, Monroe and Bowie. The Momeni family and Leela Thomas also regarded Betsy as mother and grandmother.
Betsy was born to Wayne J. and Beth Brawley and grew up with her brother in Wellsboro, Port Allegany, and Titusville in Pennsylvania. In 1949, the family moved to Ottawa, Kansas. Betsy attended Ottawa University. There, she met the love of her life, Dick Stoll, whom she married in 1952. Dick pursued a career in the YMCA, which took them to Wichita Falls, Texas, where their children were born; Muskogee, Oklahoma; Topeka, Kansas; and, in 1971, Kirkwood, Missouri, where they spent almost 50 years together.
Betsy taught seventh grade English in Topeka and English and social studies at Parkway East and Parkway South Junior High Schools. A dedicated and creative teacher, she retired from Parkway after 19 years.
Betsy volunteered for the Friends of the Kirkwood Library and later chaired the Library Committee at Aberdeen Heights, the senior living community that she and Dick moved into in 2012. Interested in genealogy and archives, she also worked at the Mercantile Library of St. Louis and did volunteer work on the archives of the Presbyterian Church Historical Commission. A regular churchgoer, Betsy was involved in the local First Presbyterian Church everywhere she lived, particularly Women's Circle.
Betsy will be missed terribly by many people. She and Dick were warm, welcoming people who made friends and seemed never to lose them. She will be missed most of all by her family, whose lives she was always interested in, never judging, always accepting, always loving.
Memorial services will be held on Saturday, June 12, 2021, at 10:30 a.m., in the First Presbyterian Church of Kirkwood, Missouri. Services will be streamed for those who cannot attend. In lieu of flowers, the family requests donations to the Kirkwood Public Library. Donations may be made at https://kirkwoodpubliclibrary.org/support. Arrangements by Bopp Chapel.