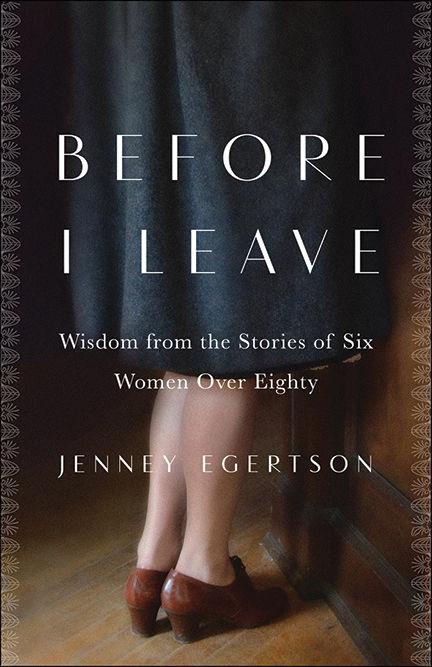 "Before I Leave: Wisdom from the Stories of Six Women Over Eighty" by Jenney Egertson presents biographical sketches and memories of a diverse group of women.
Inspiration for the book came to Egertson from a chance meeting with Maude Kelly in 2000. Egertson, who was struggling to adjust to the realities of growing older, found Maude's story instructive and encouraging. She soon began a project that would extend over 15 years. Her goal was to collect stories from women with different backgrounds to distill lessons that could be helpful to middle age women.
Maude Kelly recalled her journey from being a frightened girl of 3 wandering a Philadelphia city park unattended at 2 a.m. to becoming a member of the Women's Army Corps in World War II and a mother. Kelly concluded that things that seem important when you are 30 do not always seem significant when you are 80.
Egertson profiles two women from her own family, her grandmother Irene Egertson and her mother Edith Egertson. In these chapters, Egertson writes about both conflict with these women and her gratitude for the way they have shaped her life.
Sadie Anton was the matriarch of the Lebanese community in Minneapolis. Her story is focused on how her work with her church, cooking, selling tickets for fundraisers, whatever was needed, had given her a place of belonging in the community.
Ruth Yamamoto was a child when she and her family were sent to the internment camps for Japanese Americans in California. In the course of their many interviews, Yamamoto offered Egertson some cherished advice on listening to her teenaged daughter.
Hallie Hendrieth-Smith was an African American woman from Selma, Alabama, who built a career in education. Her story taught Egertson the value of having a mentor.
When a writing project stretches over many years, the initial goals may shift. While Egertson began her interviews concerned about how aging affects a woman's appearance, that quickly became a side note. Egertson had also begun the project thinking that she could give these women a voice, but she ends by realizing that they have helped her find her own voice.
Jenney Egertson will discuss and sign "Before I Leave" at 7 p.m. Thursday, June 13, at Left Bank Books, 399 N. Euclid Ave.