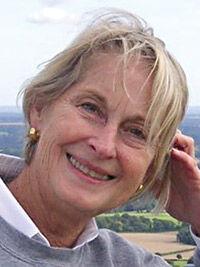 Racadio, Barbara A. (nee Burmeister) was fortified with the Sacraments of Holy Mother Church on Saturday, Jan. 9, 2021, at the age of 81.
She was the loving wife to the late Severo M. Racadio; devoted mother to David (Catherine) Racadio of London, England, John (Judy) Racadio of Cincinnati, Ohio, and Matthew Racadio of Port St. Lucie, Florida; cherished grandmother to Milo, Finnian, and Gus Racadio of London; Andrew, Maria, and Evelyn Racadio of Cincinnati; Kelly Racadio of Kansas City, Missouri, and Grace Racadio of Tallahassee, Florida; dear sister to John Burmeister of Ridgecrest, California, and Kathy Fluchel of St. Louis, Missouri.
Though curtailed in recent years, Barbara loved the adventure of travel. She was as happy taking wild impromptu camping trips with her young sons to Michigan, Tennessee and the Everglades as she was hopping on a jeepney in Manila, riding an elephant in India or walking along the white cliffs of Dover.
She was talkative (sometimes excessively so) and sociable — often contributing to strangers' conversations at neighboring tables in restaurants. Like her father, she loved to recount long 'shaggy dog' tales which rambled aimlessly, but always ended with a smile or a joke.
Barbara loved the company and conversation of her grandchildren and sparkled with pride when speaking to them during family reunions.
We all miss her dearly.
A memorial Mass will be held on Friday, Jan. 15 at 10 a.m. at St. Peter Catholic Church, 243 W. Argonne Dr., Kirkwood. A livestream will be available at www.stpeterkirkwood.org.
Memorial contributions preferred to St. Louis Priory School: www.priory.org/racadio. Arrangements by Bopp Chapel: www.boppchapel.com