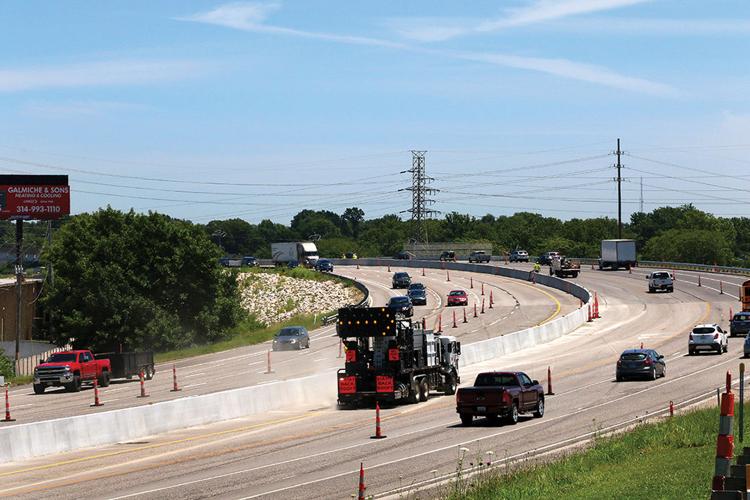 As morning commuters weave their way through seemingly endless construction on Interstate 44, a light has appeared at the end of the tunnel —er, bridge. MoDOT reopened all lanes of I-44 near Shrewsbury on June 27 after a six month delay to the project.
Michelle Forneris, MoDOT area engineer for St. Louis City, said all that is left to do near Shrewsbury is resurfacing. Forneris said work will finally be finished after crews repair pavement and put the new driving surface on I-44 between Murdoch Avenue and River Des Peres.
Since November 2018, MoDOT has been working to complete the eastbound bridge over the BNSF railroad tracks and repairing the newly constructed westbound bridge. When cracks appeared on the driving surface of the westbound bridge, MoDOT hired a third party to conduct analysis on the structural integrity of the bridges.
Forneris said the third party issued a report determining the bridge was unable to handle thermal expansion forces. Summer heat and winter chill of a Midwestern climate made the cracks form.
After the report was issued, MoDOT and contractor KCI Construction updated designs for the eastbound bridge, restarted construction on the project and designed repairs for the westbound bridge.
Forneris said despite the delay and extra work, there will be no extra cost to taxpayers. According to MoDOT, KCI absorbed costs for all additional design and construction, totaling $319,000. KCI also paid $200,000 to cover the cost of the in-depth analysis and damage report.
According to Forneris, MoDOT will continue using KCI Construction for future interstate construction projects.
"There are no concerns with the construction of other bridges," Forneris said.
Replacing Watson Road Ramp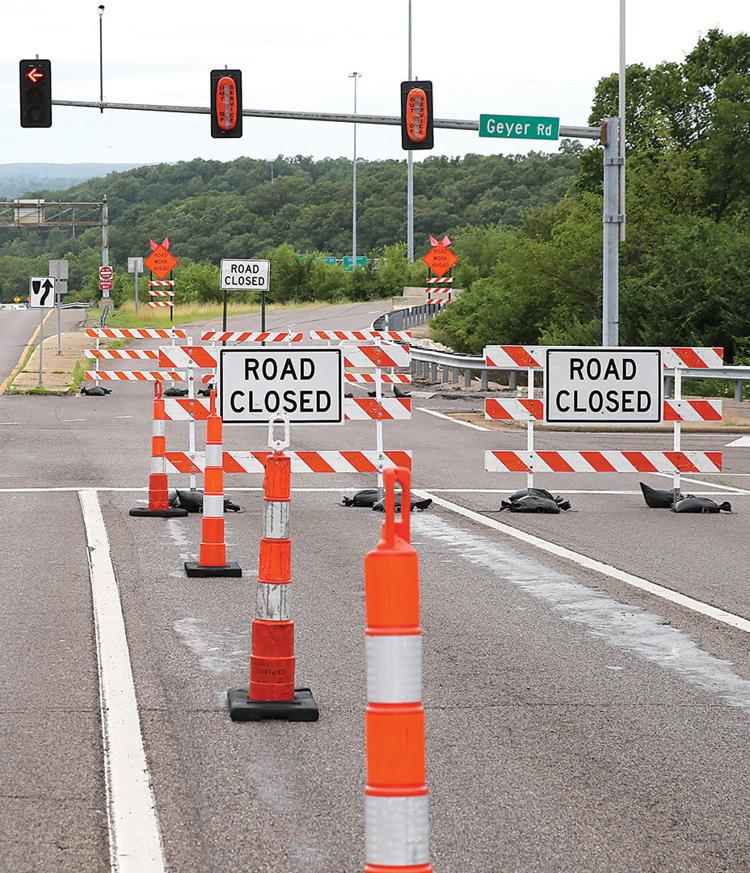 As construction at the Shrewsbury site comes to a close, MoDOT and KCI Construction will shift focus to rebuilding the Watson Road ramp to westbound I-44 from Sunset Hills. MoDOT closed all lanes of I-44 from May 31 to June 3 to demolish the aging ramp.
Karen Yeomans of MoDOT said the bridge carrying the ramp across I-44 was nearing the end of its lifetime.
"A lot of these bridges are in that 50-year range," Yeomans said. "Typically for bridges like that, we say the average lifespan is about 50 years. Our bigger bridges over the rivers, though, we would love for those bridges to last 100 years."
Yeomans said MoDOT concluded the Watson Road ramp needed replacement after regular inspection. According to Yeomans, MoDOT inspects bridges at minimum every two years.
"When they start showing signs of age, we first start trying to make repairs if we can," Yeomans said. "Eventually it reaches a point where we have to replace."
The Watson Road ramp crosses all lanes of I-44 at a skew, or angle, and curves to merge with westbound traffic. According to Yeomans, these factors create a more challenging project than a simpler perpendicular bridge.
MoDOT contracted KCI to finish the project in five months, ending in October. However, Yeomans said KCI will receive a monetary incentive if they finish up to one month ahead of schedule.
According to Yeomans, MoDOT anticipates no delays similar to the Shrewsbury project. Yeomans said different companies designed the bridges.
"The vast, vast majority of our roadway projects and bridge projects, we don't experience those types of issues," Yeomans said. "Fortunately, Shrewsbury was a pretty rare case."
When the ramp reopens, drivers can expect an identical design to the original bridge. MoDOT searched for a way to increase merge distance for westbound Watson Road drivers. However, Yeomans said they found no solution due to the topography of the area.
While the ramp is closed, Watson Road drivers can use Lindbergh Boulevard to access westbound I-44 and both directions of I-270.
The detour has caused heavy traffic along Lindbergh, particularly during morning and evening rush hours. MoDOT will be watching the detour route on Lindbergh and adjusting signal timing to reduce traffic.
Both Yeomans and Forneris agreed that safety is MoDOT's utmost priority and reminded drivers to be alert, adhere to work zone speed limits, and always stay off cell phones while driving.