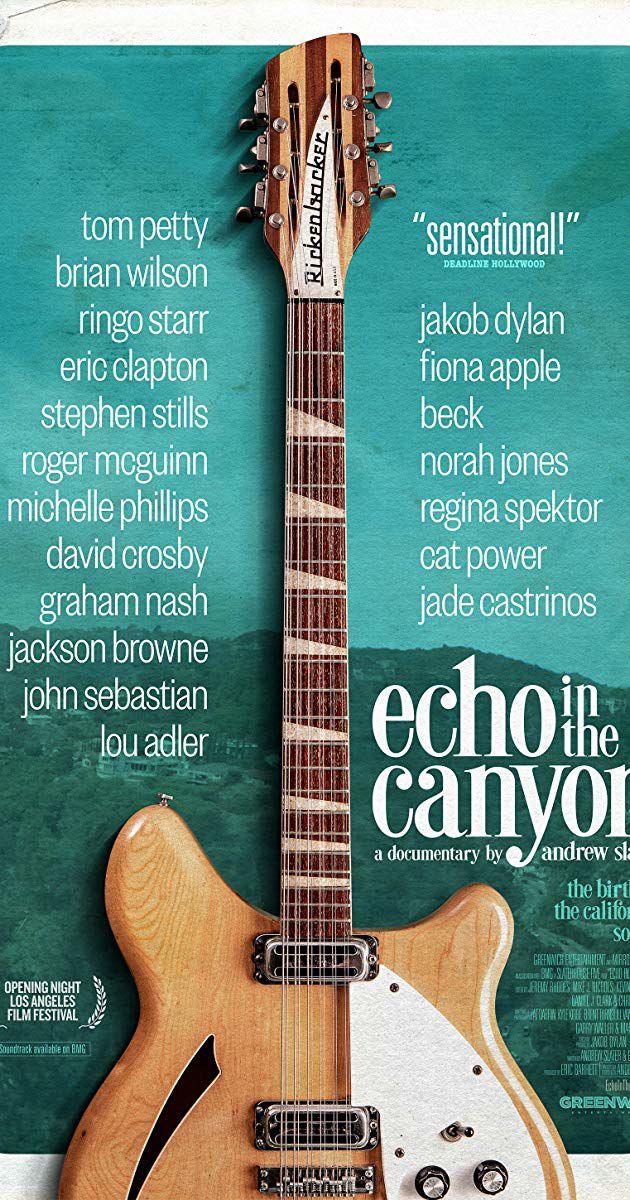 The Plot:
Musician Jakob Dylan, lead singer for The Wallflowers and son of folk music legend Bob Dylan, investigates the roots of L.A.'s Laurel Canyon folk rock music scene of the 1960s.
Kent's Take:
You've heard the names: The Byrds, The Beach Boys, Buffalo Springfield, The Association, The Mamas and the Papas. You recognize the songs: "Mr. Tambourine Man," "Turn, Turn, Turn," "Wouldn't It Be Nice," "California Dreamin'" and "Monday, Monday," to name a few.
The Laurel Canyon music scene produced some of the greatest folk rock songs in rock history – music and lyrics that still reverberate today. Musician David Crosby first found this area right outside L.A. Its winding, secluded roads offered privacy, yet condensed a thriving community within an easy walk.
The Byrds began as a struggling band looking for their sound. As they discovered folk rock, this new direction helped trigger the legitimacy of rock music. These songs were unique and sophisticated. They were longer and more complex.
As the movement grew and more artists moved to Laurel Canyon, the "cross pollination" of the music with the artists created a petri dish of creativity.
The Byrds became friends with the Beatles and they hung out when the Byrds toured London and when The Beatles were in California.
The Beach Boys' genius songwriter Brian Wilson used complex chords in his simple music, creating a unique sound that has never been matched. Cream was driven by The Beach Boys' music and The Beatles credit Wilson's music for inspiring the "Sgt. Pepper's" album.
This musical documentary captures the stories behind the music. It exposes some of the secrets to the creativity that spurred great songs and hearkens back to a time when the music industry was driven by music, not money.
Stephen Stills, Michelle Phillips, David Crosby, Eric Clapton and many more artists reminisce about the Laurel Canyon scene. Instead of hanging out at clubs, they would hang out at one another's homes, using a more relaxed environment to exchange ideas. If someone liked someone else's song they might use some of those chords in their style, creating a new song. Emulation was a form of flattery, not a legal action waiting to happen, as it would be today.
Filled with great music and plenty of hits, "Echo In The Canyon" further solidifies the hippie culture of a laid-back life, plenty of drugs and a plugged-in creative system of sharing. Although many of the legendary artists interviewed are growing long in the tooth, their stories are fresh and fascinating as we learn who influenced who. We also discover stories behind the songs.
Mixing in modern versions of these bands' hits also shows the strength of new folk singers like Beck, Norah Jones and Fiona Apple.
This film is for anyone who loves folk rock. The music is outstanding and the sound is clean and crisp. The stories and interviews are lively and historically significant.
"Echo In The Canyon" reveals a bygone cooperative era when influential artists created a collective force that influenced and defined its time.
Lynn's Take:
Full disclosure – this is an important part of my life's soundtrack, the folk rock music of my youth that continues to be a major influence, so I'm very familiar with this period but also extremely critical about how the film looks back at that talent burst between 1965-67.
The documentary's major flaw is that it assumes everyone watching knows this history already. And it's a loose edit when it should have narrowed the focus.
Had it only included the distinctive hit songs and interviews with still-alive artists, this would have been a fine portrait of that rock poetry period. However, producer-director Andrew Slater, who was president of Columbia Records from 2001-2007, decided to randomly insert film scenes from a French film, "Model Shop," that he claims sparked him to find out more about Laurel Canyon. OK …it's a stretch.
Well-intentioned executive producer Jakob Dylan, son of Bob and leader of a band called The Wallflowers, is our navigator. He interviewed the key musicians, and those revealing conversations are the most fascinating aspect – especially if you are first hearing about how The Beatles' "Rubber Soul" album influenced Brian Wilson to write "Pet Sounds," which sparked The Beatles to write "Sgt. Pepper's Lonely Hearts Club Band." There is a certain symmetry. And there are wonderful reminiscences.
Contemporary artists Beck, Regina Spektor, Fiona Apple and Cat Power joined Dylan in a 2015 concert celebrating "Echo in the Canyon" and that footage is interspersed here, along with their modern perspective. You may be lost if you don't know the golden oldies gang or the current people.
While the iconic opening riffs to "For What It's Worth," "Turn! Turn! Turn!," "California Dreamin'" and others immediately take you back, the song choices are mostly a deeper dive into the group's catalogue, not only greatest hits.
In the past few years, some terrific music documentaries have emerged about the 1960s; "20 Feet from Stardom," giving due to back-up singers, won the Academy Award for Best Documentary, and "The Wrecking Crew" is a lovingly crafted homage to the legendary studio back-up musicians of that era.
While this is interesting in an "inside baseball" way, the ambitious film is too limiting and disjointed to appeal beyond super fans.