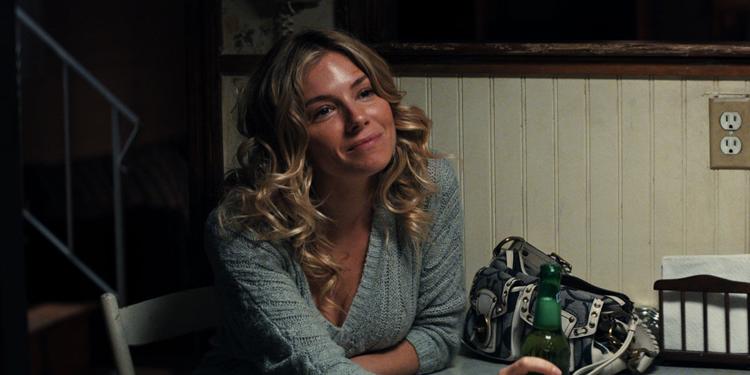 The Plot:
The evolution of a woman as she navigates the trials and tribulations of life in rural blue-collar Pennsylvania. Deb Callahan (Sienna Miller) goes from single mother to college graduate and newlywed while raising her grandson. Her life had changed forever when her daughter disappeared one night and is missing over the course of 11 years.
Lynn's Take:
The title is bland and doesn't really capture the complexities of this script, written by Brad Ingelsby, who has penned such gritty guy dramas as "Out of the Furnace" and "Run All Night." However, he does know how to write about the lower class in a mostly authentic way. Only here it is in very broad strokes, with characters taken straight from "The Jerry Springer Show."
As good as Sienna Miller is at portraying the growth of a pretty but trashy Rust Belt grocery store clerk, "American Woman" just seems like two movies in one, attempting to link two messy storylines together. Director Jake Scott, Ridley's son who is mostly known for music videos, mixes the tones and never lets on which way he's going as the story unfolds.
When we first meet Deb, she is rough around the edges and tough as nails. Somewhat pathetic and clichéd, she continues to be as abrasive as a Brillo pad, spewing torrents of coarse language. She is someone you wouldn't want to cross or get close to but does seem to care about family and co-worker friends.
She's involved with a married man whom no one approves of, not her single-mother teenage daughter Bridget (Sky Ferreira) nor her sister Katherine (Christina Hendricks), who lives across the street. Bridget has a fight with her ne'er-do-well baby daddy Tyler (Alex Neustaedter) and isn't seen again after leaving her friend's house. Thus begins a parent's worst nightmare.
That uncertainty will try to break Deb, and Miller's portrait of grief is spot-on, for she is a good mother and cares lovingly for her grandson Jesse. The movie jumps ahead twice, with two young Aidans delivering touching performances. Aidan McGraw is the elementary schoolboy confused over his situation and Aiden Fiske is the gangly teen "J", both protective about Grandma.
Along the way, Deb continues to make horrible man choices, either deadbeats or abusive controllers, but then meets Chris (Aaron Paul), who seems to be a stand-up guy, too good to be true.
But more importantly, she learns that she doesn't need a man to define her, and she gets better jobs through education. That's a natural progression that makes sense.
Relationships play a key role in the film, with a contentious one with her mother Peggy (Amy Madigan) but a supportive one with her sister and her husband Terry (Will Sasso).
The film premiered at the Toronto International Film Festival in November 2018. As a character study, "American Woman" has lucid and engaging moments, where small details reveal the most, but is hampered by its meandering journey. Nevertheless, Miller is a revelation, and this performance might be the best of her career.