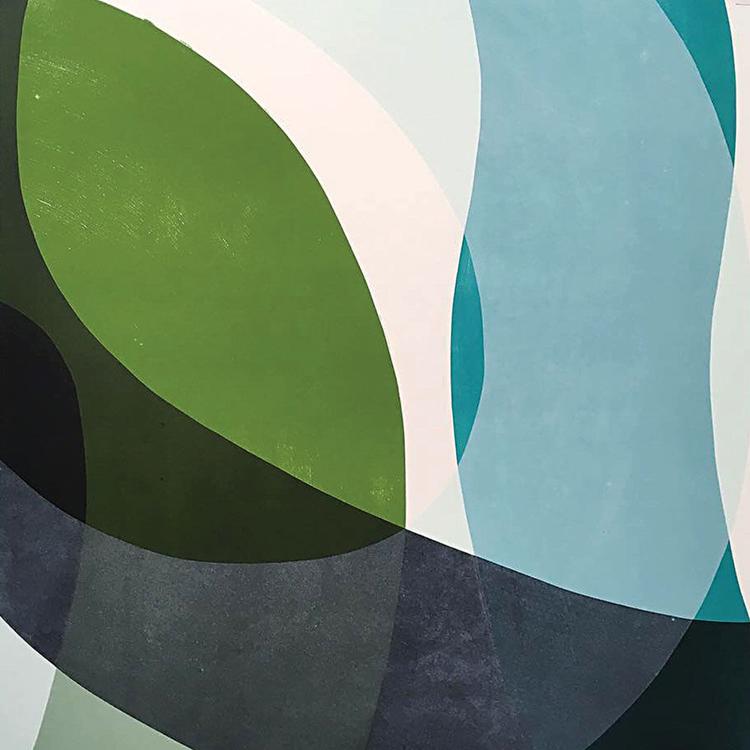 Ken Wood didn't set out to become a studio artist. He studied architecture at Rice University and worked as an architect for about five years before becoming disenchanted with the collaborative nature of architectural work — working in teams, coordinating with other trades, and being so dependent on the client. Ironically, his subsequent career in fine arts is full of architecture and collaboration.
A professor at STLCC Meramec, Wood invites established artists into his classroom to make prints alongside his students. In his own practice, Wood regularly works with Pele Prints, a Saint Louis-based fine art printmaking studio that creates limited editions. There, Wood works alongside the studio's printers to edition prints. He relies on their efficiency and expertise rolling out slabs of ink and running the large presses.
Although they look simple at first glance, each of Wood's prints is the result of methodical planning and careful color experimentation. He begins with a simple gesture, usually a line. Individual strokes are layered to create a larger image where lines and colors overlap to create new forms. The shapes appear familiar, but are hard to pin down to any one thing. They remind you of handwriting that has been enlarged, an interstate exchange, or lines of a river estuary. Whatever the case, we get the sense that there is a larger world, beyond the paper's edge.
Wood exhibits his work nationally; next week he will travel to the Dallas-Fort Worth metroplex for the Southern Graphics Council International, an annual printmaking conference that brings together printmakers from across the country. For the conference, Wood has organized "Hand Draughted," a collection of prints by 12 different artists. They explore printmakers' use of traditional architectural drafting techniques, such as perspective drawing, isometric and axonometric projections, and plans and sections. In May, Wood will be exhibiting "Gemelli," his most recent body of prints, at Haw Contemporary in Kansas City.
Keep up with Wood by following him on Instagram @kenwoodstudio and by visiting www.kenwoodstudio.com. Or enroll in one of St. Louis Community College – Meramec's printmaking classes, where Wood is professor of printmaking and foundations.