"Buy Art ... It's the Law" is one of my favorite bumper stickers. It puts art appreciation right up there with other social responsibilities like fastening your seatbelt. It serves up, with a chuckle, the notion that art matters.
It matters, because art nudges us from the blur of everyday life into moments of amazement, curiosity, delight, surprise, befuddlement and more. Those are the moments that make us feel more intensely alive. So that's good.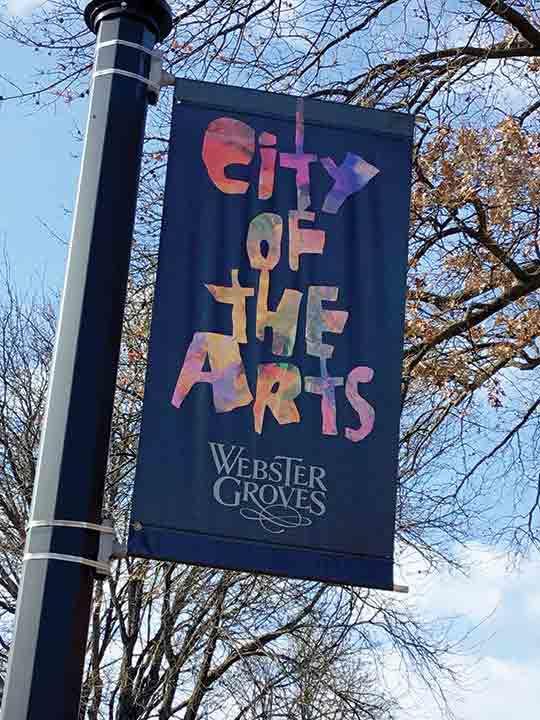 Entire civilizations have come and gone, and all we know about them is from remnants of their art — an amulet, a mosaic, or a pocket-sized goddess. Thirty-five thousand year old cave paintings suggest that we Homo sapiens got into the art business early.
If there really is a correlation between vital, healthy civilizations and the state of their art scenes, the communities served by the Times are particularly fortunate. Webster and Kirkwood both have arts commissions responsible for promoting public art. Webster is also home to Webster Arts, a non-profit known for its nationally-acclaimed annual arts fair on the grounds of Eden Seminary. Heartland Art Club, located across from the Kirkwood train station, promotes local representational artists across the entire country.
We're blessed with the artistic output of Meramec Community College and Webster University. Local businesses benefit when visitors from all over the region come to Webster to attend the Rep, Opera Theatre and Conservatory productions. The annual Webster Jazz & Blues Fest attracts more than 12,000 music fans, and both Kirkwood and Webster stage concerts regularly in their parks and business districts. Kirkwood is opening a new performing arts center. Surrounding communities are rich in the arts, providing homes to galleries, performing spaces and artists' studios. Notice those banners flying from Webster lampposts proclaiming it to be "City of the Arts"?
Watch this space as we dig into how the buzz of all that creative energy impacts our lives. Maybe art isn't just nice. Maybe it matters. Heck, there oughta be a law.
Patrick Murphy is a woodcut artist and former Nine PBS producer. He serves on the Webster Arts Commission and the board of the Webster Jazz and Blues Festival. He grew up in Kirkwood and lives in Webster Groves with his wife, Anne.