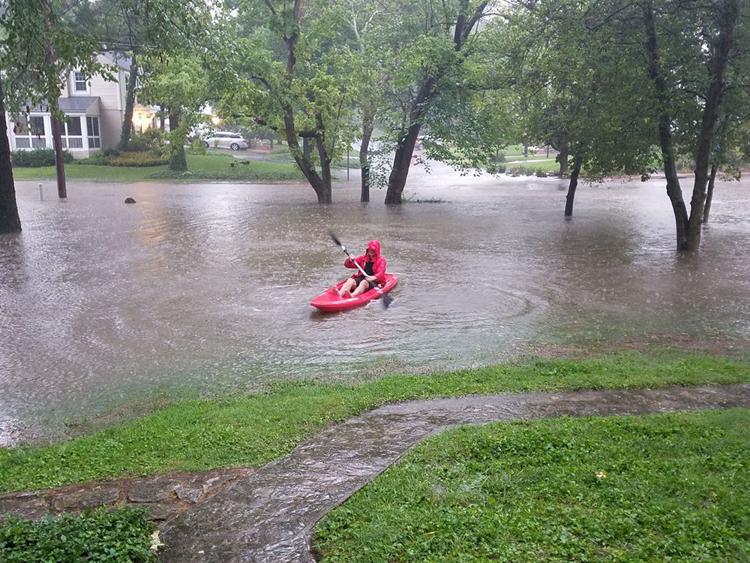 The severe storms that dumped several inches of rain on the region last Friday wreaked havoc in Webster Groves and Kirkwood, submerging entire streets, stalling cars and spilling into basements.
Flash flood waters poured into basements of Webster Groves residents on West Kirkham Avenue near Shady Grove Creek when storms came through the area at about 6 p.m. on Aug. 31.
In that same area, the intersection of West Kirkham and North Gore avenues became impassable with several feet of water on the roads. Several cars, including a Webster Groves Police Department vehicle, were seen half submerged.
"We answered in excess of 30 calls for various things related to the flash flooding – vehicles stuck in the water, numerous roads and intersections closed, trees down, assists to the fire department, manhole covers that had been displaced, etc.," said Lt. Andy Miller of the Webster Groves Police Department.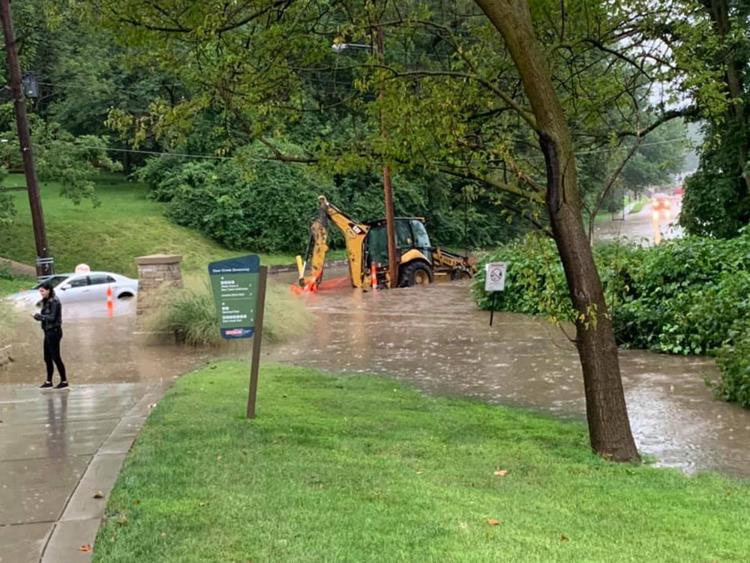 "The South Brentwood/Marshall Road area and all along Kirkham Avenue seemed to have the most issues," he added. "We did have a marked police vehicle get stranded and suffer water damage after being driven into unexpectedly high water at Kirkham and College avenues. The officer was responding to assist a stranded motorist."
Not far from there, vehicles on Elm Place were half swallowed by the swift waters, which also spilled into the basement of homes on the block. Long-time Elm Place residents posting photos of their submerged cars and flooded basements said it was the most extreme flooding they had experienced in more than three decades of living there.
There was more flooding over on East Swon Avenue, as well as on Newport Avenue and on East Jackson Road. Laclede Station Road was blocked in at least two places – beneath the Interstate 44 overpass just north of Lansdowne and also north of Big Bend near Deer Creek. There was also flooding on Marshall Road just east of Kirkham Avenue.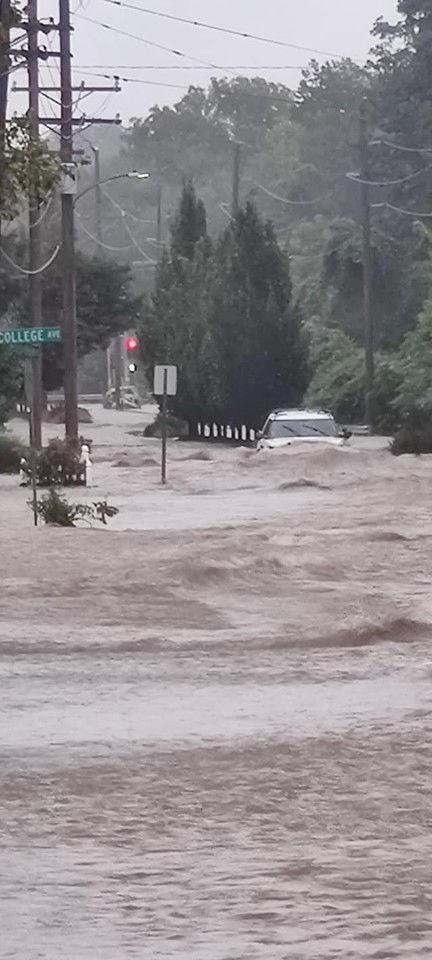 Webster Groves Fire Chief Tom Yohe said while the department "ran a plethora of water-related calls," it did not have to make any water rescues.
The Kirkwood Fire Department also responded to calls of several vehicles that were stranded by the flash flooding. Kirkwood Fire Department Assistant Chief Brian Zaitz said there were three vehicles stranded in about six inches of water on Geyer Road near Adams Avenue.
Zaitz said crews then responded to the area of West Monroe Avenue where there was three-to-four feet of water on the street.
"That was more of a proactive situation where we just wanted to make sure people avoided the area," he said.
Additionally, several members of the Kirkwood Fire Department assisted other departments as part of a regional team that was tackling flash flooding along Manchester Road in the city of Brentwood, according to Zaitz.
While some Kirkwood residents were busy trying to keep – or get – water out of their basements, others took it in stride. A man on North Woodlawn Avenue pulled out his kayak for the occasion, which amused neighbors as he was seen floating down the street.
MSD Issues
Both Webster Groves and Kirkwood residents continue to complain to the Metropolitan Sewer District about what can be done to prevent these types of flooding incidents. MSD officials say they know storm water drainage is a problem in St. Louis County, but that the district can't fix the issues on its limited budget.
In an effort to get funds for capital improvement projects and address issues related to flooding and erosion, MSD put Proposition S before voters earlier this year, but taxpayers voted against it. MSD officials say there are hundreds of sewer-related projects in the county that need attention, but the district can't move forward on them until it has more funding.
To allow work on a variety of needed storm water capital projects that otherwise would be delayed, the Webster Groves City Council is currently discussing a proposal by MSD to restore a residential property tax next year for city residents. MSD is making similar proposals to communities through the district's coverage area.