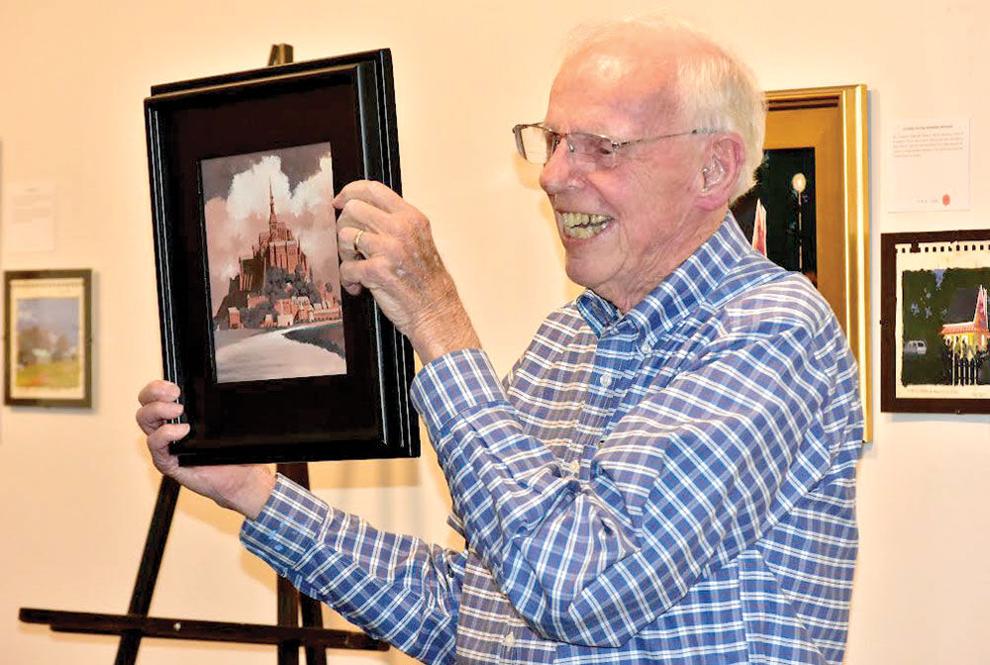 Retired architect Art Stauder seemed destined to become involved with art, given his name. However, this 91-year-old plein air artist from Kirkwood got into creative painting by accident.
"I feel like the oldest living plein air artist on the planet," Stauder told more than 30 attendees at an event titled "91 Years of Art: A Retrospective Exhibit of Art Stauder's Art."
The "conversation evening" with this local creator of visual representations was hosted on Oct. 22 by volunteer members at The Galleries at Heartland Art Club, 101-A W. Argonne in Kirkwood. Stauder's exhibit was displayed through Nov. 20.
Years ago, Stauder said he attended an "Arts For The Soul" retreat in Steamboat Springs, Colorado. He signed up for a watercolor group, but was put into an oils group by mistake and "objected strenuously."
The French term "plein air" means "outdoors" and refers to the practice of painting entire pictures outside —something for which Stauder hadn't prepared.
"Turns out, I had a good time and my first painting turned out pretty well due to beginners' luck and a few strategic brushstrokes from the instructor. That painting hooked me, so I kept trying it and learned I liked it," Stauder said, pointing to his first plein air painting, a green-based piece named "Walton Pond."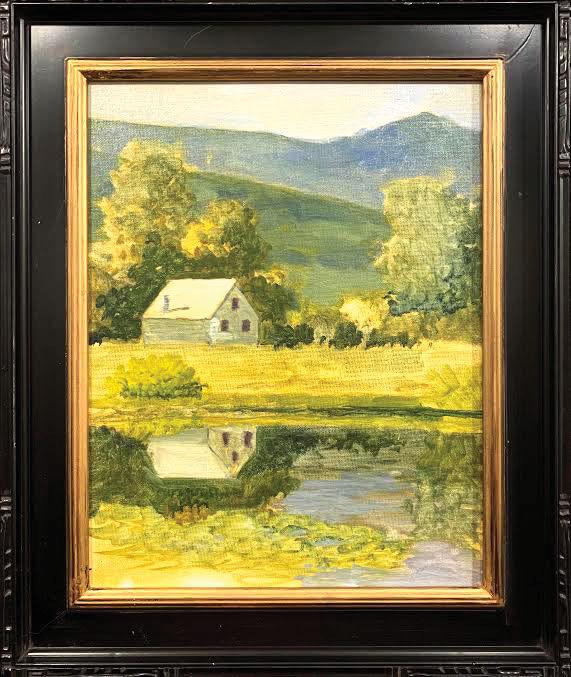 After a 30-year architectural career, Stauder said the overall aspects of adopting plein air painting later in life are just like when you're 21, 41 or 61 years old — "just a joy and a wonderful experience."
"You get to paint with friends of like minds while throwing brushes full of paint onto a canvas and see if you can make something recognizable," he added. 
However, he said there are physical and mental differences in visual art the older one gets.
"The wheels start coming off a little bit. It's harder to get up early enough in the morning to get the good light. With weather fluctuations, it's harder to stay out sometimes. But, regardless, it's still a wonderful experience," said Stauder.
Art Before The Art
After surviving three types of cancer, Stauder said he learned to take his time with plein air subjects, typically roaming around at a scene for 10 minutes to an hour, looking for the exact spot that will tell a story. 
"I don't paint just pure landscapes," he added.
Stauder is known for his signature pre-sketches in charcoal before making the first brush stroke of any painting. These sketches exude character themselves as separate, memorable artworks.
"I get compliments on those sketches, not as many on the paintings," he joked. "I also never get to finish painting on-site because I take too much time searching for the right spot, but I can't do the paintings without the sketches."
The blurbs that he wrote to go with the sketches became his knitted-together journal. 
"They're like an essay for each painting, recording how I felt each day, what story I was trying to tell. For me, they're a natural extension of the images, adding to the appreciation of painting. I now enjoy rereading them," he said.
Perhaps this process is his architectural training kicking in, or maybe it's the 12,000 volunteer hours at Habitat For Humanity St. Louis over 15 years of designing attractive, affordable and sustainable homes for deserving families.
Stauder began volunteering with Habitat St. Louis as a construction committee member before taking on the position of volunteer staff architect in 2000. Every hand-drawn blue print and every house plan for the past decade and a half have been a product of his unwavering commitment to transforming local communities.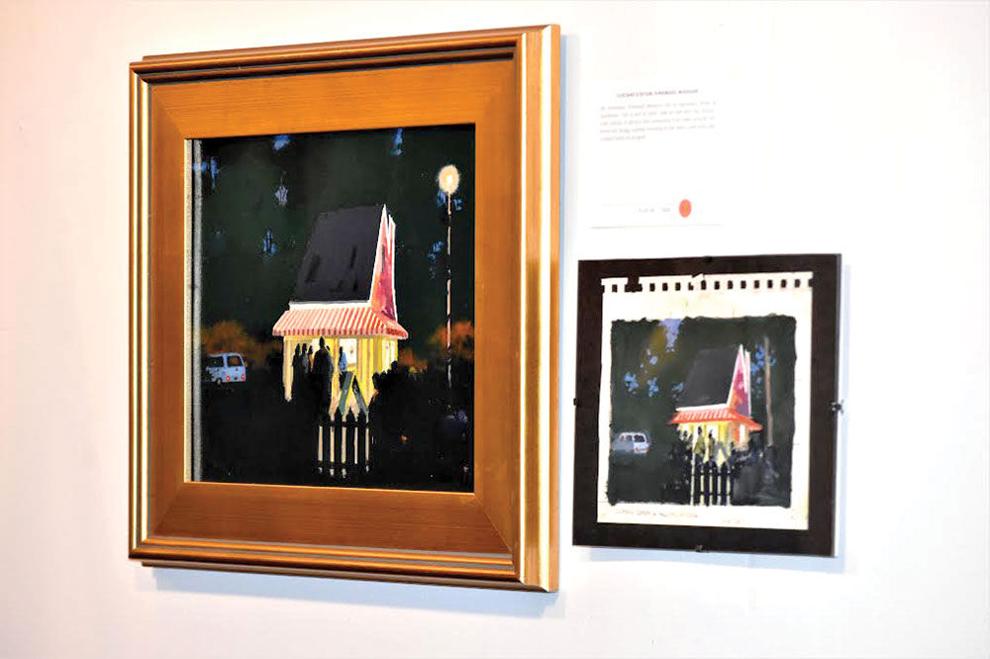 Launch Into Plein Air
During Stauder's presentation, he pointed out four major principles of plein air painting: good composition, proper values, color and edges.
From his own analysis, he said his paintings can be placed into five categories including something architectural, topics of historical interest, areas that bring out memories or tell stories, locations that reflect beautiful landscapes and gorgeous objects in nature.
Over the past 16 years, Stauder said he's created 450 plein air paintings. 
"That's 28 per year, or about one painting every two weeks," he said.
Stauder admitted that how to mix paint colors properly and dramatically is his weakest link. 
"I wish I knew more about the science of color, like painting dark and mysterious," he said.
Stauder's tip for anyone who wishes to begin plein air painting, or to get better at it, is to start with confidence. 
"Read about painting, subscribe to magazines about it, fall in love with it," he said.