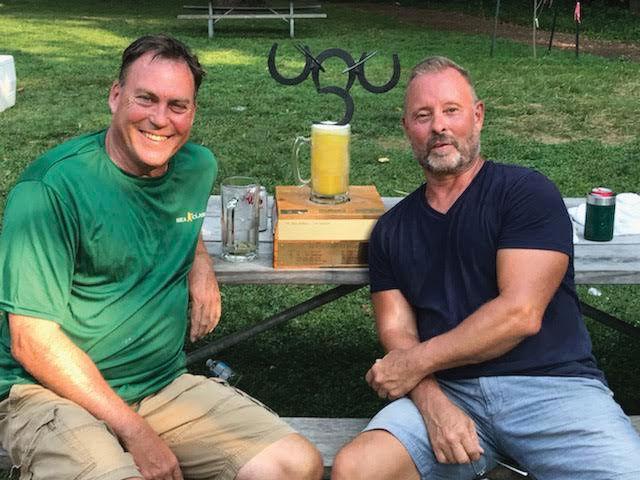 Horseshoes — it's not just for old guys anymore.
Just ask Chris Baker and Dave Haring, who won the annual Shea Classic Horseshoe Tournament held in Kirkwood Park last month. Though the annual tournament has grown throughout the years and included 64 competitors this August, it started with just eight friends in 1974. 
At that time, Pete Shea and his four brothers lived in Kirkwood. One brother, Bill Shea, was attending Southwest Missouri State, now Missouri State University, in Springfield.
"We always had a bunch of guys playing sports in the backyard, usually Wiffle ball, and Bill came home announcing we were going to start playing horseshoes," Pete Shea said. "We told him he was crazy, and that was an old man's game. The next thing you know, we had our first tournament in July of that year."
The annual event started in the Sheas' backyard, but when the group outgrew the space, it moved to Kirkwood Park.
Baker, who lives in Des Peres, and Haring, who is a Kirkwood resident, have been playing together for over 30 years.
"My father-in-law was a big player and had a horseshoe pit in his backyard," Baker said. "I kept playing horseshoes as I got older."
Haring said he and Pete Shea met at St. Gerard Majella, where Haring was invited to join the bunch, which played together every Tuesday night.
"The big tournament is always the first Saturday in August in Kirkwood Park, and this year, Chris and I won the trophy," Haring said. 
The traveling trophy has the winners' names inscribed on it, "like the Stanley Cup," Pete Shea said. 
So, how does one get good enough at horseshoes to take home the gold?
"It's all about the throwing technique," Haring said. "Everyone has their own way of throwing. I like to try and spin the horseshoe up and beyond versus going end over end. Chris is one of the best end-over-end throwers I've ever seen."
More Than A Game
In August of 2003, Mike Swoboda, who was mayor of Kirkwood at the time, proclaimed a Shea Classic Horseshoe Tournament Day, and it has become a long-standing tradition.
One thing that makes horseshoes so popular is that just about everyone can play.
"There can be a difference in the level of play, but it's not like golf where you have some scratch golfers and some who can't break 100," Pete Shea said. "We've got some good players and some beginners. We pick the teams out of a hat every year and so you never know who your partner is going to be."
To the participants, horseshoes is much more than throwing and competing. Lifelong friendships have formed throughout the Tuesday night practices and the yearly tournament.
Baker said that over the years, some players have dropped out and some have died, but players' sons, sons' friends, and friends of friends have kept the group going.
"It's all about the camaraderie with the guys," Haring said. "We get together, drink a few beers and you meet good people."