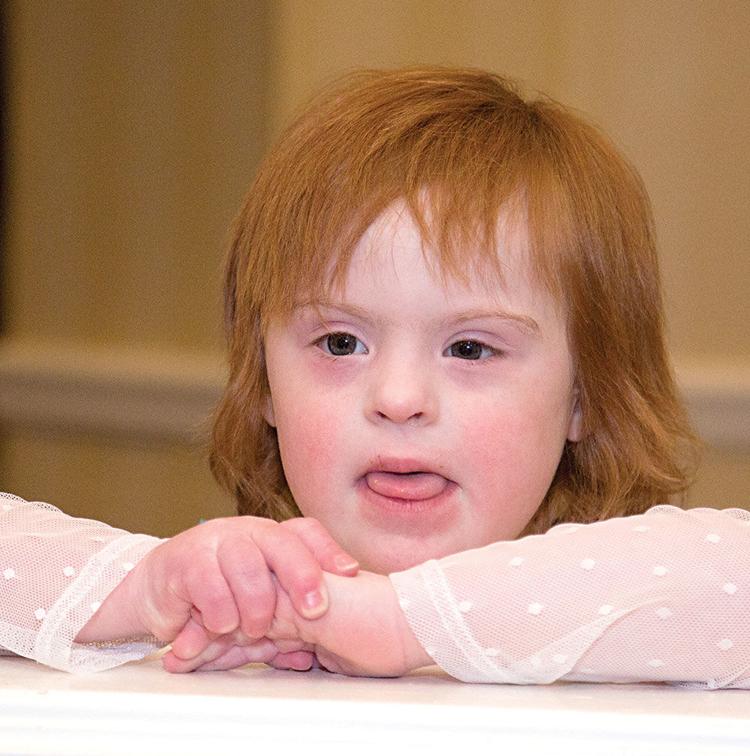 The Webster Groves-Shrewsbury-Rock Hill Area Chamber of Commerce on Feb. 22 held its annual "Heart of the Community Awards Dinner" at Westborough Country Club.
Members of service clubs, citizens and business owners were honored at the dinner gala, headed by Master of Ceremonies Andrew Chao of The Andrew Chao Insurance Agency.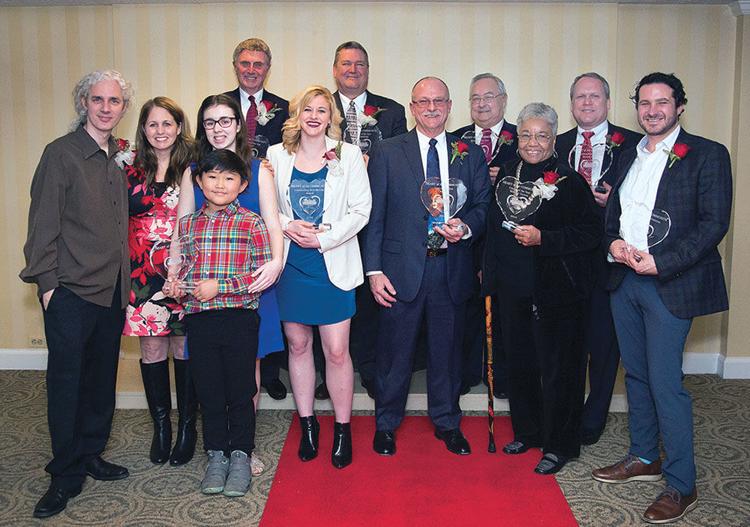 Honorees for the year 2018 are:
Citizens Of The Year
Rock Hill
The Citizen of the Year Award for Rock Hill went to 5-year-old Lily LaMartina, the youngest recipient ever of a top citizen award. Lily was diagnosed with leukemia at age 3. Her parents, Anne and Jay, and siblings Joe, Andrew, Emma, Anna and Mia, have helped her battle cancer the past two years.
Lily is winning her battle against cancer, and is currently in remission.
Lily attends pre-kindergarten at St. Mary Magdalene Catholic School in Brentwood. The mayors of both Brentwood and Rock Hill recently honored Lily by declaring Sept. 21, 2018, as "Lily Day" in both cities.
"Lily is a courageous young lady with an irresistible smile. We need more Lilys in our community. She is an inspiration to all of us," said Chao, in introducing Lily that evening.
Shrewsbury
Ed Kopff spent years of volunteer service on the St. Michael's School Solvency and Finance committees, as the school was facing impending insolvency. He helped to carry the Shrewsbury school through a merger with four other regional schools to form the currently successful Holy Cross Academy.
Kopff served Shrewsbury by volunteering for committees that helped steer the community forward, such as his service on the city comprehensive plan review committee. He would often invest time during the middle of the day to come to city hall and participate in committee work, helping guide the city forward on major projects.
Kopff has represented the people of Shrewsbury's Ward 2 for eight years, providing analytical perspectives to the board with his expertise in data analysis and thoughtful review.
Webster Groves
Kathryn DeHart was selected to receive the 2018 Webster Groves Citizen of the Year award for her commitment and service "to ensuring that the North Webster neighborhood will be honored and remembered now and for generations to come."
Over the years, DeHart's pride in her community has resulted in tireless work on lasting projects.
Recently, the North Webster neighborhood has been acknowledged with several projects as an African American community rich in history, family strength, educational opportunities and successful individuals who have contributed to the betterment of our region and the country.
To preserve the history of this successful community, the city funded a brochure that details the community's history through a walk. The city has also renovated Barbre Park with an emphasis on the history of North Webster and is in the process of adding a significant sculpture in the park.
DeHart played a central role during all of these efforts. She has worked tirelessly to collect information, and contacted families with roots in North Webster so that they might be remembered through a paver. She researched and compiled materials for the sculpture.
DeHart has also served on city boards and commissions, volunteers in her church, and is an active member of the North Webster Neighborhood Coalition.
Outstanding Business Person
The Outstanding Business Person Award for 2018 went to Tim Graham of Edward Jones. Graham began his career with Edward Jones in 2009 and will become a limited partner with the firm this year.
Graham's participation around the community is widespread and far-reaching. He's invested in the community and is past president and board member of the Webster Groves-Shrewbury-Rock Hill Area Chamber of Commerce. He helped the chamber navigate through some difficult decisions and put the organization on solid financial footing.
Graham is an active member of The Rotary Club of Webster Groves, having served as the club's president and board member. He achieved the Paul Harris Fellow status four times and received the 100 percent attendance award for five years.
In addition, he is a member of the local Business Network International chapter, member of Financial Planning Association, and ambassador for Association for Corporate Growth, St. Louis.
He volunteers every opportunity he can in a selfless way.
"Tim represents our business community with the utmost integrity and therefore is so worthy of Business Person of the Year," according to the chamber.
Outstanding Business
This year's Outstanding Business Award went to Olive + Oak, located at 102 W. Lockwood in Old Webster.
In 2015, having fallen in love with the character and charm of Webster Groves, owner Mark Hinkle set out to bring something new to the neighborhood his family called home — a fun, lively and approachable restaurant.
The restaurant even hired a Webster Groves native, Jesse Mendica, as its head chef. At Olive + Oak, diners can enjoy great wine, craft beer, well-made drinks and thoughtful, ingredient-driven food with friends and family. Since its opening, the restaurant is always packed. The restaurant has now branched out to a neighboring storefront, renovating the former Webster Groves Bookshop, with its Clover and the Bee restaurant.
Olive + Oak was named in part for Mark and Jenn Hinkle's little boy, Ollie, born in late 2011 with a congenital heart defect. Ollie died just over a year later.
When his parents asked for donations to help fund pediatric health research in lieu of flowers, they were overwhelmed by the response. In just two days, they raised $13,000.
After that, the Webster Groves couple wanted to do even more to help others. In 2013, they formed the Ollie Hinkle Heart Foundation and the foundation's "I Heart Food & Wine" annual fundraiser came to life. More than 200 people came out and roughly $38,000 was raised the first year. The annual event has continued to grow to about 800 attendees, raising more than $300,000 for the charity.
Heart of Gold
The chamber's Heart of Gold Award recognizes an individual, civic or nonprofit organization that has made exceptional contributions through volunteer service and commitment to the individuals they serve.
Mike and Kathy Silverman call Webster Groves their home, along with their two children. Michael Silverman is a recognized musician. His Bach to the Future group makes him the most downloaded solo pianist in the world, with over a million streams and downloads every single day. His music ranges from classical to jazz, world music to new age.
The Silvermans' love for their community is evident in enhancement of area parks and the arts. They live close to Glen Park, a neighborhood park that had only a few amenities. Recognizing the need for playground equipment and the potential to uplift the park to become a true gathering spot for the neighborhood, Mike and Kathy Silverman invested generously in a unique, adventurous and whimsical play set, along with a stage with an attractive canvas top. Families and children now gather and enjoy this formerly lifeless park.
In spreading the love of jazz to the Webster Groves and surrounding communities, Mike funded a concert in the Sculpture Garden in May. He then sponsored and funded a Bach to the Future concert in August in the front yard of Masonic Temple, that included a Grammy award-winning saxophonist. In October of last year he organized a concert at Glen Park, which hosted Amani, a children's choir from Uganda, and the highly-acclaimed Ptah Williams Jazz. He is also a sponsor of the Old Webster Jazz and Blues Festival.
Outstanding New Member
The Outstanding New Chamber Member Award recognizes an individual whose contributions to the communities are exceptional. This year's Outstanding New Member Award went to Anya Overmann of Olympia Gymnastics and Training in Rock Hill.
Overmann jumped in and served on several committees and programs where her talents match the chamber's needs. She co-chaired the social events committee happy hour and was asked to provide social media support for the Santas on the Loose 5k event.
At her first meeting with Santas on the Loose, the gap in organizing and directing the volunteers on the day of the event was made evident, and Overmann volunteered to take over those duties – executing them flawlessly.
"She is an asset to the chamber, and we look forward to her continued contributions," according to the chamber.
Outstanding Green Initiative
This year's recipient of the Green Initiative Award went to area Mercy hospitals. The award was accepted by Tom Edelstein, vice president of Mission for Mercy Hospital South.
Last year Mercy eliminated sales of bottled water at all locations, including cafeterias, vending areas and gift shops, in its four-state service area as part of an initiative aimed at conserving water and reducing plastic waste.
This initiative will keep an estimated 491,000 plastic water bottles out of landfills, which is 80 percent of the bottles purchased at their facilities.
All co-workers, physicians and volunteers – more than 40,000 people were given a reusable thermal cup (or as they call it, a "vessel) to fill at new water refill stations that have replaced or upgraded water fountains. Where reusable cups are not possible, Mercy switched from foam and plastic cups to paper cups.
Webster Groves Rotary
The Rotary Club of Webster Groves named Jack Pirozzi as its Rotarian of the Year. Pirozzi joined the Rotary Club of Webster Groves in 1985 and has been an active member ever since. He boasts 14 years of perfect weekly attendance and served as club president in 1994 and 1995.
Pirozzi is known for his generosity, having become a Paul Harris Fellow in 2001 and a Sustaining Member of the Rotary Foundation a few years later. However, he is probably best identified for three decades of extreme hospitality, as he and his wife, Janet, have opened their home for numerous Rotary Club parties, dinners and receptions.
Rotary President Ann McReynolds describes Pirozzi as relentless in his role as chair of membership, saying he was directly responsible for increasing club membership by 20 percent in just one year.
Webster Groves Masonic Lodge
This year's Webster Groves Masonic Lodge Mason of the Year award went to the husband and wife team of James and Judy Inukai.
Jim has been a member in Freemasonry for over 47 years, coming to the Webster Groves Lodge in 2012. He is a member of other Masonic organizations including Oriental-Rabboni Royal Arch, Jeremiah Council and Ascalon Commandry, where he became the president of each.
Jim has also joined Masonic organizations with his wife, Judy, including the Order of the Eastern Star, White Shrine of Jerusalem and the Order of Amaranth.
"Both Jim and Judy Inukai have been assets to the Lodge ever since moving to Webster Groves. They attend all meetings, help with fundraisers and all Lodge events," according to the lodge. "They jump in, willing to volunteer and are not afraid of hard work. Their nomination to this Heart of the Community Award was a unanimous decision of the membership."
Webster Groves Lions Club
Lion Rob Halama joined the Webster Groves Lions in 2007. Since then, he has given his time, expertise and attention to detail in every task. The result is helping the Webster Groves club to successfully help its local community, as well as state, national and international Lions charities and programs.
In 2017, as the immediate past president, Halama provided the guidance, tutorials and mentoring to help the current president successfully lead the club. In the normal course of the year, the Lions hold monthly barbecues and the annual Community Days Carnival, where you will find Halama managing the sales of ride tickets.
Halama also takes on extra projects, such as renewing the by-laws, ensuring special purchases such as stuffed lions and smoke detectors for the police and fire departments , and building the club's Community Days parade float.